JAVASCRIPT
A list of 42 jQuery image galleries, sliders, plugins and tutorials built using jQuery Here's a list of 42 jQuery image galleries, sliders, plugins and tutorials built using jQuery: 1. TN3 Gallery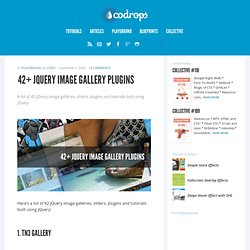 42+ jQuery Image Gallery Plugins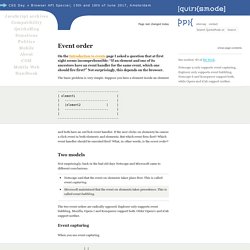 Page last changed today See section 7D of the book. Netscape 4 only supports event capturing, Explorer only supports event bubbling. Netscape 6 and Konqueror support both, while Opera and iCab support neither. On the Introduction to events page I asked a question that at first sight seems incomprehensible: "If an element and one of its ancestors have an event handler for the same event, which one should fire first?" Not surprisingly, this depends on the browser.
10 Fresh and Useful jQuery Plugins
When it comes to adding JavaScript functionality to a website, jQuery has become the solution of choice for web designers and developers. With it's ease of use and ever-growing selection of plugins, there's really no point to look elsewhere. Awesome jQuery plugins are popping up everyday, and we're always on the look out. So for this post, I've gathered 10 fresh plugins that you should find very useful. Cute Balloon Cute Balloon is a jQuery script that allow you to easy make a beauty tool tip balloon, also with ajax content.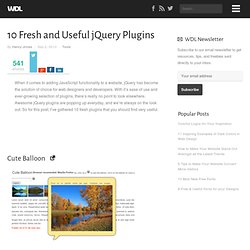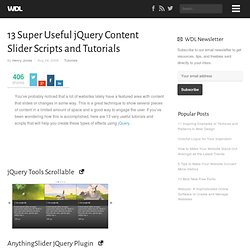 629 shares 8 jQuery Plugins Worth Checking Out jQuery plugins certainly exist to make our life easier, and it's always great to discover new ones that make it easy to add cool functionality to our projects. So for today, we have some fresh jQuery plugins to share with you. From progress bar animations to flat shadows, and HTML restructure in a responsive way,…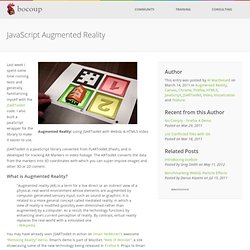 JavaScript Augmented Reality – JavaScript Augmented Reality – Bocoup Web Log
Augmented Reality: using JSARToolkit with WebGL & HTML5 Video Last week I spent some time running tests and generally familiarizing myself with the JSARToolkit code. I also built a JavaScript wrapper for the library to make it easier to use. JSARToolkit is a JavaScript library converted from FLARToolkit (Flash), and is developed for tracking AR Markers in video footage. The ARToolkit converts the data from the markers into 3D coordinates with-which you can super-impose images and other 3D or 2D content. What is Augmented Reality?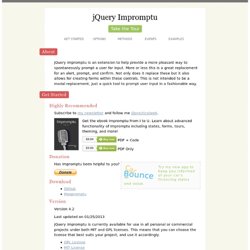 About jQuery Impromptu is an extension to help provide a more pleasant way to spontaneously prompt a user for input. More or less this is a great replacement for an alert, prompt, and confirm. Not only does it replace these but it also allows for creating forms within these controls. This is not intended to be a modal replacement, just a quick tool to prompt user input in a fashionable way. Options
Linkübersicht JavaScript Wann JavaScript einsetzen? JavaScript ist ein wenig umstritten.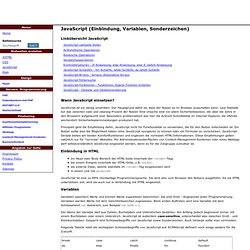 JavaScript (Einbindung, Variablen, Sonderzeichen)
Hier findest du viele verschiedene JavaScript Codes und HTML Codes jeglicher Art. Die Javascripts sind in verschiedene Kategorien eingeteilt, die ihr unten vorfindet. Zu jeder Kategorie gibt es eine kurze Beschreibung. In der Klammer dahinter steht, wieviele Javascripts in dieser Kategorie eingetragen sind.
Javascripts - Kategorie Übersicht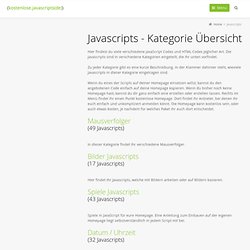 Have a feature request? If you want a feature added, create an issue on Github. Someone else or I might be able to help out. No guarantees.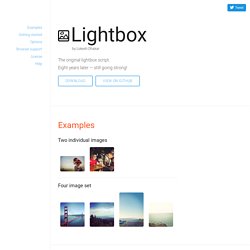 Javascript return • Werte aus Funktionen zurück geben