Javascript
CodeCombat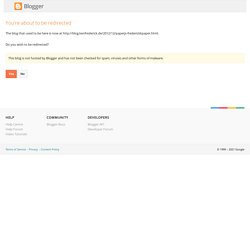 paperjs. frederickkPaper Over the past couple of years, I've assembled a library of functions for Scriptographer , and given the recent news , I began porting this rag-tag-collection into a slightly tighter library and framework for web development. I'm calling it frederickkPaper , mainly because at the moment I'm focusing on paperjs , in the future I'd like to try and make it more generic for use with other web based creative tools ( processingjs , et. al.). In addition to the Scriptographer specfic functions, I've also ported some of the more useful features from my Processing library Frederickk .
paperjs. frederickkPaper
Geometry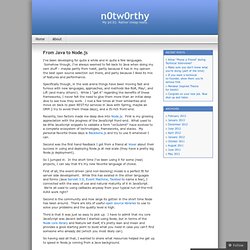 From Java to Node.js « n0tw0rthy
I've been developing for quite a while and in quite a few languages. Somehow though, I've always seemed to fall back to Java when doing my own stuff – maybe partly from habit, partly because it has in my opinion the best open source selection out there, and party because I liked its mix of features and performance.
Machine.js
documentation - Reference - Face3
TaffyDB - The JavaScript Database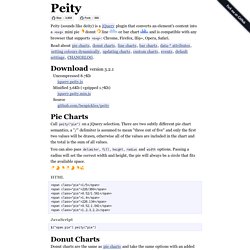 Peity (sounds like deity) is a simple jQuery plugin that converts an element's content into a simple <canvas> mini pie 2/5 line 5,3,9,6,5,9,7,3,5,2 or bar chart 5,3,9,6,5,9,7,3,5,2 and is compatible with any browser that supports <canvas> : Chrome, Firefox, IE9+, Opera, Safari.
HTML is great for declaring static documents, but it falters when we try to use it for declaring dynamic views in web-applications. AngularJS lets you extend HTML vocabulary for your application. The resulting environment is extraordinarily expressive, readable, and quick to develop.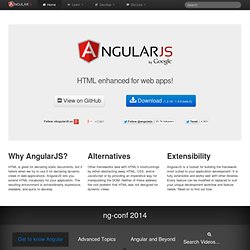 Back to home Backbone.js Tutorial – by noob for noobs
Backbone.js Tutorial - by noob for noobs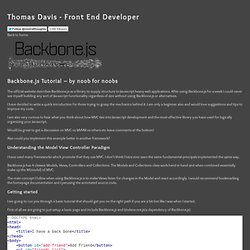 Dreaming In JavaScript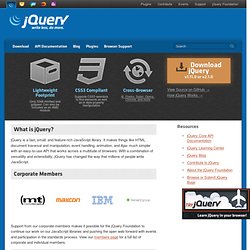 This plugin is an effort to combine jQuery simplicity with some JSON-REST principles and add some nice convenience features (all in 2.6K minimized)
JSON-REST
jQuery has taken the World Wide Web by storm allowing web developers the chance to work on an exclusing JavaScript library. With many shorthand code options available jQuery handles amazing functionality unseen before any time in the web's history.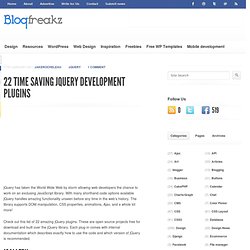 22 Time Saving jQuery Development Plugins | blogfreakz.com