Javascript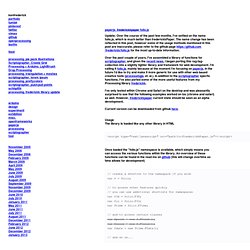 paperjs. frederickkPaper folio.jsUpdate: Over the course of the past few months, I've settled on the name folio.js, which is much better than frederickkPaper. The name change has been reflected in this post, however some of the usage methods mentioned in this post are inaccurate, please refer to the github page https://github.com/frederickk/folio.js for the most up-to-date information. Over the past couple of years, I've assembled a library of functions for Scriptographer, and given the recent news, I began porting this rag-tag-collection into a slightly tighter library and framework for web development. I'm calling it folio.js, mainly because at the moment I'm focusing on paperjs, in the future I'd like to try and make it more generic for use with other web based creative tools (processingjs, et. al.). In addition to the Scriptographer specfic functions, I've also ported some of the more useful features from my Processing library Frederickk.
paperjs. frederickkPaper
Geometry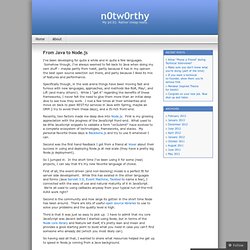 From Java to Node.js « n0tw0rthy
I've been developing for quite a while and in quite a few languages. Somehow though, I've always seemed to fall back to Java when doing my own stuff – maybe partly from habit, partly because it has in my opinion the best open source selection out there, and party because I liked its mix of features and performance.
Machine.js
TaffyDB - The JavaScript Database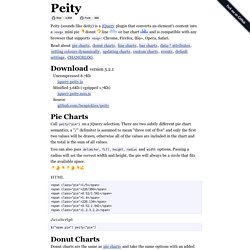 Peity (sounds like deity) is a simple jQuery plugin that converts an element's content into a simple <svg> mini pie 2/5 line 5,3,9,6,5,9,7,3,5,2 or bar chart 5,3,9,6,5,9,7,3,5,2 and is compatible with any browser that supports <svg>: Chrome, Firefox, IE9+, Opera, Safari.
Back to home Backbone.js Tutorial – by noob for noobs The official website describes Backbone.js as a library to supply structure to Javascript heavy web applications. After using Backbone.js for a week I could never see myself building any sort of Javascript functionality regardless of size without using Backbone.js or alternatives. I have decided to write a quick introduction for those trying to grasp the mechanics behind it.
Backbone.js Tutorial - by noob for noobs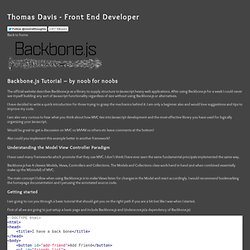 Dreaming In JavaScript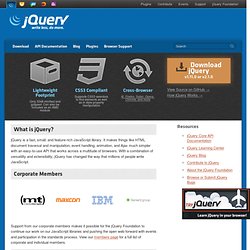 What is jQuery?
JSON-REST
jQuery has taken the World Wide Web by storm allowing web developers the chance to work on an exclusing JavaScript library. With many shorthand code options available jQuery handles amazing functionality unseen before any time in the web's history.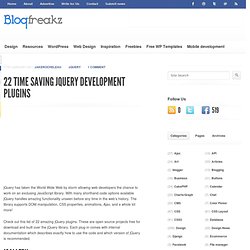 22 Time Saving jQuery Development Plugins | blogfreakz.com