Biology
A pear has 600 times more formaldehyde in it than a vaccine does, writes Rachael Dunlop. Image: Oksana Kuzmina/Shutterstock Recently released government figures show levels of childhood vaccination have fallen to dangerously low levels in some areas of Australia, resulting in some corners of the media claiming re-ignition of "the vaccine debate".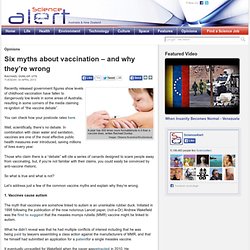 Six myths about vaccination – and why they're wrong
Melting Glaciers Liberate Ancient Microbes
Editor's Note: This article is an extended version of "Bugs in the Ice Sheet" from the May 2012 Issue of Scientific American. BOZEMAN, Mont.—Locked in frozen vaults on Antarctica and Greenland, a lost world of ancient creatures awaits another chance at life. Like a time-capsule from the distant past, the polar ice sheets offer a glimpse of tiny organisms that may have been trapped there longer than modern humans have walked the planet, biding their time until conditions change and set them free again. With that ice melting at an alarming rate, those conditions could soon be at hand.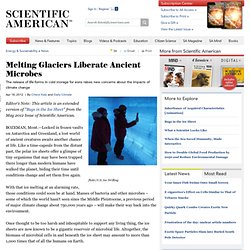 GMO - What Is It?
After Life: The Science Of Decay (BBC Documentary)
Anatronica | Interactive 3D Human Anatomy | Explore Human Body