Vintage Audio
HiFi Archiv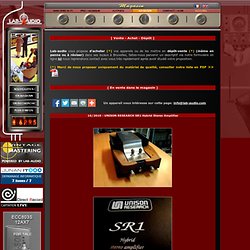 Tout matériel Haute-Fidélité ancien (période 1950 – 1975) particulièrement (mais pas uniquement) à lampes (tubes) : amplificateurs, préamplificateurs,tuners, platines, haut-parleurs, enceintes, etc… de préférence de grandes marques telles que FISHER, SCOTT, QUAD, LEAK, ROGERS, MARANTZ, GARRARD, THORENS, GOODMANS, ALTEC, JBL, ELECTROVOICE, REVOX etc… (liste non exhaustive) Tout équipement professionnel de studio anciens (avant 1975), particulièrement à lampes (tubes) : microphones (tous types), magnétos analogiques 2P, préamplis, mixers, processeurs, enceintes, etc… AMPEX, ALTEC, STUDER, PULTEC, UNIVERSAL AUDIO, FAIRCHILD, NEUMANN, SCHOEPS,BEYER, ELECTROVOICE, SCULLY, JBL, UREI, TELEFUNKEN, … (liste non exhaustive) Lots de matériel et composants électroniques anciens mais non utilisés (période 1950 – 1970) , tubes électroniques, métrologie, radio, tsf, etc… Collections de disques vinyles (Classique et Jazz uniquement), bandes magnétiques…
achat,vente,dépôt-vente,petites annonces,hi end hi-fi, pro-audio, amplis gt, synthés vintage
BeoSystem 5500
Manufactured: 1986 - 1989 Designer: Jacob Jensen Colours: Aluminium, White Beosystem 5500 - raw power, civilised manners At first sight Beosystem 5500 looked almost too refined to be a musical powerhouse. The clean, streamlined design, devoid of buttons and dials, gave no indication of the massive potential beneath.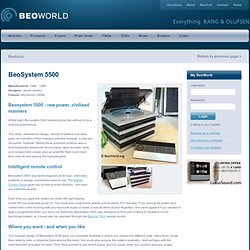 Forums -
Phantom Productions Vintage Reel Tape Recorder Online Collection and Museum
Audio and Video
audioScope
Quadral Vulkan MK 2 for sale.
preliminary Pretty rare - almost Invisibilia status. If the Dragon CT was engineered and built on Etsuro Nakamichi's specifications by Junichi Okumura at Fujiya Audio Ltd, the TX-1000's origins are... not so clear. But it isn't a wild guess to imagine Micro Seiki having a hand if not twelve fingers and just as many toes into the consulting and/or manufacturing of the TX-1000 - among others. Mr Teragaki probably had a hand in it, too.
Nakamichi TX-1000 on thevintageknob.org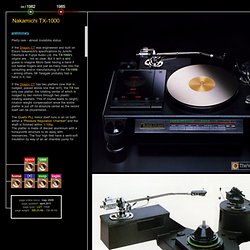 Nakamichi Dragon CT on thevintageknob.org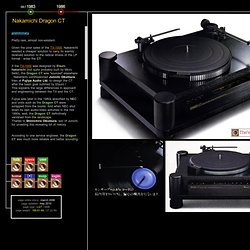 preliminary Pretty rare, almost non-existent. Given the poor sales of the TX-1000, Nakamichi needed a cheaper solution to carry its warmly received solution to the radical illness of the LP format : enter the CT. If the TX-1000 was designed by Etsuro Nakamichi (but quite probably built by Micro Seiki), the Dragon CT was "sourced" elsewhere : Nakamichi commissioned Junichi Okumura, then at Fujiya Audio Ltd, to design the CT after the basic goal outlined by Etsuro ! This explains the large differences in approach and engineering between the TX and the CT. Fujiya was later in the 1980s absorbed by NEC and units such as the Dragon CT were scrapped from the books.
At least, this one is well remembered :) The usual debate surrounding the original DRAGON isn't as interesting as what this monster did represent in 1983 : it was the most one could do without actually altering the Compact Cassette format's physical structure like the ELCASET did (ie. open-reel in a cassette) or Luxman's X-3K prototype should have done by completely pulling the tape out of the cassette's shell thus removing any rotating movements from the tape. Really pushing the format to the limit and selling quite well, the DRAGON became the one show-stopper until cassettes got replaced by digital tapes, recordable CD and, ultimately, hard-drives and SSDs.
Nakamichi DRAGON on thevintageknob.org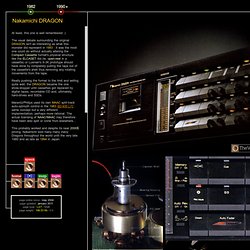 HiFi-Do McIntosh/JBL/audio-technica/Jeff Rowland/Accuphase
HiFi-Do McIntosh/JBL/audio-technica/Jeff Rowland/Accuphase
4430/35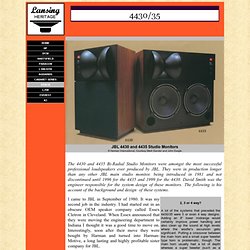 The 4430 and 4435 Bi-Radial Studio Monitors were amongst the most successful professional loudspeakers ever produced by JBL. They were in production longer than any other JBL main studio monitor, being introduced in 1981 and not discontinued until 1996 for the 4435 and 1999 for the 4430. David Smith was the engineer responsible for the system design of these monitors. The following is his account of the background and design of these systems.
The Marantz Music Link series was designed with a specific goal in mind: To provide absolutetly state-of-the-art-sonic performance in a rarely seen design package noted for both its advanced construction and its understated beauty. Judging from highly positive reactions to the Marantz Music Link Series by audiophiles both internationally and on American shores, Marantz has achieved their goal. The Marantz Music Link Series consists of the Marantz SC-22 active line-stage control amplifier, the Marantz PH-22 phono preamplifier, and the Marantz MA-22 and Marantz MA-24 mono-block amplifiers. The Marantz SC-22 control amplifier and optional Marantz PH-22 phono amplifier are designed to serve as the "front-end" of the Music Link audiophile system.
Marantz Music Link Series - DutchAudioClassics.nl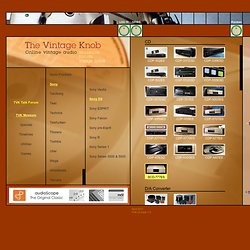 TVK Talk Forum TVK Museum Specials Timelines Utilities Games Aiwa Accuphase Acoustic Research ADC Akai Alpine Altec Audio-Technica B&O Braun Casio Clarion Cyrus Denon Dokorder Dual Dynaco Elipson EMI Empire Eumig Fisher Fostex Garrard GAS Görler Grundig Harman/Kardon Hitachi Infinity JBL JVC Kenwood Klipsch Koss Krell Kyocera Leak Lecson Logic LuxKit Luxman Marantz Marlux Meridian MCS Micro Seiki Mission Mitsubishi Musical Fidelity NAD Nakamichi NEC Nikko Nordmende Onkyo Optonica Ortofon Panasonic Phase Linear Philips Phonocord Pioneer Primare Proceed Radford Revox Rotel SABA SAE Samsung Sansui Sanyo Schneider Scott Setton Sharp Sonab Sonic Frontiers Sony Tandberg Teac Technics Telefunken Thorens Toshiba Uher Wega Wharfedale Yamaha Sony Vaults Sony ES Sony ESPRIT Sony Falcon Sony pre-Esprit Sony R Sony Series 1 Sony Series 3000 & 5000 To get a Knobber pass: Create a regular account - if already done - then, Click the Knobber logo in your Account settings page.
The people who designed these loved their craft and it sure still shows. If the beautiful blue meters were already announcing what was to come all too quickly (lights, flashing leds and mute electronica), the RT-909 probably is one the very few units that properly embodies the fair balance between efficient modernism and great work. The 909 is powered by three motors within a closed-loop dual capstan path, has 4 heads (the 4th being for reverss playback) and fair but not exceptional specifications - we're not in TC-880-2, RS-1700U or even GX-255 territory. Seeing a 38cm/s or a 1/2" tape version probably would have allowed to cut some sales off the Technics RS-1500U and secured the RT-909 a place in the audio museums or more audiophile studios...
Pioneer RT-909 on thevintageknob.org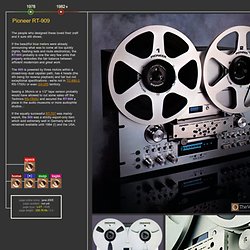 Vintage Audio zoekertjes | Zoekertjes van en voor vintage audio liefhebbers