Anime
Ten Anime Series You Should See Before You Die. First off I'd just like to say a huge thank you to everyone that read my list of ten anime films you should see before you die—the response has been phenomenal—not just the number of people who read it, but also those who took the time out to get involved in the following discussion.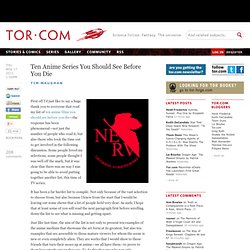 Some people loved my selections, some people thought I was well off the mark, but it was clear that there was no way I was going to be able to avoid putting together another list, this time of TV series. It has been a far harder list to compile. Not only because of the vast selection to choose from, but also because I knew from the start that I would be leaving out some shows that a lot of people hold very dear.
Movie Guide | Anime Movie Guide. Movie Count: 63 Do you have feedback, questions, movie suggestions or review copy offers?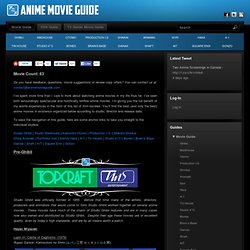 You can contact us at contact@animemovieguide.com *protected email* I've spent more time than I care to think about watching anime movies in my life thus far. Top 10 Best Written Anime. Movies and TV Japanese animation has become a boom industry in the western world in the last 15 years.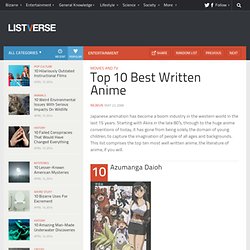 Starting with Akira in the late 80′s, through to the huge anime conventions of today, it has gone from being solely the domain of young children, to capture the imagination of people of all ages and backgrounds. This list comprises the top ten most well written anime, the literature of anime, if you will. Ten Anime Films You Should See Before You Die. One of the most surprising, and gratifying, things that has happened since I started my blog, Tim Maughan Books, a year or so ago is the positive feedback I've had for the anime reviews—especially from people I know are far from being massive fanboys like myself.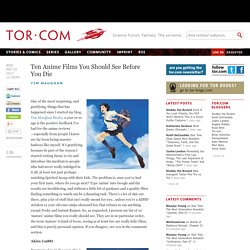 It's gratifying because its part of the reason I started writing them; to try and introduce the medium to people who had never really indulged in it all, at least not past perhaps watching Spirited Away with their kids. The problem is, once you've had your first taste, where do you go next? AC's Top 20 Anime of the Decade » Behind The Nihon Review.
This has been a decade of mixed reactions for some people.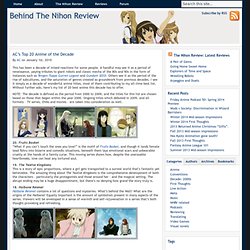 A handful may see it as a period of renaissance, paying tributes to giant robots and classic mecha of the 80s and 90s in the form of instances such as Tengen-Toppa Gurren Lagann and Gundam SEED. Others see it as the period of the rise of subcultures, and the saturation of genres created as groundwork from previous decades. I see it simply as a decade of wonderful anime titles, most of them contributing to my all-time best list. Without further ado, here's my list of 20 best anime this decade has to offer. NOTE: The decade is defined as the period from 2000 to 2009, and the titles for this list are chosen based on those that began within the year 2000.
---