FOTO III
40 Must-See Photos From The Past. The phrase "a picture is worth a thousand words" was coined by American newspaper editor Arthur Brisbane in 1911.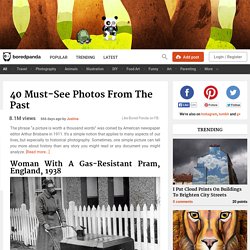 It's a simple notion that applies to many aspects of our lives, but especially to historical photography. Sometimes, one simple picture can tell you more about history than any story you might read or any document you might analyze. 40 Of The Most Powerful Photographs Ever Taken. Sisters pose for the same photo three separate times, years apart.
A Russian war veteran kneels beside the tank he spent the war in, now a monument. A Romanian child hands a heart-shaped balloon to riot police during protests against austerity measures in Bucharest. Retired Philadelphia Police Captain Ray Lewis is arrested for participating in the Occupy Wall Street protests in 2011. Rara fotografía de la bomba nuclear sobre Hiroshima tomada casi en el instante de la explosión. La explosión de sendas bombas nucleares sobre las ciudades japonesas de Hiroshima y Nagasaki, en agosto de 1945, marcan uno de los momentos más importantes de la historia moderna, una suerte de tope en la escala de (auto)destrucción de la que el ser humano es capaz.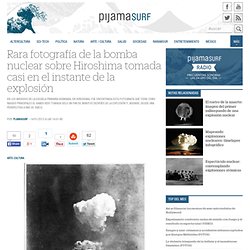 Y si bien los testimonios y elaboraciones posteriores que intentan entender el suceso (destaca, por ejemplo, Hiroshima, mon amour, de Alain Resnais), en esta ocasión compartimos un documento poco conocido que pertenece al instante inmediatamente posterior a la caída de la bomba sobre Hiroshima. La imagen fue encontrada en los archivos de la escuela primaria Honkawa, localizada en Hiroshima, y captura el momento de la explosión según fue avistado en Kaitaichi a casi 10 km al este de esta ciudad y que además del momento en que fue tomada, tiene como segunda particularidad que la nube radioactiva se mira desde una perspectiva a ras del suelo.
Winners of the National Geographic Photo Contest 2012 - In Focus. The winners have just been announced of this year's National Geographic photo contest.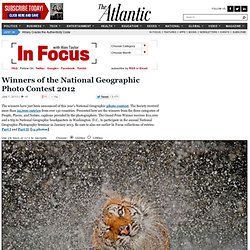 The Society received more than 22,000 entries from over 150 countries. Presented here are the winners from the three categories of People, Places, and Nature, captions provided by the photographers. Places That Are Actually Real But Don't Look So | Art Ideas - Graphic Designs and Arts. Flying on the Rooftops by jen bliss. The Frame: Feature pictures from 2008.
As part of our three-day look back at some of best pictures of year, today we look at feature pictures from around the world in 2008. (26 images) In this July 11, 2008 photo, two Chinese girls peek underneath a billboard covering a construction site in Beijing.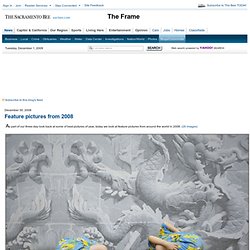 AP / Oded Balilty. BREATHTAKING AERIAL PHOTOS Show How Small Mankind Really Is. Father-son-and-elephant.jpg (960×699) Divers, Easter Island. 15 Perfectly timed Photos | Coolphoto. Mladen penev. 21 Pictures That Will Restore Your Faith In Humanity. Some Bizzare and Odd things around us… Beauty of the nature lies in viewer's eyes.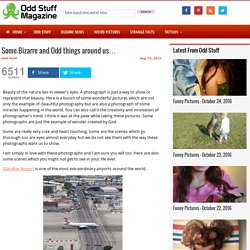 A photograph is just a way to show or represent that beauty. Here is a bunch of some wonderful pictures which are not only the example of beautiful photography but are also a photograph of some miracles happening in the world. You can also call it the creativity and innovation of photographer's mind. Where Children Sleep: A Diverse World of Homes. When photographer James Mollison was asked to do a project on children's rights, he found himself thinking back to his childhood bedroom and the deep importance it played in his upbringing.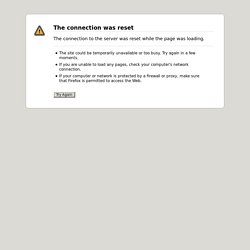 Taking that idea with him around the world, he photographed a diverse cross section of children and the bedrooms they call home. His moving images remove the children from their home environment, showing them before a neutral background that mostly hides their economic status as if to say "kids are just kids." Only when their bedroom is observed, however, does the full scope of their living situation become poiniently clear. Where Children Sleep, a beautiful hardcover book featuring 112 color photographs is now available from chrisboot.com.
If you enjoyed these photographs, you might also enjoy our post "Slumdog Photographer of the Decade" HEDI SLIMANE DIARY. Off the Grid : Eric Valli. Honey Hunters : Eric Valli. Our Planet in Pictures Part1 « Coolphoto « WhereCoolThingsHappen. 40 Of The Most Powerful Photographs Ever Taken. 729996.jpg (imagen JPEG, 2144 × 1232 píxeles) - Escalado (43%) Paint_war_berlin.jpeg (imagen JPEG, 1600 × 1066 píxeles) - Escalado (50. BEST of BTS | photography by Angus R Shamal. A self portrait of Stanley Kubrick with his daughter, Jack Nicholson and the crew @ the set of The Shining.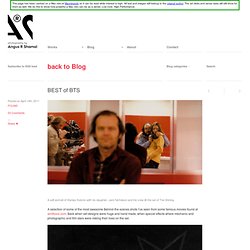 A selection of some of the most awesome Behind-the-scenes shots I've seen from some famous movies found at aintitcool.com. Back when set designs were huge and hand made, when special effects where mechanic and photographic and film stars were risking their lives on the set. on the set of Fritz Lang's Metropolis — the actress inside the Maria robot taking a breather. The Empire Strikes Back - filming the Crawl.
9a47615fd44aa8011ae3373371f5a130.jpg (imagen JPEG, 950 × 631 píxeles) - Escalado (85%) Fearless" by Mister Marat. Lores.jpg (imagen JPEG, 805 × 1024 píxeles) Rare and very interesting photos. Interesting and very rare photographs, you may never see.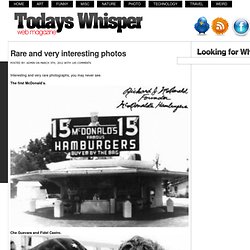 The first McDonald's. Che Guevara and Fidel Castro. Capital of Brazil, on the beginning. Arquetipos modernos del horror: terroríficos montajes de Joshua Hoffine (FOTOS. Quizá, entre las emociones que el ser humano puede sentir, ninguna tan atávica como el miedo, ninguna tan profunda, tan enraizada en nuestra historia más antigua, lo mismo como individuos que como especie.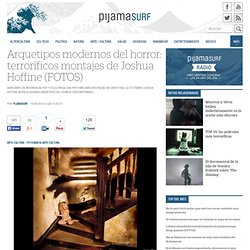 Sin embargo, con el desarrollo de la cultura las manifestaciones del miedo también se han modificado, pasando de elementos primitivos y en su mayor parte relacionados con la naturaleza, a formas mucho más refinadas y en relación con aspectos de muy diversa índole. Así, por poner un ejemplo, el llamado "temor pánico", en evidente relación con las potencias indómitas del mundo natural condensadas en el dios Pan, se ha convertido y multiplicado en una profusión de reflejos que recalan a veces en las entidades menos esperadas. Free vectors, photos and PSD to download | Freepik. Double Exposures - Andre De Freitas. The Tunnel Of Trees. LowerCathredalLake_Pano_resize.jpg (imagen JPEG, 2671 × 593 píxeles) Photos by Phil Stern. James Dean Frank Sinatra Anita Ekberg Marlon Brando Lauren Bacall with Humphrey and Stephen Bogart.
Photos by Irving Penn. The Hand of Miles Davis Georgia O'Keeffe, Gypsy Rose Lee Ballet Society, 1948 Truman Capote, Spencer Tracy Joe Louis Duchess of Windsor, Mrs. The 50 Most Beautiful Natural Waterfalls in the World. House-over-waterfall1.jpg (imagen JPEG, 664 × 1000 píxeles) Reflection-Photography6.jpg (imagen JPEG, 570 × 385 píxeles)
423822main_201002060003HQ_full.jpg (imagen JPEG, 4179 × 2607 píxeles) - Escalado (20%) Silent World by Michael Kenna. Willferrell.jpg (imagen JPEG, 383 × 482 píxeles) The most beautiful suicide. 01.jpg (imagen JPEG, 1701 × 1103 píxeles) - Escalado (49%) Marienkfer_1::jens_kolk_naturdokument_marienkaefer_makro.jpg (imagen JPEG, 900 × 602 píxeles) - Escalado (89%) Beatles-sullivan-guitar-1040-083109.jpg (imagen JPEG, 1040 × 697 píxeles) Pictures of Moments Speak More than Thousand Words...... Photographer Martin Schoeller. Funny Celebrity Photographs. Metropol Parasol // The World's Largest Wooden Structure. Horsetail Firefall. Dark Zoo on the Behance Network. 117911084.jpg (imagen JPEG, 900 × 600 píxeles) - Escalado (89.
Corbis - XX Century in Black and White Photos BBC. The most memorable photos from the Iraq War. Captured: The Ruins of Detroit. 061210-1793-940.jpg (imagen JPEG, 940 × 625 píxeles) Violent beauty.
Ben River.
---