Ideas banks...
Ideas4all. Building The Global Brain.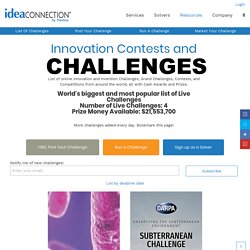 What important problems need a solution? Here is an opportunity to have a few teams of brilliant people work on a problem, the solution to which may benefit humankind. The problem must be very, very specific, not a broad or general problem. Your explanation of the problem must show an understanding of what scientists and engineers are specifically struggling with. It must be a problem that our scientists and engineers can work on, and the solution should be able to result in intellectual property being created.
Solutions for the Common Good will benefit all of mankind by making the collective intelligence of the world available to all.
Home
notthisbody personal cargo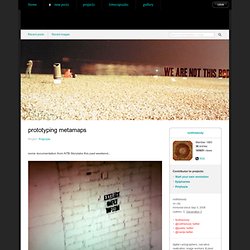 Some thoughts on the New Aesthetic. A few days ago Bruce Sterling posted an "Essay on the New Aesthetic", summing up his most recent thoughts after a panel at SXSW, similarly titled "The New Aesthetic - Seeing like digital devices". The focal point of definition for this New Aesthetic is well documented and a gestalt emerges quite quickly on the New Aesthetic tumblr, a juxtaposition of quotes, images, sensations, videos highlighting myriad examples of that which its curators are recognizing is already happening.
In 2008, we asked: what would help? And help the most? People from more than 170 countries submitted over 150,000 ideas in response. From that group, we narrowed down the list to 16 top idea themes addressing important common goals. The public voted for the top five ideas and we reviewed concrete proposals to tackle them.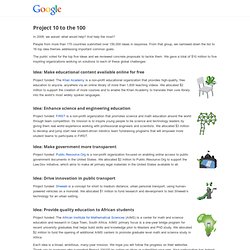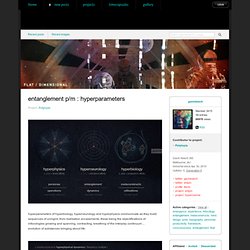 phases are cycling through the increase of momentum brought on by interplay sequenced through recognition. exhausting parameters to their stretched states allow the decay values to become discovered. upon discovery, arrival of presence, flows to the environments ground. intensity of emotion, feelings entwined with realisation that the possibilities can arise more probable than initially conditioned, through emergence of understanding what is required, do vectors resonate inputs, to flow freely, in their own accord towards the electromagnetic* (resonance)+ core.
gavinkeech personal cargo
Koios.org process-cycles
Koios - The online platform for solving complex social challenges
The Global Agora (Engage into Democracy)
7billionideas Latest Ideas
The Idea Hive
Global Ideas Bank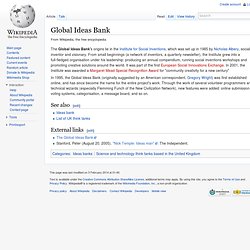 The Global Ideas Bank's origins lie in the Institute for Social Inventions, which was set up in 1985 by Nicholas Albery, social inventor and visionary.
Un article de Wikipédia, l'encyclopédie libre. Knowledge Plaza, aussi référencé par l'abréviation KP, est un outil de gestion des connaissances de type 2.0 qui fournit un équilibre entre un social bookmarking, une gestion documentaire, des wikis et un réseau social d'entreprise interne. La plateforme a été développée initialement comme outil de gestion de l'information pour les ingénieurs de la connaissance (knowledge workers en anglais) et est souvent utilisée pour des projets de recherche collaboratifs, d'intelligence de marché, de courtage d'information, etc.
Knowledge Plaza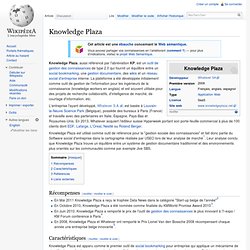 NESTA - Knowledge Bank
One Billion Minds » Anybody can Challenge | Everybody can Solve
Best Buy IdeaX | Exchange your ideas, vote, and discuss. Let's make it better.
junto :: connect - collaborate - grow ::
Talk - Search
Talk - Creation spaces similar to Junto - assessing alternatives
Techniques to Evaluate Ideas
Since you can't and probably wouldn't want to use every idea, harvesting is the process of narrowing down the list to those most practical, valued and actionable. As a target, try to narrow initially to twice as many ideas as you believe you can implement, keeping in mind the Idea Funnel, above. Try to gain group support to the practical number of ideas that could be implemented, with practical consideration of other competing interests and intiatives, resources and alignment with organizational goals. While the original brainstorming group can certainly complete this harvesting activity, consider expanding the group to include senior leadership, other process stakeholders and customers and other interest groups -- like patients. A group of 12 - 20 is ideal for harvesting ideas. This broader involvement builds potential buy-in, but more importantly allows stakeholders and key supporters to put their fingerprints on the improvement process and take some ownership in its success.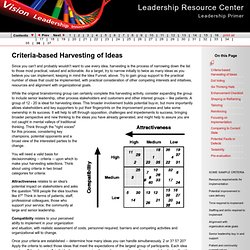 Cognitive Surplus visualized
Many ideas banks are provided as free of charge, or set around certain companies in general to work out new inventions. Although ideas are provided by a community of people, problems can arise when people take the ideas of the site and begin developing them. There is no possible way to prove that the idea on the ideas bank was original and not taken from something else.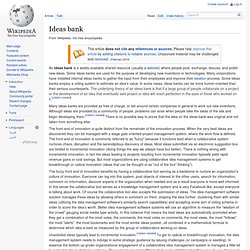 Ideas bank
Open Innovation | Science and R&D Portal
Management des idées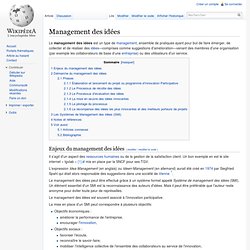 Un article de Wikipédia, l'encyclopédie libre. Le management des idées est un type de management, ensemble de pratiques ayant pour but de faire émerger, de collecter et de réaliser des idées—comprises comme suggestions d'amélioration—venant des membres d'une organisation (par exemple les collaborateurs de base d'une entreprise) ou des utilisateurs d'un service. Enjeux du management des idées[modifier | modifier le code]
Practical Creative Ideas, Ebooks, Creativity Tools