Consommation collaborative
Annonces, dons, rencontres, sorties, échanges, ventes, locations,PAP...
Le blog de la Consommation Collaborative. Solutions écolos sur la communauté responsable Tinkuy.fr ! Honeycomb_version1.jpg (Image JPEG, 2880 × 1800 pixels) - Redimensionnée (44%) 150 réseaux sociaux incontournables pour un Community Manager. L'activité de tout bon community manager ne se résume pas à publier, animer, veiller, modérer sur les principaux réseaux sociaux que sont Facebook, Twitter, Google+, Linkedin, Viadeo ou YouTube.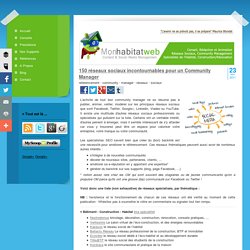 Il existe une multitude d'autres réseaux sociaux professionnels ou spécialisés qui pullulent sur la toile. Certains ont un véritable intérêt, d'autres peinent à émerger, mais il semble intéressant de s'y attarder car vous y trouverez peut être un espace pour valoriser votre entreprise, votre marque ou votre communauté. Les spécialistes SEO savent bien que créer du (bon) backlink est une nécessité pour améliorer le référencement. Ces réseaux thématiques peuvent aussi avoir de nombreux autres intérêts : 100 sites de consommation collaborative |
Gowalla. Dating Watch : L'Observatoire des Sites de Rencontre. Where To Get Engaged - Engagement and Wedding Social Network. Plan your proposal. Find Engagement Ring. Plan your wedding. Swotti Opinion Analizer. Search, Rate and Compare. Mesh - the pulse of the sharing economy. TrustedOnes - Recommendations you can trust. Find, decide & share your experience with friends! Kickstarter. Quirky | social product development.
Etsy - Your place to buy and sell all things handmade, vintage, and supplies. Green, Healthy, & Safe Product Ratings & Reviews. Amazee is social collaboration. What's Mine is Yours: The Rise of Collaborative Consumption.
CC Lab. The Rise of Collaborative Consumption. The general theme of the book is that we're shifting away from a society of hyper-consumption and equating personal self-worth with amount of material good accumulated, and instead to a world where our ability to access and exchange resources, develop a reputation, and build community and social capital takes precedence in how we choose to express who we are and what we choose to define us.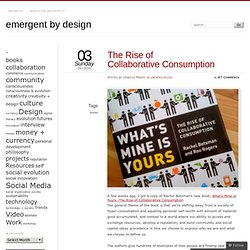 The authors give hundreds of examples of how people are finding new ways to share and exchange value – what they call "collaborative consumption" – using social lending platforms (Zopa, LendingClub, Prosper), open barter networks (ITEX, Bartercard), peer-to-peer coworking and currencies (Hub Culture), reuse networks (Freecycle), car sharing (ZipCar, GoGet), bike sharing (BIXI), swap trading (SwapTree), and peer to peer rentals for plots of land (Landshare, a room for the night (Airbnb), or any other item you could imagine (Zilok).
Where Are You Now?): The world's largest travel and lifestyle social network. Expat blog, the expatriate community. Sencities - guide de sorties web et mobile sur Paris : restaurants, bars, discothèques. Guide pour expatriés - Portail de la Mobilité Internationale: Guide de la vie à l'étranger - Easy Expat. Communauté d'expatriés français vivant à l'étranger - Expatriation - Expatlive.com.
Services entre particuliers - Annonces d'échanges de service. Sur la route des utopies concrètes | Le tour de France des alternatives. ALADOM, LE GÉNIE DES SERVICES À DOMICILE.
Petites annonces gratuites d'occasion. Annonces gratuites immobilier, voiture occasion, auto, moto, emploi... PETITES ANNONCES GRATUITES . VivaStreet le N°1 de l'Annonce Gratuite. Avis d'hôtels, restaurants, activités, voyage, hébergements et séjours - TripAdvisor. eBay - Achetez et vendez vos objets neufs ou d'occasion. Enchères, prix fixe, petites annonces - Et vous, vous achetez comment ? PriceMinister - Achat et vente d'occasion ou neuf - DVD, VHS, Jeux Vidéo, Consoles, PC, CD, Disques, Livres, BD, Vidéos.
Meetup.com. San Francisco Restaurants, Dentists, Bars, Beauty Salons, Doctors. Foursquare.
Emmaüs Ile-de-France. Vide-greniers, brocantes et marchés aux puces.
---