Graphisme/design/photos
Vintage camera, film | Download free Photos
Isadora - Backstage Verano 2012 on Vimeo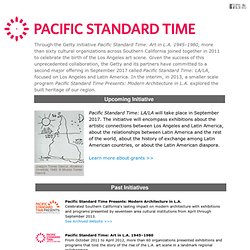 Through the Getty initiative Pacific Standard Time: Art in L.A. 1945–1980, more than sixty cultural organizations across Southern California joined together in 2011 to celebrate the birth of the Los Angeles art scene. Given the success of this unprecedented collaboration, the Getty and its partners have committed to a second major offering in September 2017 called Pacific Standard Time: L.A./L.A., focused on Los Angeles and Latin America. In the interim, in 2013, a smaller scale program Pacific Standard Time Presents: Modern Architecture in L.A. explored the built heritage of our region. Joaquín Torres García.
Pacific Standard Time - Home
Galerie de koolgreen
EAMES: The Architect and The Painter - Trailer
The Old, Awesome Space Drawings of E.L. Trouvelot - Rebecca J. Rosen - Technology
If you think NASA's artistic renderings of the deep beyond are cool, you will love these space drawings from French astronomer and artist Etienne Leopold Trouvelot. Trouvelot was born in France and fled to America after the 1851 coup d'etat. Unfortunately, beautiful drawings of space are not when Trouvelot is best known for: An amateur entomologist, he accidentally spilled some eggs he had brought from France and thereby introduced the gypsy moth to North America, one of the most destructive pests to American forests.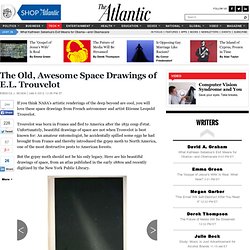 NoTimeForWork™
YUGODROM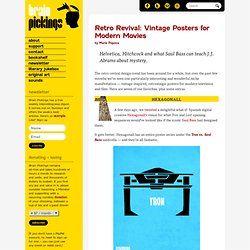 by Maria Popova Helvetica, Hitchcock and what Saul Bass can teach J.J. Abrams about mystery.
Retro Revival: Vintage Posters for Modern Movies
Gastrotypographicalassemblage on Vimeo
Share photos and videos on Twitter
Flo-master ink can rendering by Mike McGetrick. History[edit] Cushman & Denison first introduced Flo-Master "refillable markers" in 1951, which targeted store owners and advertisers with limited success. In 1953, Esterbrook America took over the company in the United States, and Esterbrook Pens and Cushman & Denison merged in 1960 in the United Kingdom. To counter a precipitous fall-off in its business following World War II, Esterbrook worked to develop new and innovative products, and the years 1960 to 1967 saw steady progress.
Flo-Master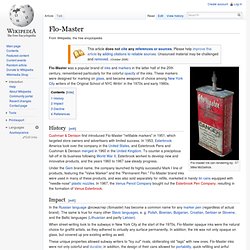 Cope2 - Kings Destroy on Vimeo
Agent Lynch Copacabana Agent Lynch Je T'aime Super 8 Film "Je T'aime" Film by Agent Lynch and Mathieu Breliere from Agent Lynch on Vimeo. Kate Middleton Gone Bad
Agent Lynch » Film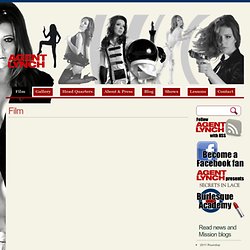 "Special" - Tracey K, Tiago Fragateiro, DJ Yellow A mix of Einar Snorri's greatest editing hits. Edited by Einar Snorri
SnorriCuts: Einar Snorri - Berlin-based Editor
2 ou 3 choses que je sais d'elle… la typographie » A propos…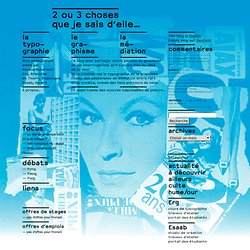 —Thierry Chancogne est professeur d'arts appliqués spécialisé en graphisme. Il enseigne depuis une quinzaine d'années à l'École Supérieure d'Arts Appliqués de Bourgogne (ÉSAAB) à Nevers (Nièvre, Bourgogne, France). —Renaud Huberlant est enseignant en typographie et en atelier pluridisciplinaire à l'Erg et graphiste chez salutpublic (Bruxelles). Une article réalisé par Hugo Puttaert et Dirk Seghers publié en mai 2008 dans le AddMagazine et qui présente aussi quelques travaux d'étudiants : Renaud Huberlant "Faire un bel objet, à quoi ça sert?" Que ce soit dans son travail artistique pour Salutpublic ou en tant qu'enseignant à l'Ecole de Recherche Graphique, l'interdisciplinarité revient dans l'œuvre de Renaud Huberlant comme un leitmotiv.
For some reason I have always liked the look of the 73-79 Chevy and GMC Blazer/Jimmys. A classic 70's off road icon in my opinion. What is the significance of the truck?
77 "Chief Brody" Jimmy
Devilfish has created this Saul Bass-inspired film to promote the new BBC Radio 4 dramatisation of Vasily Grossman's novel Life and Fate, which stars David Tennant and Kenneth Branagh. The trailer is currently airing on UK TV. Credits:Agency: Devilfish CreativeSenior partner: Richard HolmanCreative director: Lee EdwardsDesigner: Ben Newman @ PockoProduction company: Wonky Films CR in Print Thanks for reading the CR website, but if you are not also getting the printed magazine, we think you're missing out.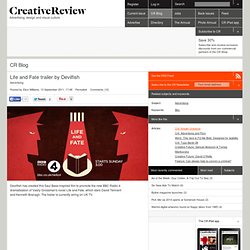 Life and Fate trailer by Devilfish
Split Screen
CLIPTIP
Un film 50% Paris, 50% New York
I can love you until the end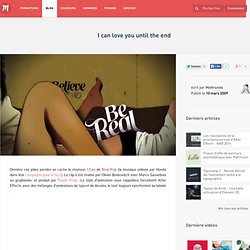 Derrière ces jolies paroles se cache la chanson I Can de Blue Pop (la musique utilisée par Honda dans leur campagne pour la Jazz). Le clip à été réalisé par Olivier Boskovitch avec Marco Sauvebois au graphisme, et produit par Purple Prod, Le style d'animation vous rappellera forcément After Effects, avec des mélanges d'animations de typo et de dessins, le tout toujours synchronisé au labiale : La musique est sympa, et contrairement à ce qu'on l'on pourrait penser, le groupe est français ! Les techniques utilisées dans le clip sont à la portée de tous ceux qui ont fait une bonne dose de tutoriaux sur After Effects, car simples : Mouvement de Camera, Animation de Typo, Synchro Audio.
Emily Nathan | Video Journal
Register Now for Symposium in Paraty Registration is now open for the Fifth International Urban Sketching Symposium in Paraty, Brazil! This year we are accommodating more sketchers than ever by providing passes for different levels of participation.
David Burnett | Photographer
The World Is Obsessed With Facebook
Galerie de Fabrice Drevon
I'm a cadillac charged article. by Michael Slenske Two decades ago, New York-based light sculptor Leo Villareal attended Burning Man (the annual week-long art event in Black Rock City, Nevada, which culminates around a wooden sculpture of a man set on fire) and the experience changed his life.
L'agence Chez Télévision, nous faisons de l'image. De l'image qui se clique, qui se feuillette, qui se jette, qui se projette, qui se regarde seul, en petit comité ou à plusieurs millions de personnes. Nous pensons et produisons des solutions visuelles pour toutes sortes de clients sur toutes sortes de supports : des logos, des chartes graphiques, des génériques, des films, en 2D, en 3D, sur écrans ou sur papier. Nous dessinons, modelisons, animons, filmons, réalisons, découpons et collons.
Télévision
by Kirstin Butler How to connect haberdashery to Zach Galifianakis in under three minutes. With a killer combination of animation, motion graphics and music, what's not to love about book trailers?
7 Brilliant Book Trailers