Marsaguirre
Juia Aguirre
I am 16, Mexican/Spainiard Speak fluent English and Spanish , my grandmother is Italian so I understand Italian but speak it rarely. I love poetry,good music,and living life to its fullest.
Uh-oh…this calzone shouldn't be a calzone. Nope. It totally should be a picture of a pizza…topped with layers of ricotta, melted mozzarella, cubes of roasted butternut squash and broccoli rabe.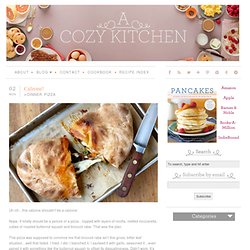 Calzone! - StumbleUpon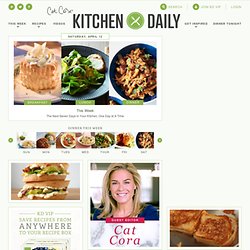 Cat Cora + Saturday, April 12 Lavender-Infused Mascarpone Mousse Pastries
Recipes, Cooking Tips, Food Advice and Menus - KitchenDaily - StumbleUpon
Picture this scene: it's 8:30 in the evening. The sky is just starting to get dark outside your living room window. You ate a delicious, healthy and veggie-filled dinner a few hours ago and now you are ready to sit down to the most recent episode of So You Think You Can Dance and dive into a decadent plate of dessert.
sweet saturday: one minute peanut butter cake & Food & back to her roots - StumbleUpon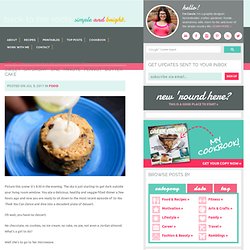 eat me, delicious
as i mentioned in my last post, i'm back to blogging! i really enjoyed my blog break. it was weird though because i had no idea what to look at on the internet. who knew there were other things out there aside from food blogs?! i had time for pinterest which i know has been around forever! i didn't have to take photos of everything i made (though i did often take photos for instagram, which is so much less stressful and i love the fun filters). i didn't worry about making sure i made new recipes so i'd have more to blog about (though i ended up making tons of new recipes anyway). i had so much free time!!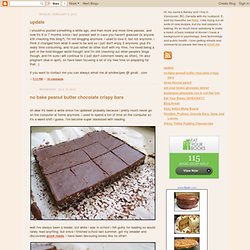 I watched my Grandmother's face when she realized that I hadn't handed her a hard boiled egg but rather a cake baked inside a real egg shell. Her eyes were filled with wonder and I could envision what she must have looked like as a tyke the very first time she saw a red balloon float across the sky or the the trunk of a giant elephant spewing a stream of water. "Crack it on the table," I told her. Eggs were cracked, cupcakes were eaten, and I was perceived as a cupcake Houdini.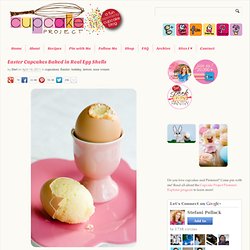 Easter Cupcakes Baked in Real Egg Shells ~ Cupcake Project
The Sugar Pixie (tsp) | Misadventures and fun in the kitchen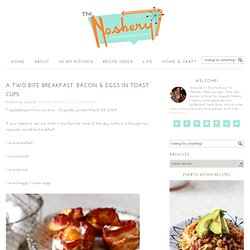 * Updated post from archive: Originally posted March 29, 2009 If you where to ask me what is my favorite meal of the day without a thought my response would be breakfast! I love breakfast! I love brunch! I love bacon! I love breggs!
A Two Bite Breakfast: Bacon & Eggs in Toast Cups
The Bakers Daughter: Polka dot cheesecake
I saw someone wearing the greatest polka dot rain coat today and it inspired me to make this cheesecake. It needs to be refrigerated overnight so make sure you make it the day before you want to serve it. I find that popping it into the freezer for about 1/2 hour makes it a lot easier to cut.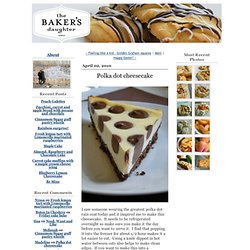 The Final Product - Hot Smoked Salmon In New Zealand Christmas is in Summer. We have Christmas in the sun, on the beach, playing sports and having BBQ.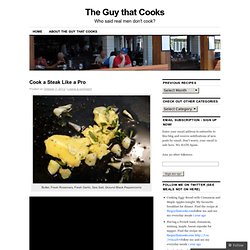 The Guy that Cooks | Who said real men don't cook?
The USDA released its new food pyramid the other day (which is actually a plate now instead of a pyramid), and I am sorely disappointed to report that cinnamon rolls did not appear anywhere on that plate. I think by now most of us know what should be on our dinner plate in terms of healthy, well-rounded nutrient-laden meals, but it is my considered opinion that our breakfast plate should include cinnamon rolls now and then. And not just any cinnamon roll, mind you, but how 'bout a homemade cinnamon roll hybrid that is a cross between a cinnamon roll and cinnamon toast, is super easy to make and gosh darn delicious. In honor of their ancestry, I call these little gems cinnamon toast rolls, and here's all you need to make them…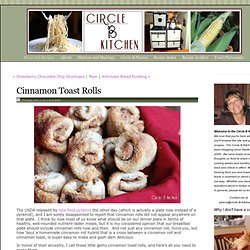 Cinnamon Toast&Rolls - Circle B Kitchen - Circle B Kitchen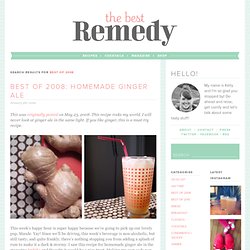 This was originally posted on June 30, 2008. Simple and delicious. This recipe is laced with cinnamon and topped with fresh blueberries. Awesome! When I was stuck in airports a few weeks ago, I ended up buying more than my share of magazines.
eat make readCategory: best of 2008
Pizza Dough | foodgawker
Baked Lemon Pasta | The Pioneer Woman Cooks | Ree Drummond
I love simple dishes like this. They remind me of my single vegetarian days in L.A. when I'd often come home from work and find a total of three grocery items in my kitchen. This is in contrast to the 9.446 grocery items in my kitchen now—everything from bacon grease to a freezer full of beef, but we won't go there today. Lemon is an unlikely flavoring for pasta, but oh…is it ever refreshing and good, especially in the spring and summer. This is a baked version, but if you're in a hurry there's nothing more delicious than this: saute butter and olive oil, add chopped garlic. Squeeze in the juice of a couple of lemons and add in some of the zest.
Cinnamon Streusel Pancakes | Two Peas & Their Pod - StumbleUpon
Cinnamon Streusel Pancakes When we went to California in November, we spent a day eating our way through Los Angeles with our good friend, Amanda, from Kevin and Amanda. Amanda had a long list of food places for us to try.
Yeah, that's right. I made homemade Samoas. OK, so these are a bit more time-consuming to make than your average cookies (there are a few assembly-related steps), but they are so worth it. Because Girl Scouts don't come along nearly often enough. And – no joke – they taste even better than the originals. Plus: how great would these be as Christmas gifts?
Homemade Samoas & - StumbleUpon
Banana Ice Cream Sandwiches & Veggie Wedgie
I really love frozen bananas-who doesn't? Raw banana ice cream has been one of my favorite treats since last summer- it's so easy and quick to make! Now that the weather is warm again, I started making it more often but this time I thought I should try something different- I wanted to make ice cream sandwiches with banana filling, and since I was making the filling raw, I thought that it would be cool to also make the cookies raw, no?
March 23, 2011 by allison n Raise your hand if you enjoy a warm slice chunk of quick bread in the morning or as a snack? Maybe it's banana nut bread, blueberry bread, cinnamon swirl bread or pumpkin chocolate chip bread. My sweet tooth is growing just typing this. Here's the buzz-kill….quick breads are notorious for being unhealthy…full of fat and sugar.
good for you breakfast loaf & Haute Box
Healthy and Vegetarian - iVillage
50 Easy Soups (1 - 10) : Recipes and Cooking : Food Network
How To Make Creamy Ice Cream with Just One Ingredient! | Apartment Therapy...
Easy Homemade Granola — A Southern Fairytale
Chocolate Chip Cookies
Watermelon Limeade - Martha Stewart Recipes
Fried Ice Cream
not martha - Leprechaun Trap Cake
cookie dough truffles & The Domestic Mama & The Village Cook
How Sweet It Is
Rainbow Cake in a Jar | The Family Kitchen
Irish Car Bomb Cupcakes Recipe | Brown Eyed Baker
most gawked all-time - page 20 | foodgawker
chocolate banana crepes | gimme some oven
Willow Bird Baking | Inspiring Kitchen Confidence in Home Cooks
Strawberry Torte
How to Decorate Cookies with Royal Icing | Brown Eyed Baker
Noble Pig: Upside Down Apple Pie
Roasted Tomato Soup : Cafe Fernando – Food Blog - roasted tomato soup - tomato - tomato soup - tomato soup recipe - Soup
A Cozy Kitchen & Churro Tots
Crispy Potato Roast Recipe
Food Pyramid Submissions (Raw Image)
Cookie Recipes | smitten kitchen
Pie | Joe Pastry
The Yummiest Peanut Butter Chocolate Chip Cookies
Easy Garlic Cheddar Biscuits | Ginas Skinny Recipes
most favorited all-time | foodgawker
Elle's New England Kitchen - Elles New England Kitchen - Lobster Egg...
peanut butter pretzel bites & Two Tiny Kitchens
Cooks.com - Recipe Search and More
Romancing the Stove
a Trippy illusion
Amazon River Dolphins Swim Upside Down
Triple Max Tons: Easy Holiday Hair
tutorial.math.lamar.edu from lamar.edu
The Infamous Jacques Torres Chocolate Chip Cookies
Triple-Chocolate Mousse Cake - Martha Stewart Recipes