general pedagogy
Get flash to fully experience Pearltrees
Sue Mellon By Barbara Ray At the beginning, people thought she was nuts. Sue Mellon, gifted support coordinator for Springdale Junior and Senior High/Colfax School in the Allegheny Valley School District, thought 7 th and 8 th graders could develop a deeper understanding of poetry by playing around with robotics. "Originally, people looked at me like I was crazy," Mellon said.
The theories-or 'big ideas'-that are behind the shift to 21st century learning are a key feature of this website. All practice is informed by theory–whether or not the practitioner is consciously aware of this. Educational practice is no exception. Twentieth century ways of doing things in education are informed by a mixture of different theories–theories about learning, knowledge, personhood, justice/equality, and the purpose of schooling. All educational practitioners 'know' these theories–at a very deep, but not always conscious level. They have been enculturated in them as part of the process of growing up in society (including going to school), and as part of the process of becoming a teacher, a researcher, or an education policy maker.
We are making some updates to the site. We'll be back soon, thanks for your patience. Estamos haciendo algunos cambios a la página. Estaremos de vuelta pronto, gracias por su paciencia. เรามีการปรับปรุงบางเว็บไซต์ เราจะกลับมาเร็ว ๆ นี้ขอบคุณสำหรับความอดทนของคุณ
Earlier in this series, you met the eleven dimensions of depth and complexity . Today you'll be introduced to another set of rigor-increasing, engagement-enhancing thinking tools known as the content imperatives , also developed by Sandra Kaplan. Disclaimer: Naturally, the best place to learn to use these tools is through a training or a book by the creator .
Before We Begin To really understand the use of the depth and complexity icons, purchase one of Dr. Sandra Kaplan's books ( Flip Book or Flip Book, Too for example). The List Depth: Language of the discipline, big idea, essential details, rules, patterns, trends, unanswered questions, ethics. Complexity: Change over time, multiple points of view, across the disciplines.
So much have been written about Bloom's taxonomy; one click in a search engine will flood your page with hundreds of articles all of which revolve around this taxonomy. Only few are those who have tried to customize it to fit in the 21st century educational paradigm . As a fan of Bloom's pedagogy and being a classroom practitioner, I always look for new ways to improve my learning and teaching, and honestly speaking , if you are a teacher/ educator and still do not understand Bloom's taxonomy then you are missing out on a great educational resource. The following article is a summary and a fruit of my long painstaking research in the field of Bloom's taxonomy. The purpose is to help teachers grow professionally and provide them with a solid informational background on how to better understand and apply Bloom's taxonomy in classrooms in the light of the new technological advances and innovations.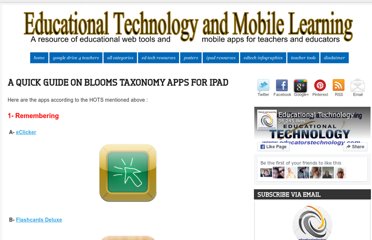 iPad is a promising mobile gadget in education. It has already started revolutionizing the way instruction is delivered .Some schools, particularly in the United States and Canada,have taken the initiative and commenced to employ the iPad as a learning and teaching tool . Although it is too early to talk about any scientific studies confirming the educational usability of this tablet , yet it would be unfair to ignore its prevalent use among students and teachers.
This is the introduction to Bloom's Digital Taxonomy. The different taxonomical levels can be viewed individually via the navigation bar or below this introduction as embedded pages.
This page gathers all of the Bloomin' Apps projects in one place ! Each of the images has clickable hotspots and includes suggestions for iPad, Google, Android, and Web 2.0 applications to support each of the levels of Bloom's Revised Taxonomy. The use of the triangle shape for Bloomin' apps projects was not used to help clear up the misunderstanding that the levels are hierarchical and the top levels only make up a tiny portion of the cognitive processes.
... to develop Intercultural Competence