Facebook world
Facebook Paper Has Forever Changed the Way We Build Mobile Apps | Wired Enterprise. Inside Facebook headquarters in Menlo Park, California, Mike Matas demonstrates a prototype of the "tilt-to-explore" photo viewer offered by the new Facebook Paper app.
Photo: Ariel Zambelich/WIRED The office belongs to Cox, and it often hosts meetings like this one, where Matas was about to reveal something he'd hacked together earlier that morning, after the idea came to him the night before. As the others watched, Matas tapped on his iPhone and opened a digital photo of Niagara Falls. The phone zoomed in on the heart of the image, showing the glistening falls in sharp detail, and then, simply by tilting the phone back and forth, he could explore other parts of this high-res photo, panning across the image as if he was moving through a virtual world or a 3D game.
Fun facebook facts
Inside facebook. Facebook international. Facebook products. Facebook aquisitions. Facebook mobile. Facebook IPO. Facebook et les médias. Site Governance : Politique de respect de la vie privée de Faceb. Does the 1st Amendment cover clicking 'like' on Facebook? Before you click that "like" button in Facebook, you should know that a judge in federal court asserted that this is not protected under the 1st Amendment.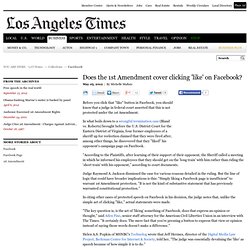 In what boils down to a wrongful termination case (Bland vs. Roberts) brought before the U.S. Microsoft and Facebook to Announce $550 Million Patent Deal - Ina Fried - Mobile. Facebook and Microsoft are about to announce a deal where the social networking giant pays Redmond $550 million for access to more than 600 patents, AllThingsD has learned.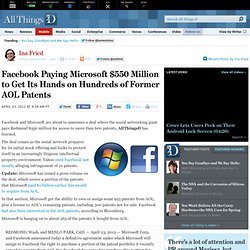 The deal comes as the social network prepares for its initial stock offering and looks to protect itself in an increasingly litigious intellectual property environment. Yahoo sued Facebook last month, alleging infringement of 10 patents. Update: Microsoft has issued a press release on the deal, which covers a portion of the patents that Microsoft paid $1 billion earlier this month to acquire from AOL. In that auction, Microsoft got the ability to own or assign some 925 patents from AOL, plus a license to AOL's remaining patents, including 300 patents not for sale.
Publications Why Facebook Will Charge Users 11/22. Our standard in journalism school was The New York Times.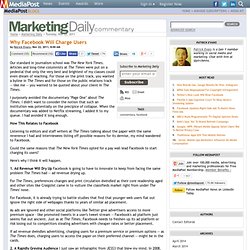 Articles and long-time columnists at The Times were put on a pedestal that only the very best and brightest of my classes could even dream of reaching. For those on the print track, you wanted a byline in The Times and for those on the public relations track -- like me -- you wanted to be quoted about your client in The Times. I purposely avoided the documentary "Page One" about The Times. I didn't want to consider the notion that such an institution was potentially on the precipice of collapse. When the documentary was added to Netflix streaming, I added it to my queue. Facebook, une réussite technologique. Hier soir, Facebook a enfin déposé son dossier d'introduction en Bourse auprès du gendarme américain de la Bourse, la SEC.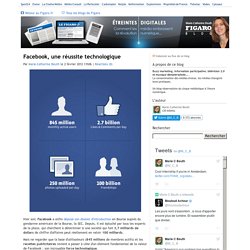 Depuis, il est épluché par tous les experts de la place, qui cherchent à déterminer si une société qui fait 3,7 milliards de dollars de chiffre d'affaires peut réellement en valoir 100 milliards. Mais ne regarder que la base d'utilisateurs (845 millions de membres actifs) et les recettes publicitaires revient à passer à côté d'un élément fondamental de la valeur de Facebook : son incroyable force technologique. Social Media: LinkedIn vs. Facebook. Facebook : derniers chiffres et nouvelles données. Facebook a publié lundi ses chiffres pour le premier trimestre 2012.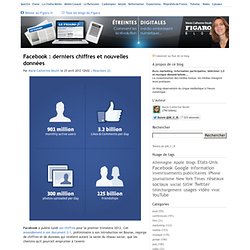 Cet amendement à son document S-1, préliminaire à son introduction en Bourse, regorge de chiffres et de données qui révèlent autant la santé du réseau social, que les chemins qu'il pourrait emprunter à l'avenir. 901 millions de membres actifs par mois. On pensait Facebook sur le déclin dans les marchés matures et freiné par la concurrence de puissants acteurs locaux dans les pays où il n'est pas leader. Stats: Facebook Made $9.51 in Ad Revenue Per User Last Year In The U.S. and Canada. Even though Facebook's IPO roadshow video was a mostly touchy-feely affair with videos of friends have coffee and babies blowing out candles, there were some new stats tucked away in it.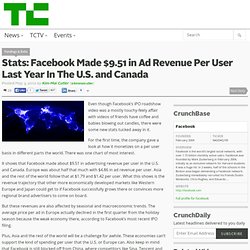 For the first time, the company gave a look at how it monetizes on a per user basis in different parts the world. There was one chart of most interest. What your Facebook friends list reveals about your love life. Facebook can isolate your spouse or partner based on your network of friends.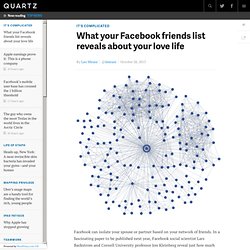 In a fascinating paper to be published next year, Facebook social scientist Lars Backstrom and Cornell University professor Jon Kleinberg reveal just how much insight can be gleaned from the structure of a network, illustrating both the value of what the American security establishment reassures us is "just metadata" and revealing Facebook's baroque privacy settings as the faith-based garments of the emperor's new clothes. Here's how it works: Backstrom and Kleinberg collected a random sample of some 1.3 million Facebook users who list a spouse or some sort of relationship partner on their profiles.
That gave them a dataset with some 8.6 billion links containing 379 million nodes, or points where links overlap. The long-standing mode of enquiry into a network's structure is the notion of "embeddedness," or measuring how tightly two people are connected by the number of friends they share in common.
---