CULTURA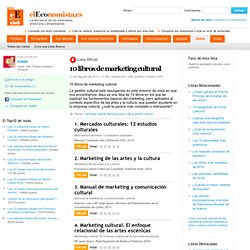 10 libros de marketing cultural
Lista Oficial 21 de Agosto de 2013 - 11:06 | Valoración: 1060 puntos | Visitas: 774 La gestión cultural está resurgiendo en este entorno de crisis en que nos encontramos.
Observatorio Cultural del Proyecto Atalaya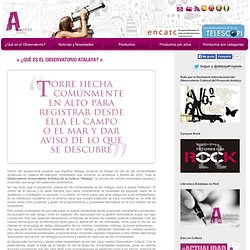 Dentro del apasionante proyecto que significa Atalaya, proyecto de trabajo en red de las Universidades Andaluzas en materia de extensión universitaria que comenzó su andadura a finales del 2005, nace el Observatorio Universitario Andaluz de la Cultura "Atalaya", el primero del ámbito universitario español y el primero que surge con pretensión autonómica.
Strategic Management in the Arts
Artica – Centro Cultural 2.0: Biblioteca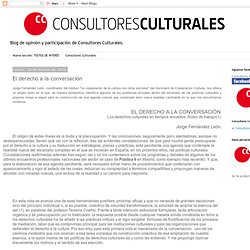 Jorge Fernández León, coordinador del módulo "La cooperación de la cultura con otros sectores" del Seminario de Cooperación Cultural, nos ofrece un amplio texto en el que, de manera exhaustiva, identifica algunos de los problemas actuales dentro del escenario de las políticas culturales y propone líneas a seguir para la construcción de una agenda cultural que contemple esta nueva realidad cambiante en la que nos encontramos inmersos. Los derechos culturales en tiempos revueltos.
aula consultores culturales: El derecho a la conversación
Julio Cortázar o cómo romper con lo establecido en la construcción de públicos
Co-creatingcultures
Cómo matar al intermediario. Hernán Casciari en TEDx Río de la Plata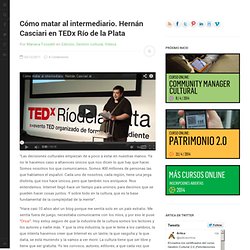 "Las decisiones culturales empiezan de a poco a estar en nuestras manos.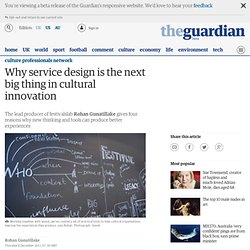 Working together with Snook, we've created a set of practical tools to help cultural organisations improve the experiences they produce, says Rohan. Photograph: Snook
Why service design is the next big thing in cultural innovation | Culture professionals network | Guardian Professional
Repensar la cooperación cultural europea en el mundo árabe
Múltiples razones justifican la cooperación cultural de Europa con la ribera sur del Mediterráneo y el mundo árabe en general.