Lcollingwood
iPad - Why? How? Functions eBook Reader Could be amazing if publishing houses get their acts together.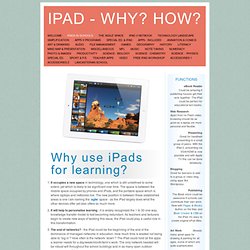 The iPad could be perfect for educational text books. Web Research Apart from no Flash video, browsing should be as good as a laptop yet more personal and flexible. 50 really useful iPad 2 tips and tricks. An absolute gem of an article by John Brandon and Graham Barlow from MacLife on 30th March over at TechRadar.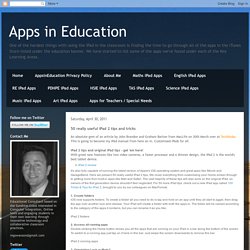 This is going to become my iPad manual from here on in. Customised iPads for all iPad 2 tips and original iPad tips - get 'em here! With great new features like two video cameras, a faster processor and a thinner design, the iPad 2 is the world's best tablet device. iPad 2 review. iPads for Education | Victoria, Australia. Blooms Taxonomy with Apps. After seeing the chart on of Bloom's Taxonomy on bloomsapps, I thought I could make a more thorough table.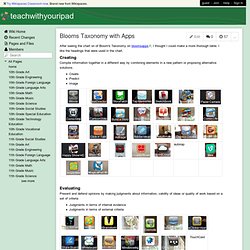 I like the headings that were used in the chart. Creating Compile information together in a different way by combining elements in a new pattern or proposing alternative solutions.CreatePredictImage Evaluating Present and defend opinions by making judgments about information, validity of ideas or quality of work based on a set of criteriaJudgments in terms of internal evidenceJudgments in terms of external criteria. iPads and Tablets in Education. iPads in the Classroom. Mehr als Skiferien: LAAX ist Wintererlebnis pur! BOA%20Rules%2011.4a. YouTube. International Schools Projects - Tangerine Student Magazine. What Shapes Our Language? Our language is constantly being shaped by a number of different influences, from social media and pop culture to other languages and even human error.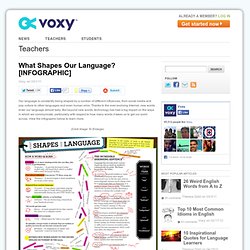 Thanks to the ever-evolving Internet, new words enter our language almost daily. But beyond new words, technology has had a big impact on the ways in which we communicate, particularly with respect to how many words it takes us to get our point across. View the infographic below to learn more. How To Train Yourself to Speed Read. Tipping Etiquette Around the World. Growing up I never really understood the tip, it always seemed as though we were just paying twice for someone to do their job.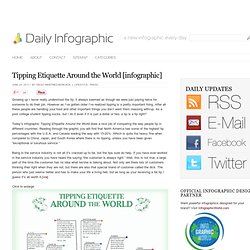 However as I've gotten older I've realized tipping is a pretty important thing. After all these people are handling your food and other important things you don't want them messing with/up. Are We Wired For Mobile Learning? Because of the proliferation of new technologies, the younger generation today is outgrowing traditional forms of education – remember pencils, chalkboards, textbooks and graphing calculators?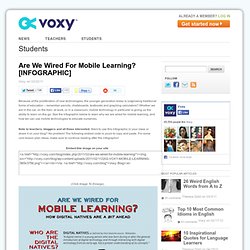 Whether we are in the car, on the train, at work, or in a classroom, mobile technology in particular is giving us the ability to learn on-the-go. See the infographic below to learn why we are wired for mobile learning, and how we can use mobile technologies to educate ourselves. Note to teachers, bloggers and all those interested: Want to use this infographic in your class or share it on your blog?
No problem! 10 Commonly Misunderstood Words. My friends and I are self-professed grammar geeks.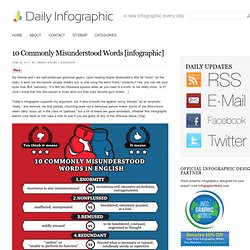 Upon hearing Alanis Morissette's 90s hit "Ironic" on the radio, a worn out discussion usually breaks out: is she using the word "ironic" correctly? Yes, you can roll your eyes now. But, seriously, "It's like ten thousand spoons when all you need is a knife" is not really ironic, is it? (And I know that this discussion is more worn out than your favorite gym shorts…) Today's infographic supports my argument, but it also schools me against using "literally" as an emphatic "really," and reminds me that politely chuckling does not a bemused person make. Visualization. Pantheon, a project from the Macro Connections group at The MIT Media Lab, explores cultural influences across countries and domains.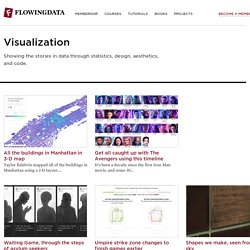 To make our efforts tractable, Pantheon will not focus on culture, as it is understood in its broadest sense, but on cultural production. In a broad sense, culture can be understood as all of the information that humans—or animals [1]—generate and transmit through non-genetic means [2]. Social Media Graphics. Do You Know The Real Cost Of Social Media? These days if you're not using social media to build your brand then you're way behind the times.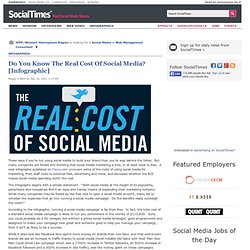 But many companies are fooled into thinking that social media marketing is free, or at least close to free. A new infographic published on Focus.com uncovers some of the costs of using social media for marketing, from staff costs to external fees, advertising and more, and discusses whether the ROI makes social media spending worth the cost. The infographic begins with a simple statement. "With social media at the height of its popularity, advertisers and companies find it an easy and trendy means of expanding their marketing horizons.
Infographic Tweets | Imad Naffa Twitter. DataViz. Cool Infographics - Blog. Diagramly – A Handy Tool For Creating Quick Flowcharts. The best thing about Diagramly is how accessible it is.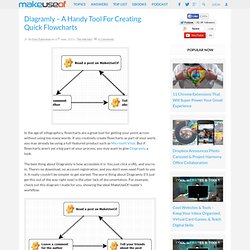 You just click a URL, and you're in. There's no download, no account registration, and you don't even need Flash to use it. How To Create Outstanding Infographics. In this tutorial you will learn that data doesn't have to be boring, it can be beautiful! Learn how to use various graph tools, illustration techniques and typography to make an accurate and inspiring infographic in Adobe Illustrator. 1. Set Up Your Document. A Few Rules for Making Homemade Infographics. Like many other fans of infographics, we were excited about today's launch of Visual.ly, a site that helps normal folk create infographics. The program just requires users to upload data, and it generates a pretty JPG with charts, graphs, and icons -- no PhotoShop skills required.
Given the service's ease and availability -- it's free to join -- it will probably mean the proliferation of more infographics. The definition of what an infographic is can be pretty broad. 10 Awesome Tools To Make Infographics. Who can resist a colourful, thoughtful venn diagram anyway? In terms of blogging success, infographics are far more likely to be shared than your average blog post. This means more eyeballs on your important information, more people rallying for your cause, more backlinks and more visits to your blog.
In short, a quality infographic done well could be what your blog needs right now. Women in Business. I'm sure you've been filling out a RFP, or some mundane company information form, when you see the section that asks if your company is a Women-Owned Business. My company is not run by women, however, I work with several companies that have women owners and key stakeholders. There are some advantages to being a women-owned business, but according to this infographic, women still only hold 3% of c-level positions.
This is changing though. This infographic shows some positive numbers around salaries and GMAT numbers. I have a feeling that women will continue to move towards men in salary, position, and authority. The American identity according to social media #infographic.
What can we learn about the people of America from statistical data? According to this infograph from Hasai, we know that: 9/10 Americans are online77% report that they use social media to share their love of a TV show70% of active US Facebook users log in every day48% of bloggers are US based40% of Americans are following products, services and brands on social media platformsVideo games account for 10% of all US internet time. Infographic.
Cisco Reminds Us Once Again How Big The Internet Is Getting - Arik Hesseldahl - Enterprise. Coca Cola World- Infograph. InfoGraphic Designs: Overview, Examples and Best Practices. 20 Examples Of Infographs That You Don't See Every Day |
---