Inspiration
Binaural Beats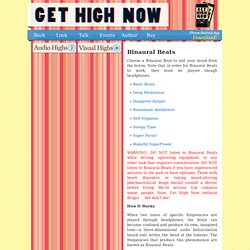 Choose a Binaural Beat to suit your mood from the below. Note that in order for Binaural Beats to work, they must be played though headphones. WARNING: DO NOT listen to Binaural Beats while driving, operating equipment, or any other task that requires concentration.
1. Life isn't fair, but it's still good. 2. When in doubt, just take the next small step. 3. Life is too short not to enjoy it.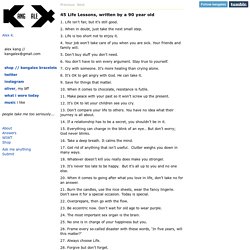 Alex K. - 45 Life Lessons, written by a 90 year old
2013-02-05-leary.jpg (JPEG Image, 980 × 6633 pixels)
Science can answer moral questions - Sam Harris
We all need breaks now and again to make it through the day. Chances are you've had days where you've needed ten breaks, and others where you've powered through without one. So, what's going on there, and what can you do about it? Time magazine has some answers. The basics here are pretty simple: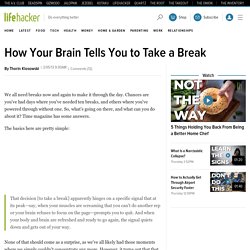 How Your Brain Tells You to Take a Break
Cloud Atlas (2012)
Video
Andy Puddicombe: All it takes is 10 mindful minutes
Can Money Buy Happiness?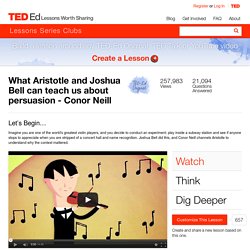 What Aristotle and Joshua Bell can teach us about persuasion - Conor Neill
Often referred to as the "poet of the violin," Joshua Bell is one of the world's most celebrated violinists. He continues to enchant audiences with his breathtaking virtuosity, tone of sheer beauty, and charismatic stage presence. Aristotle (384 BC – 322 BC) was a Greek philosopher and polymath, a student of Plato and teacher ofAlexander the Great. His writings cover many subjects, including physics, metaphysics, poetry, theater, music, logic, rhetoric, linguistics, politics,government, ethics, biology, and zoology. Together with Plato and Socrates (Plato's teacher), Aristotle is one of the most important founding figures in Western philosophy.
1. Life isn't fair, but it's still good. 2. When in doubt, just take the next small step. 3.
Men Who Dress Like Men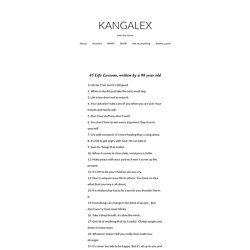 Big Think | Blogs, Articles and Videos from the World's Top Thinkers and Leaders
Do Nothing for 2 Minutes
Ana Somnia - lights out!
Ten Rules for Being Human by Cherie Carter-Scott
post written by: Marc Email When you stop chasing the wrong things you give the right things a chance to catch you. As Maria Robinson once said, "Nobody can go back and start a new beginning, but anyone can start today and make a new ending." Nothing could be closer to the truth.
30 Things to Stop Doing to Yourself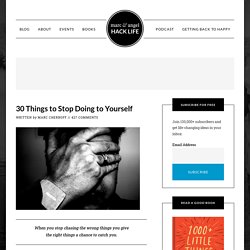 21 Pictures That Will Restore Your Faith In Humanity
ILL MIND OF HOPSIN 5 #hopsin
Search results for "Albert Einstein" (showing 1-20 of 718 quotes)
The 48 Laws of Power (2000) is the first book by American author Robert Greene . [ 1 ] The book, an international bestseller , is a practical guide for anyone who wants power, observes power, or wants to arm himself against power. [ 2 ] [ 3 ] [ 4 ] It has sold over 1.2 million copies in the United States alone and is popular with famous rappers , entrepreneurs , celebrities , athletes and actors including 50 Cent , Jay-Z , Kanye West , Busta Rhymes , Ludacris , DJ Premier , Dov Charney , Brian Grazer , Andrew Bynum , Chris Bosh , and Will Smith . [ 4 ] [ 5 ] [ 6 ] [ 7 ] [ 8 ] [ 9 ] [ edit ] Background
The 48 Laws of Power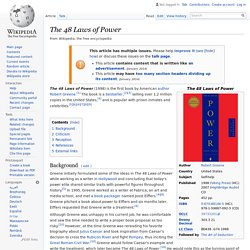 "How strange is the lot of us mortals! Each of us is here for a brief sojourn; for what purpose he knows not, though he sometimes thinks he senses it. But without deeper reflection one knows from daily life that one exists for other people -- first of all for those upon whose smiles and well-being our own happiness is wholly dependent, and then for the many, unknown to us, to whose destinies we are bound by the ties of sympathy.
An Essay by Einstein -- The World As I See It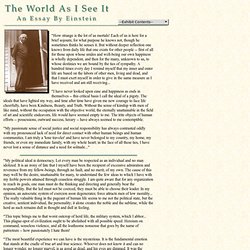 Quotes about anything and everything - q.uote.it
Life's Instructions
Fred O'Bryant's Quote Collection - Volume 1
02-2012-01-41-35-thedalailamawhenaskedwhatsurprisedhimmostabouthumanityansweredmanbecausehesacrificeshishealthinordertomakemoney.jpeg (JPEG Image, 720 × 490 pixels)
Sometimes All You Need Is A Little Inspiration to Keep Rolling
The magic button — Make Everything OK
"Be like water making its way through cracks. Do not be assertive, but adjust to the object, and you shall find a way around or through it. If nothing within you stays rigid, outward things will disclose themselves.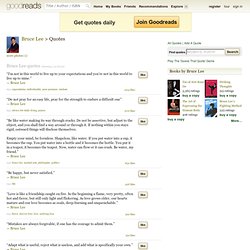 Bruce Lee Quotes (Author of Tao of Jeet Kune Do)
25 Great Motivational Quotes You've Never Heard Of
54 Probably my most read post ever was the 20 Greatest Motivational Quotes of All Time . So much so that I expanded the post and wrote a book with the 50 greatest quotes in that is now sent free to my new newsletter subscribers. Sign up in the box on the left if you want a copy. As I was trawling some quotes the other day it struck me how many amazing ones there were that I'd never heard before and I thought it would be cool to collate the best for your perusal. Now of course I realize that you may well have heard of one or two, but I genuinely hadn't (except one), so please don't give me a hard time or point out that you knew 18 out of 20 and thus I'm a philistine and deserve a damn good thrashing. 1.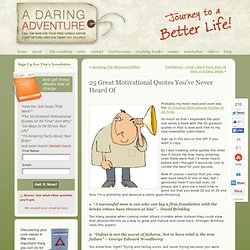 Index of /pages/archive-news/pdfs
TED: Ideas worth spreading
Hyperbole and a Half
I Like Your Flaws & Thought Catalog
I like how you mispronounce words sometimes, how you fumble and stammer and stutter looking for the right ones to say and the right ways to say them. I appreciate that you find language challenging, because it is, because everything manmade is challenging. Including man, including you. When you sleep on your side, I like to map the constellations between your beauty marks freckles pimples, the minuscule mountains that sprinkle your back.
Jonathan Haidt: Religion, evolution, and the ecstasy of self-transcendence
Randy Pausch Last Lecture: Achieving Your Childhood Dreams
Since light travels faster than sound...