Final Project, tech resources
Get flash to fully experience Pearltrees
Maps that Teach take advantage of the fact that geography is spatial. They also utilize the way kids learn best, by actively participating in their learning; learning by doing.
Deciduous forests can be found in the eastern half of North America, and the middle of Europe. There are many deciduous forests in Asia. Some of the major areas that they are in are southwest Russia, Japan, and eastern China.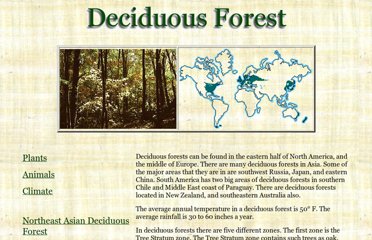 An island is a land area completely surrounded by water. Familiar islands include Madagascar and the Hawaiian Islands. But Greenland is also an island, as is Cuba, Ireland, the United Kingdom, and Manhattan. The Bahamas, Japan, Indonesia, Philippines, and New Zealand are nations made up of islands. A group of related islands, such as the Philippines, is called an archipelago .
Welcome to the MapMaker Interactive This tutorial explains how to explore National Geographic Education's interactive GIS mapping tool and tools for customizing outline maps for print.