And doing stuff
What is the role and value of crafts today? With Grayson Perry: The Tomb of the Unknown Craftsman opening in two months, the British Museum has asked contributors from the craft world to share their thoughts on the importance of craft today.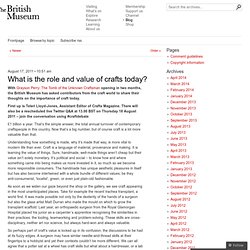 First up is Teleri Lloyd-Jones, Assistant Editor of Crafts Magazine. There will also be a rescheduled live Twitter Q&A at 13.00 BST on Thursday 18 August 2011 – join the conversation using #craftdebate. Neat visualization of download ratios for ebook formats offered by O'Reilly. At O'Reilly we offer multiple (DRM-free) formats to choose among for customers who buy our ebooks.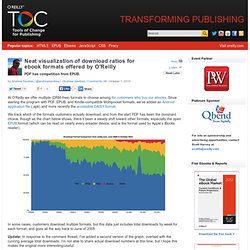 Since starting the program with PDF, EPUB, and Kindle-compatible Mobipocket formats, we've added an Android application file (.apk) and more recently the accessible DAISY format. We track which of the formats customers actually download, and from the start PDF has been the dominant choice, though as the chart below shows, there's been a steady shift toward other formats, especially the open EPUB format (which can be read on nearly every ereader device, and is the format used by Apple's iBooks reader). A Newbie's Guide to Publishing. Mutating books, evolving authors. The Wall Street Journal ran a lengthy and sobering piece this week about how the rise of the e-book is altering the landscape of the publishing industry.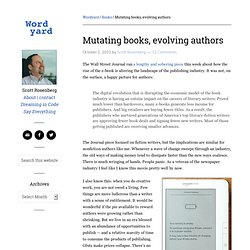 It was not, on the surface, a happy picture for authors: The digital revolution that is disrupting the economic model of the book industry is having an outsize impact on the careers of literary writers. The natural history of the county of ... BBC/OU Open2.net - Journeys In Thought - Rousseau in Staffordshire.
Literary connections with Ellastone, Staffordshire.
Finding Melville's Whale. 404 words • 2~3 min read It's hard to believe that 365 Days of Darwin is three quarters over.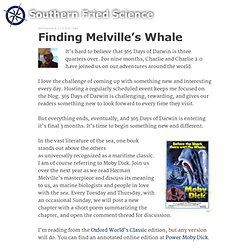 For nine months, Charlie and Charlie 2.0 have joined us on our adventures around the world. I love the challenge of coming up with something new and interesting every day. Chimaericon. Glass. Practical earth.
---