Future
pulp fiction: Software
The Couch to 5K plan - Live Well - NHS Choices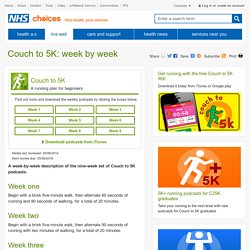 A week-by-week description of the nine-week set of Couch to 5K podcasts. Week one Begin with a brisk 5-minute walk, then alternate 60 seconds of running and 90 seconds of walking, for a total of 20 minutes. Week two Begin with a brisk 5-minute walk, then alternate 90 seconds of running with 2 minutes of walking, for a total of 20 minutes. Week three
Cool Gifts for Guys, Best Gift Ideas for Guys | UncommonGoods
Am I a good girlfriend..?
Shut up and take my money!
Gadgets &Gifts | New gadgets | Mens gadgets | Gadgets for men | Unusual Gadgets &Gift Ideas
Cooking Kits | UncommonGoods
Psychology of Color | Miss Centsible
Gardners Candies - The Worlds Best Chocolates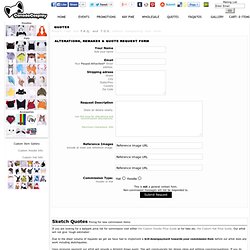 Please read the F.A.Q. and T.O.S. before completing this form. Sketch Quotes Pricing for new commission items If you are looking for a ballpark price list for commission visit either the Custom Hoodie Price Guide or for hats etc. the Custom Hat Price Guide.
quote.php
How to make food go further if money is short or you have unexpected guests
The Ultimate Strawberry Lemonade | Heather's Dish - StumbleUpon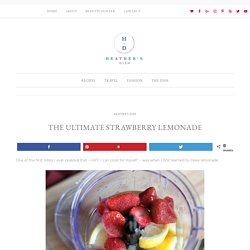 One of the first times I ever realized that – HEY! I can cook for myself! – was when I first learned to make lemonade. I magically found the refrigerated lemon juice at our house and followed the directions to make my own lemonade. I stirred and stirred and stirred again until that sugar was finally dissolved.
Psychology Class Notes: Intro Psychology and Cognitive Psychology Class Notes
AlleyDog.com has your back with Psychology 101 and Cognitive lecture notes. Our notes were created for and used to teach dozens of Introductory Psychology classes. Please keep in mind that these notes are intended to be SUPPLEMENTAL!! They are NOT to be used instead of taking your own class notes.
I rolled my eyes at the red velvet cake trend, but now I can't get enough. I'll make any excuse to have 'cake' for breakfast– here's my take on a classic. Red Velvet Crepes (Makes about 24, 8″ crepes) Ingredients: – 1 1/2 cups all-purpose flour - 1 teaspoon baking powder - 1/2 teaspoon baking soda - 1/4 teaspoon salt - 3 tablespoons sugar - 2 cups butter milk - 1 1/4 cup whole or lowfat milk - 1 large egg - 1 teaspoon vanilla extract - 1 1/2 tablespoons cocoa powder, sifted - 1 tablespoon red food color gel - 2 tablespoons unsalted butter, melted + 2 tablespoons cooking oil (for pan) *Update: Because the buttermilk lends to the acidity of this batter, do not substitute the baking soda for extra baking powder. If you add more baking powder, and omit the baking soda, you'll end up with a heavy and dense crepe.
Red Velvet Crêpes | Duhlicious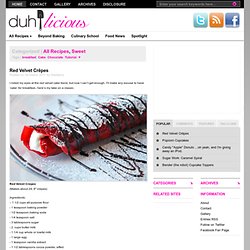 Printable Paper - StumbleUpon
How to Build a Pencil Crossbow & JinSpiration - StumbleUpon
LifeOrganizers.com How to organize your home and office, organizing tips, articles on organizing
Fashion Design Degrees
Low Price | MeWanty.net
Newest Items to make your life easier. | First World Living - StumbleUpon
The Perfect Pantry Article - Allrecipes.com - StumbleUpon
Pantry essentials for easy home cooking. Stock your kitchen with these basics and you'll always have a dinner backup plan. The Bare Minimum These are the essential six staples to always have on hand.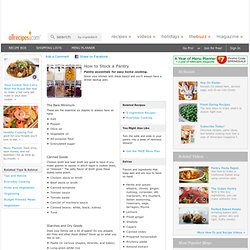 Geeky Gifts - StumbleUpon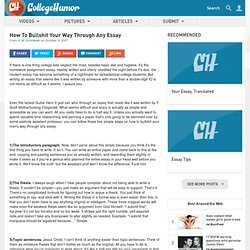 "How To Bullshit Your Way Through Any Essay" by K W Schroeder - CollegeHumor Article - StumbleUpon
If there is one thing college kids neglect the most, besides basic diet and hygiene, it's the homework assignment essay. Hastily written and utterly unedited the night before it's due, the modern essay has become something of a nightmare for lackadaisical college students. But writing an essay that seems like it was written by someone with more than a double-digit IQ is not nearly as difficult as it seems, I assure you. Even the laziest Guitar Hero II god can whiz through an essay that reads like it was written by F.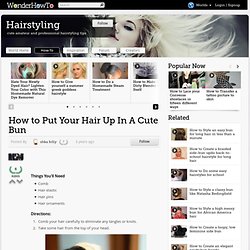 Comb your hair carefully to eliminate any tangles or knots.Take some hair from the top of your head. 3. Tie off this hair with a hair elastic. 4. Don't pull off the ends.
How To Put Your Hair Up In A Cute Bun | Guide « Wonder How To - StumbleUpon
A Huge List of Cool Stuff - StumbleUpon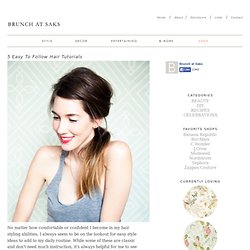 No matter how comfortable or confident I become in my hair styling abilities, I always seem to be on the lookout for easy style ideas to add to my daily routine. While some of these are classic and don't need much instruction, it's always helpful for me to see how other's achieve their look. Here are 5 easy to follow hair tutorials that I'm excited to try: 1. The classic side pony by A Cup of Jo.2. A fishtail braid bun by My Yellow Sandbox.3.
5 Easy to Follow Hair Tutorials - StumbleUpon
- StumbleUpon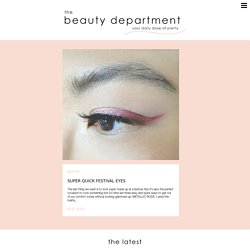 We love a good DIY, and we particularly love a DIY that includes flowers. Saw one of these floral ribbons at a retail store the other day. It was way too overpriced for my liking so of course we decided to create a version you can make yourself for about $2. It's a simple thin ribbon with flowers and a bobby pin attached– not rocket science, but sometimes simple is just prettier.
I am so in love with these darn chocolate lava cookies! What is it about a warm, gooey chocolate chip cookie stuffed with decadent, rich, melted chocolate that makes it so irresistible?? Especially when topped with vanilla ice cream. These are one of Kev's favorite homemade treats, and he usually asks me to make them at least once a week.
Chocolate Chip Lava Cookies | Kevin & Amanda - StumbleUpon
Learning to earn money online can take some time, but it can also be very easy. There are many ways to make money on the internet however, most of them are unknown to the general public. In fact, most of the advertisements that people come across stating "I made $100000 with Google Adsense – you can too if you sign up for my program" are complete lies.
10 Ways To Make Money On The Internet | 2 Make Money On The Internet - StumbleUpon
28th October 2010By GuestPhotography by Adam Much to the delight of the blog team we have a new member, Genevieve. Genevieve has just started in product development for cooking products as a product evaluator.
Mocha and cream cheese brownie & Cooking Blog - Find the best recipes, cooking and food tips at Our Kitchen. - StumbleUpon
Cupcakes
ItMustBeCool.com :: Cool Gift Ideas & Finds
Gandalfs Second Job
Beardhead.com - Beard Hats, Beanies and Caps with Mustaches
Swapaskill | a favour for a friend - StumbleUpon
Dumb Student Late Assignment [PIC] - StumbleUpon
Creative Date Ideas - StumbleUpon
10 Free Websites to download any video off the internet | iTechMax - StumbleUpon
WriteWords - Writing Community - jobs, directory, forums, articles for writers - StumbleUpon
100 Painless Ways to Cut Calories
- StumbleUpon
Stuff for Smart Masses - StumbleUpon
Funny: Smart tips to make life easier - StumbleUpon
Wall to Watch - StumbleUpon
Your source of daily updated funny pictures and gifs. - StumbleUpon
Most Popular Repurposing Tricks of 2011 - StumbleUpon
Newest Items | ThisIsWhyImBroke.com - StumbleUpon
Unusual (and fun) date ideas - StumbleUpon
Eight great gadgets for college dorms | All the latest gadgets: the Gadget Guy | tampabay.com & the St. Petersburg Times - StumbleUpon