Education career academic
If ever a concept has had its meaning pounded pallid by overuse, it's 'passion'. In education, it's everywhere, being dragged out in any number of contexts as a magic ingredient in successful teaching. Witness John Hattie's lauding of 'passionate teachers' at the LFE a couple of weeks ago, and the liberal sprinkling of references to passion throughout Visible Learning . Daniel Willingham in Why Don't Students Like School? asserts that many teachers join the profession in order to enable their students to 'feel the excitement and passion for learning' that they felt in their own education. And at the recent Guardian Innovation in Education conference, we were given the following prompt for discussion: 'Think back to when you first started teaching: what made you excited and passionate?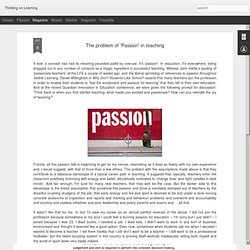 The problem of 'Passion' in teaching | Thinking on Learning
Why the racist history of the charter school movement is never discussed
i 2 Votes On July 19-21 I attended the biennial conference, Console-ing Passions: A Conference on Television, Audio, Video, New Media, and Feminism, hosted by Suffolk University (on a side note, if you write about or study anything related to these themes, I strongly encourage you to apply to Console-ing Passions in 2o14.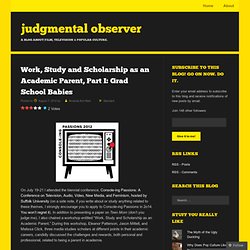 Work, Study and Scholarship as an Academic Parent, Part I: Grad School Babies « judgmental observer
The Puns and Detritus in James Joyce's "Ulysses"
On a day in May, 1922, in Paris, a medical student named Pierre Mérigot de Treigny was asked by his teacher, Dr. Victor Morax, a well-known ophthalmologist, to attend to a patient who had telephoned complaining about pain from iritis, an inflammation of the eye. The student went to the patient's apartment, in a residential hotel on the Rue de l'Université. Inside, he found a scene of disarray.
Steven Pinker on the false fronts in the language wars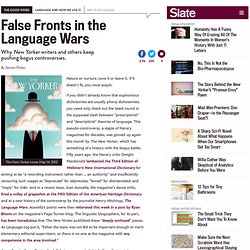 The New Yorker cover May 14, 2012 Nature or nurture. Love it or leave it. If it doesn't fit, you must acquit. If you didn't already know that euphonious dichotomies are usually phony dichotomies, you need only check out the latest round in the supposed clash between "prescriptivist" and "descriptivist" theories of language. This pseudo-controversy, a staple of literary magazines for decades, was ginned up again this month by The New Yorker , which has something of a history with the bogus battle.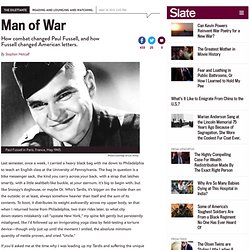 Paul Fussell in Paris, France, May 1945. Photo courtesy of U.S. Army. Last semester, once a week, I carried a heavy black bag with me down to Philadelphia to teach an English class at the University of Pennsylvania. The bag in question is a bike messenger sack, the kind you carry across your back, with a strap that latches smartly, with a little sealtbelt-like buckle, at your sternum. It's big to begin with, but like Snoopy's doghouse, or maybe Dr.
Paul Fussell: Remembering the author of The Great War and Modern Memory
Jim Sporleder, principal of Lincoln High School THE FIRST TIME THAT principal Jim Sporleder tried the New Approach to Student Discipline at Lincoln High School in Walla Walla, WA, he was blown away. Because it worked.
Lincoln High School in Walla Walla, WA, tries new approach to school discipline — suspensions drop 85% « ACEs Too High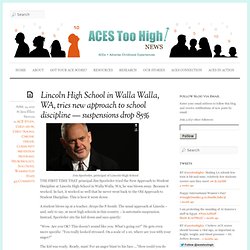 Has Physics Made Philosophy and Religion Obsolete? - Ross Andersen - Technology
" I think at some point you need to provoke people. Science is meant to make people uncomfortable." It is hard to know how our future descendants will regard the little sliver of history that we live in. It is hard to know what events will seem important to them, what the narrative of now will look like to the twenty-fifth century mind. We tend to think of our time as one uniquely shaped by the advance of technology, but more and more I suspect that this will be remembered as an age of cosmology ---as the moment when the human mind first internalized the cosmos that gave rise to it.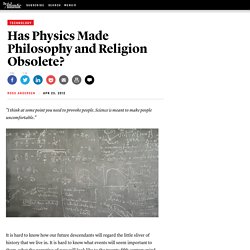 The Mystery of the Millionaire Metaphysician: Slate republishes one of the greatest magazine stories ever written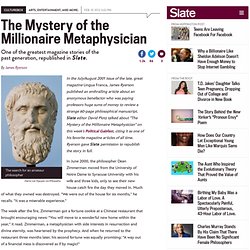 The search for an amateur philosopher
Bottom line shows humanities really do make money / UCLA Today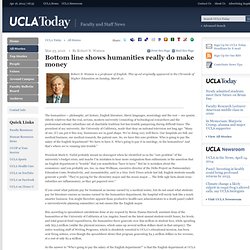 Mar 23, 2010 By Robert N.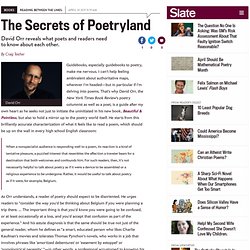 David Orr's Beautiful & Pointless: How do you read a poem? - By Craig Morgan Teicher
David Orr Guidebooks, especially guidebooks to poetry, make me nervous.
Teacher Ron Clark is pictured with his students. Ron Clark is an award-winning teacher who started his own academy in Atlanta He wants parents to trust teachers and their advice about their students Clark says some teachers hand out A grades so parents won't bother them It's OK for kids to get in trouble sometimes; it teaches life lessons, Clark says
7. Ways To Kill Creativity
Promoting Thriving in School-Aged Children: A Checklist
It's important for adults to remember what children are designed to be doing during childhood--challenging social play outdoors in the rhythms of nature .
Image: Vladimir Vladimirov My seventh-grade English teacher exhorted us to study vocabulary with the following: "We think in words.
Goodbye, Oxford comma? Hello, Shatner comma!
Rumors of the death of the Oxford comma have been greatly exaggerated. The Oxford comma, thought by some to be an annoying punctuation foible, appears in a list of multiple items before the "and." Here's how the Oxford comma looks in a sentence: "Scotty transported Spock, Kirk, McCoy, Sulu, and a redshirt down to the planet's surface."
If you're a designer, entrepreneur, or creative – you probably haven't been asked for your resume in a long time. Instead, people Google you – and quickly assess your talents based on your website, portfolio, and social media profiles. Do they resonate with what you're sharing? Do they identify with your story? Are you even giving them a story to wrap their head around?