Mac Os X
http://www.youtube.com/playlist?list=PLBsP89CPrMeOwWHwmD6FzkKIca
Couper le son au démarrage d'un Mac
Couper le son au démarrage d'un Mac Si vous avez un Macbook et que vous vous faites régulièrement grillé à cause du son "DING DONG" de démarrage, voici un petit soft qui va vous permettre de le couper très simplement. Ça s'appelle StartNinja, c'est gratuit et téléchargeable ici. Cliquez simplement sur le bouton Get Current Setting puis OFF et vous n'aurez plus de problème de Macbook qui hurle en plein milieu d'une réunion ou la nuit lorsque vous vous levez pour vérifier que votre client Torrent tourne toujours. A noter que ce soft ne fonctionne pas sur les iMac ni lorsque vous branchez un casque audio sur l'ordi.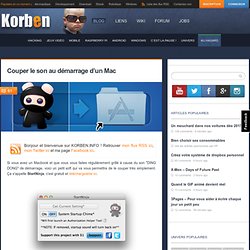 Smart card (TokenD Mac OS X)
OS X 10.8 (Mountain Lion)
About Architecture (32 64 bits)
Fin de partie pour Psystar, le cloneur de Mac qui défiait Apple avec plusieurs configurations tournant sous Mac OS X Leopard. La firme basée en Floride s'est déclarée en faillite et s'est donc placée sous la protection du chapitre 11 sur la banqueroute. Ce qui signifie que la procédure judiciaire en cours initiée par Apple est suspendue le temps que le mandataire judiciaire examine le dossier. Une audience est fixée au 5 juin. A cette occasion, Psystar devra donner le nom des investisseurs qui le soutenaient et dont Apple soupçonne la présence. La firme à la pomme avait en effet amendé sa plainte afin de pouvoir poursuivre d'éventuels partenaires cachés.
Clone de Mac : Psystar en faillite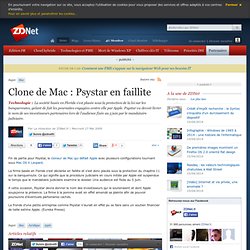 Après des mois de conflit et déjà plusieurs revers juridiques, Psystar s'est vu signifier une injonction lui interdisant définitivement la vente de clones Mac. C'est ce qu'Apple avait réclamé au juge William Alsup du district Nord de Californie. L'injonction interdit en outre à Psystar de contourner les mesures de protection mise en place par Apple et d'assister quiconque à le faire La petite société basée en Floride doit exécuter cette injonction immédiatement et la respecter dans son intégralité au plus tard le 31 décembre 2009.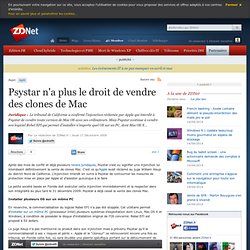 Psystar n'a plus le droit de vendre des clones de Mac - Actualit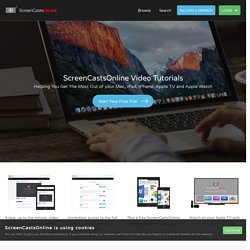 Mac, iPad & iPhone Tutorials Premium members receive a Mac and an iOS video tutorial every week, along with access to a huge library of over 500+ video tutorials Mac TutorialsIOS Tutorials
Technical Note TN2124: Mac OS X Debugging Magic
Capture d'écran
Il existe trois possibilités très simples et entièrement gratuites pour faire des captures d'écran sous MAVERICKS. Si vous voulez faire une capture de tout votre écran, appuyez simultanément sur les touches : cmd + MAJUSCULE + 3. Si vous ne voulez capturer qu'une partie de l'écran, une fenêtre ou une sélection quelconque, appuyez simultanément sur les touches : cmd + MAJUSCULE + 4.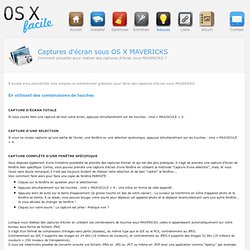 [rg] - Mac OS - Applications - Capture d'écran
Advanced search operators are query words or symbols that perform special actions in Gmail search. These operators allow you to find what you're looking for quickly and accurately. They can also be used to set up filters so you can organize your inbox automatically. Some of the most useful operators are listed below. You can also refine your search by clicking the arrow in the search box.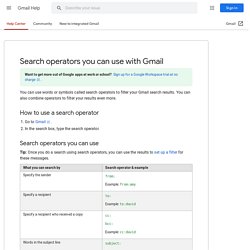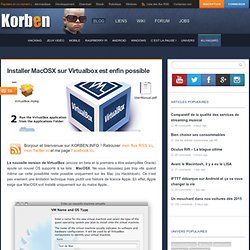 Installer MacOSX sur Virtualbox est enfin possible La nouvelle version de VirtualBox (encore en beta et la première a être estampillée Oracle) ajoute un nouvel OS supporté à sa liste : MacOSX. Ne vous réjouissez pas trop vite quand même car cette possibilité reste possible uniquement sur les Mac (ou Hackintosh). Ce n'est pas vraiment une limitation technique mais plutôt une histoire de licence Apple.
Installer MacOSX sur Virtualbox est enfin possible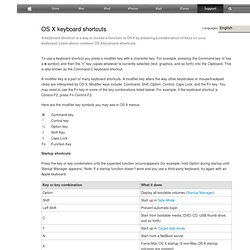 To use a keyboard shortcut you press a modifier key with a character key. For example, pressing the Command key (it has a symbol) and then the "c" key copies whatever is currently selected (text, graphics, and so forth) into the Clipboard. This is also known as the Command-C keyboard shortcut. A modifier key is a part of many keyboard shortcuts. A modifier key alters the way other keystrokes or mouse/trackpad clicks are interpreted by OS X.
Mac OS X: Starting up in Safe Mode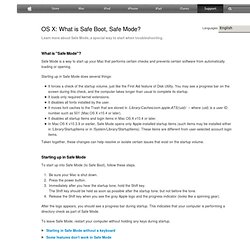 Languages Learn more about Safe Mode, a special way to start when troubleshooting. What is "Safe Mode"? Safe Mode is a way to start up your Mac that performs certain checks and prevents certain software from automatically loading or opening.
Mac OS X Common key shortcuts
From Mac Guides Keyboard shortcuts are combinations of simultaneous key presses that perform certain actions as an alternative to using the mouse. Keyboard shortcuts usually require a combination of modifier keys (command, option, control and shift) and other keys. The command key (cmd), also known as 'Apple' Mac OS X Shortcuts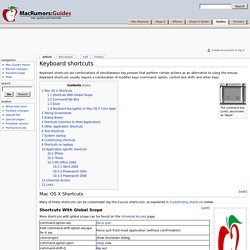 Dépanner un MacBook ou MacBook Pro qui refuse de démarrer
Langues Symptômes Consultez cet article pour savoir comment procéder si votre Mac refuse de s'allumer.
Mon MacBook Pro ne veut plus démarrer !Pas de mise à jour depuis le dernier firmware...Ecran noir au démarrage avec un message du genre "can't open ... usr/bin" ???Utilitaire de disque ne peux pas réparer, problème de "noeud"??? sur le disquePas moyen de vérifier les autorisations....
impossible de démarrer mon Macbook Pro !