Ie - Internet Explorer
Internet Explorer - Microsoft Download Center
ie - Internet Explorer 11
La vie privée dans Internet Explorer sacrifiée au profit des publicitaires ?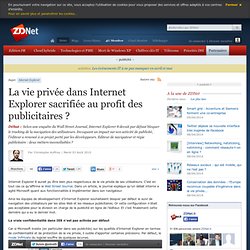 Internet Explorer 8 aurait pu être bien plus respectueux de la vie privée de ses utilisateurs. C'est en tout cas ce qu'affirme le Wall Street Journal. Dans un article, le journal explique qu'un débat interne a agité Microsoft quant aux fonctionnalités à implémenter dans son navigateur. Ainsi les équipes de développement d'Internet Explorer souhaitaient bloquer par défaut le suivi de navigation des utilisateurs par les sites Web et les réseaux publicitaires. Or cette configuration n'était pas acceptable pour la division en charge de la publicité en ligne de l'éditeur.
Internet Explorer is a browser developed by Microsoft.Windows Internet Explorer (formerly Microsoft Internet Explorer) is based on the Trident render engine. Utilu IE Collection contains multiple IE versions, which are standalone so they can be used at the same time. This is useful for web developers. Utilu IE Collection supports both 32-bit and 64-bit versions (if available) of Microsoft Windows 98, 98 SE, ME, NT 4.0, 2000, XP, 2003, Vista, 2008 and 7.
IE Collection - Utilu.com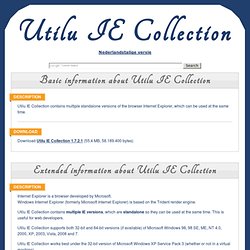 Un article de Wikipédia, l'encyclopédie libre. Internet Explorer (officiellement Windows Internet Explorer depuis la version 7, anciennement Microsoft Internet Explorer), parfois abrégé IE, MIE ou MSIE, est le navigateur Web développé par Microsoft, installé par défaut avec Windows. Depuis qu'il a détrôné Netscape Navigator à la fin des années 1990 et jusque vers 2012, c'est le navigateur Web qui a le plus été utilisé au monde. Ses principaux concurrents sont Mozilla Firefox (depuis 2004) et Google Chrome (depuis 2008). Les versions antérieures à la version 7 sont nommées « Microsoft Internet Explorer », tandis qu'à partir de la version 7, le logiciel est intitulé « Windows Internet Explorer ».
Internet Explorer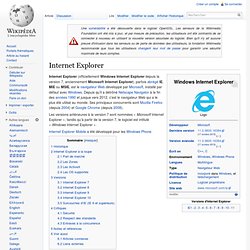 Première journée, et première Keynote du MiX 11! Dans les allées du Mandalabay de Las-Vegas, nombreux sont celles et ceux qui attendaient cette première invitation au voyage. Un voyage dans le monde du Web, initiée par Dean Hachamovitch,Vice President de Windows Internet Explorer, Interner Explorer, une version tous les ans Dean commença sa keynote en revenant sur le lancement d'Internet Explorer 9 il y a quelques semaines. De nombreux sites tirant parti d'HTML5, et autres fonctionnalités d'IE9 sont ainsi présentés sur scène:
Internet Explorer 10: première preview au Mix 11 et Windows sur ARM
HTML5Labs - Home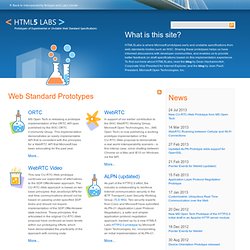 WebRTC Roaming With our latest prototype, we are demonstrating another important interoperability scenario - roaming between two different connections (e.g. Wi-Fi and 3G, or Wi-Fi and Ethernet) - with negligible impact on the user experience. The simple, flexible, expressive APIs underlying the CU-RTC-Web architecture allowed us to implement this important scenario without introducing any changes in the spec, just by building the appropriate JavaScript code.
User agent (internet expolorer Compatibility View)