Genius
- StumbleUpon
This incomplete list is not intended to be exhaustive. This list corrects erroneous beliefs that are currently widely held about notable topics. Each misconception and the corresponding facts have been discussed in published literature. Note that each entry is formatted as a correction; the misconceptions themselves are implied rather than stated.
List of common misconceptions - Wikipedia, the free encyclopedia - StumbleUpon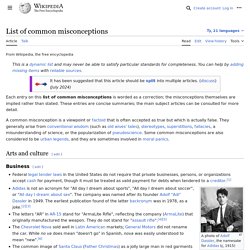 Simple but brilliant ideas | blabwise - StumbleUpon
Can Photos Save A Vanishing Culture? : The Picture Show : NPR
Taylor Weidman thinks so. At the foot of the Himalayas is a region of Nepal that has been virtually untouched by modern times. "Mustang," according to photographer Weidman, "is arguably the best-preserved example of traditional Tibetan life left in the world." Hide caption A group of senior monks prepare for a ceremony during one of Lo Manthang's many festivals. Photos by Taylor Weidman/Taylor Weidman Hide caption The village of Tangge stands on the edge of a Kali Gandaki tributary. Buildings are packed tightly together to help protect the residents from the strong winds that pick up each afternoon.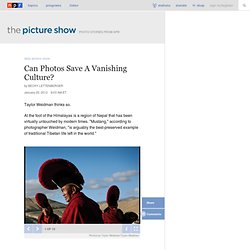 A very cool compilation of chemistry experiments - The Feed Blog - CBS News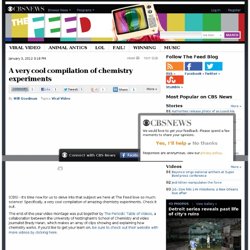 (CBS) - It's time now for us to delve into that subject we here at The Feed love so much: science! Specifically, a very cool compilation of amazing chemistry experiments. Check it out. The end-of-the-year video montage was put together by The Periodic Table of Videos , a collaboration between the University of Nottingham's School of Chemistry and video journalist Brady Haran, which makes an array of clips showing and explaining how chemistry works. If you'd like to get your learn on, be sure to check out their website with more videos by clicking here.
- StumbleUpon
What were you raised by wolves? - StumbleUpon
Peter Callesen - StumbleUpon
Steve Jobs Homage Ads | Ads of the World™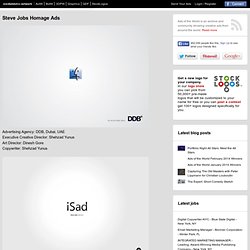 Advertising Agency: DDB, Dubai, UAE Executive Creative Director: Shehzad Yunus Art Director: Dinesh Gore Copywriter: Shehzad Yunus Advertising Agency: Raineri Design, Italy Art Director: Gigi Pasquinelli Advertising Agency: Agency4e7, Vienna, Austria Creative Director: Alex Schönburg Art Director: André Huber Advertising Agency: Avrett Free Ginsberg Advertising Agency: Federico Mauro, Rome, Italy Creative: Federico Mauro
A taxi driver's ultimate revenge on customer through Facebook - StumbleUpon
Don't Put Your Life On Hold... - Global One TV - StumbleUpon
Seven Deadly Sins Combo Chart / cSlacker - StumbleUpon
You don't find many designers working in the funeral business thinking about more creative ways for you to leave this world (and maybe they should be). However, the product designer Gerard Moline has combined the romantic notion of life after death with an eco solution to the dirty business of the actual, you know, transition. His Bios Urn is a biodegradable urn made from coconut shell, compacted peat and cellulose and inside it contains the seed of a tree. Once your remains have been placed into the urn, it can be planted and then the seed germinates and begins to grow. You even have the choice to pick the type of plant you would like to become, depending on what kind of planting space you prefer.
This Awesome Urn Will Turn You into a Tree After You Die | Design for Good | Big Think - StumbleUpon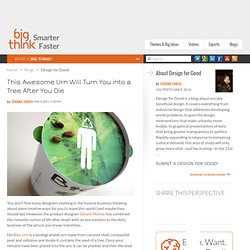 Today I learned, there's a way you can tweak a LCD monitor in such a way where no one can see what's on it, unless you wear those special, home made, magic glasses! Sounds awesome, right? All you need is a LCD monitor and a pair of old (or new) glasses. Open that monitor and remove the polarizing film. Put the monitor back together and replace the lenses in a pair of glasses with peices of that polarizing film you removed.
Why Didn't I Think Of This? - StumbleUpon