Daily Life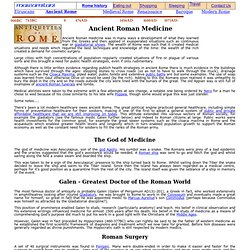 Etruscans Ancient Rome Medieval Rome Renaissance Baroque Modern Rome Ancient Roman medicine was in many ways a development of what they learned from the Greeks and then applied in exasperated situations such as continuous war or gladiatorial shows .
Ancient Roman Medicine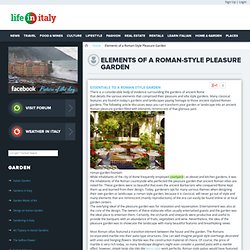 Essentials to a Roman Style Garden
Roman Style Garden in Italy
Roman Nomenclature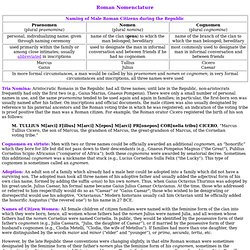 Roman Nomenclature
Roman Social Class and Public Display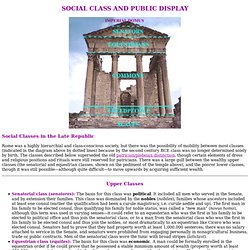 Social Classes in the Late Republic
Gateway to Pompeii, companion site for A.D.62: Pompeii, a novel
Visit the web pages below to see illustrations from ancient works of art that inspired the descriptions of people and places in the novel.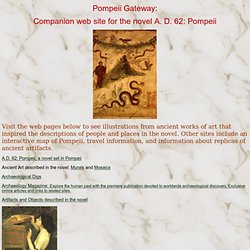 Who was Who in Roman Times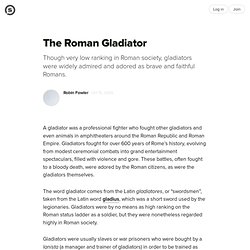 The Roman Gladiator: The Rock Star of the Roman Empire
A was a professional fighter who fought other gladiators and even animals in amphitheaters around the Roman Republic and Roman Empire. Gladiators fought for over 600 years of Rome's history, evolving from modest ceremonial combats into grand entertainment spectaculars, filled with violence and gore. These battles, often fought to a bloody death, were adored by the Roman citizens, as were the gladiators themselves. The word gladiator comes from the Latin , or "swordsmen", taken from the Latin word , which was a short sword used by the legionaries. Gladiators were by no means as high ranking on the Roman status ladder as a soldier, but they were nonetheless regarded highly in Roman society. Gladiators were usually slaves or war prisoners who were bought by a (a manager and trainer of gladiators) in order to be trained as proper gladiators.