Plugins
Get flash to fully experience Pearltrees
I have been using WordPress ever since I started blogging here on Ghacks in 2005. It has been a pleasant ride most of the time, with the occasional rough bump down the road. As a WordPress administrator, you have access to thousands of different plugins that extend or improve the blog's functionality. One issue that you may experience after installing plugins is that your site may load slower than before. Plugins can have an impact on the site's load time, the server load and overall performance.
Print links don't work First, navigate to Options > Permalinks in WP Admin, click Save Changes , and try again. If clicking on a print link takes you back to the post or page where the link appeared, see the Known Plugin Conflicts item below.
MapPress adds an interactive map to the wordpress editing screens. When editing a post or page just enter any addresses you'd like to map. The plugin will automatically insert a great-looking interactive map into your blog. Your readers can get directions right in your blog and you can even create custom HTML for the map markers (including pictures, links, etc.)! For even more features, try the MapPress Pro Version
The Visual Sticky Footer allows you to display one or several different sticky footers on your site. You can have a different sticky footer on a page, post, and or category (or a unified sticky footer for the entire website). Each sticky footer will follow the user as he or she scrolls down the page. We are using the Visual Sticky Footer on this page and as you can see, the visual part of the sticky footer are icons. We have preloaded over 100 icons for you to use. We have also made it possible for you to upload any icons you want.
WordPress is becoming more than ever a tool to open blog/websites and CMSs in an easier way. Users are increasing day by day; one of the limits however is the restricted and predefined fields that are available in the registered users profile: it is difficult for example to ask for the acceptance of "Terms and Conditions of Use" or "Permission to use personal data". Features
Welcome to a whole new way of keeping your blog, forum, guestbook, wiki or content management system free of link spam. Bad Behavior is a PHP-based solution for blocking link spam and the robots which deliver it. Thousands of sites large and small, like SourceForge, GNOME, the U.S.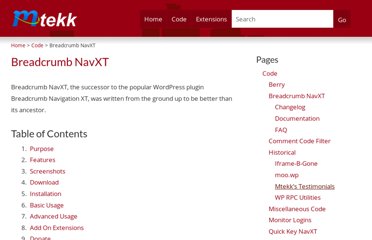 Breadcrumb NavXT, the successor to the popular WordPress plugin Breadcrumb Navigation XT, was written from the ground up to be better than its ancestor. Table of Contents Purpose