Wordpress Plugins
Gallery Share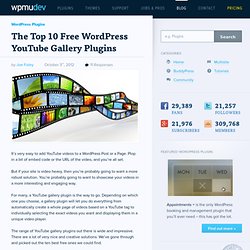 WordPress YouTube Gallery Plugin Options: 10 Creative Solutions
It's very easy to add YouTube videos to a WordPress Post or a Page. Plop in a bit of embed code or the URL of the video, and you're all set. But if your site is video heavy, then you're probably going to want a more robust solution. You're probably going to want to showcase your videos in a more interesting and engaging way. For many, a YouTube gallery plugin is the way to go. Depending on which one you choose, a gallery plugin will let you do everything from automatically create a whole page of videos based on a YouTube tag to individually selecting the exact videos you want and displaying them in a unique video player.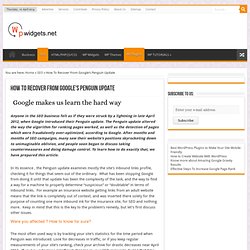 Anyone in the SEO business felt as if they were struck by a lightning in late April 2012, when Google introduced their Penguin update. The Penguin update altered the way the algorithm for ranking pages worked, as well as the detection of pages which were fraudulently over-optimized, according to Google. After months and months of SEO campaigns, many saw their website's positions skyrocketing down to unimaginable oblivion, and people soon began to discuss taking countermeasures and doing damage control.
WordPress Plugins That Can Beat Google Panda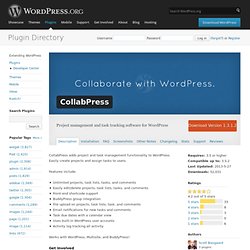 CollabPress
CollabPress adds project and task management functionality to WordPress. Easily create projects and assign tasks to users. Features include: Unlimited projects, task lists, tasks, and commentsEasily edit/delete projects, task lists, tasks, and commentsFront-end shortcode supportBuddyPress group integrationFile upload on projects, task lists, task, and commentsEmail notifications for new tasks and commentsTask due dates with a calendar viewUses built-in WordPress user accountsActivity log tracking all activity Works with WordPress, Multisite, and BuddyPress! Get Involved
Types and Views - Create and Display Custom Content in WordPress
Custom Post Relationships (CPR)
WP Facebook Plugin - UpThemes
WP-Property - WordPress Powered Real Estate and Property Management
Theme Options are what make a WordPress Theme truly custom. OptionTree attempts to bridge the gap between developers, designers and end-users by solving the admin User Interface issues that arise when creating a custom theme. Designers shouldn't have to be limited to what they can create visually because their programming skills aren't as developed as they would like. Also, programmers shouldn't have to recreate the wheel for every new project, so in walks OptionTree. With OptionTree you can create as many Theme Options as your project requires and use them how you see fit.
OptionTree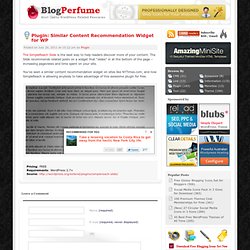 Plugin: Similar Content Recommendation Widget for WP
The SimpleReach Slide is the best way to help readers discover more of your content. The Slide recommends related posts on a widget that "slides" in at the bottom of the page – increasing pageviews and time spent on your site.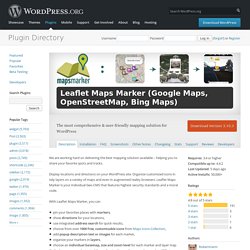 Maps Marker allows you to pin, organize and share your favorite places & tracks through your WordPress powered site easily. You can use maps from OpenStreetMap, Google Maps, Google Earth, Bing Maps or custom maps and additionally display your spots in innovative ways like through augmented-reality browsers. For even more features please try "Leaflet Maps Marker Pro" - demo maps including admin area access available at http://demo.mapsmarker.com.
Leaflet Maps Marker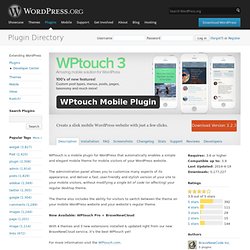 WPtouch is a mobile plugin for WordPress that automatically enables a simple and elegant mobile theme for mobile visitors of your WordPress website. The administration panel allows you to customize many aspects of its appearance, and deliver a fast, user-friendly and stylish version of your site to your mobile visitors, without modifying a single bit of code (or affecting) your regular desktop theme. The theme also includes the ability for visitors to switch between the theme on your mobile WordPress website and your website's regular theme. Now Available: WPtouch Pro + BraveNewCloud With 4 themes and 3 new extensions installed & updated right from our new BraveNewCloud service, it's the best WPtouch yet!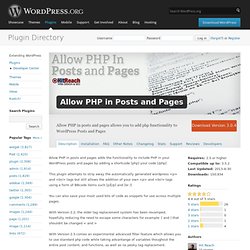 Allow PHP in Posts and Pages
Allow PHP in posts and pages adds the functionality to include PHP in your WordPress posts and pages by adding a shortcode [php] your code [/php] This plugin attempts to strip away the automatically generated wordpress <p> and <br/> tags but still allows the addition of your own <p> and <br/> tags using a form of BBcode items such [p][/p] and [br /] You can also save your most used bits of code as snippets for use across multiple pages.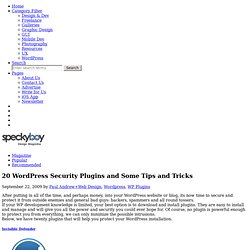 20+ Powerful Wordpress Security Plugins and Some Tips and Tricks
After putting in all of the time, and perhaps money, into your WordPress website or blog, its now time to secure and protect it from outside enemies and general bad guys: hackers, spammers and all round tossers.
Get a Free Related Links Widget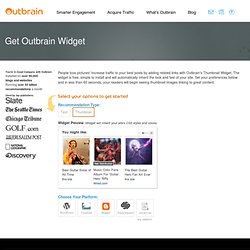 Help readers discover all the great content on your site!
Build an Optin Email List in WordPress | Daniel Watrous
I'm not easy to impress, but the WP Opt-in Crusher plugin is truly groundbreaking…on my blogs i'm always on the lookout for ways to increase newsletter optins as they dramatically increase sales… this does the job better than any other i'ves seen, I can't rate it highly enoughAlistair Macphersonhttp://naturalherbsupplements.com/ The optincrusher plugin for WordPress get's visitors to your website on your email list. It's different from other methods in that it doesn't interrupt the user but it still gets their attention which decreases bounce and exit rates while increasing optin rates. It's super easy to install and use with WordPress and requires no programming. Demonstration We LOVE the Opt-in Crusher!