Plugins
pearltree regroupant plusieur script plugins pour 3dsmax ;) lesart Dec 12
Pixel Factory - plug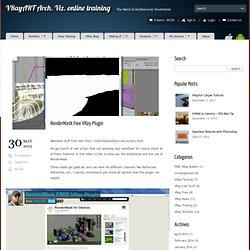 RenderMask Free VRay Plugin | VRayART Arch. Viz. online training
inShare Awesome stuff from Ivan http://www.tepavicharov.com/scripts.html He got bunch of cool scripts that can speedup your workflow! So I would check all of them, however in this video I'd like to show you the installation and the use of RenderMask. These masks got good AA, and can work for different channels like Reflection, Refraction…etc. I warmly recommend you check all options that this plugin can supply.
HDRI Lighting Design Software: HDR Light Studio
Lightmap previews HDR Light Studio 3.5
Thursday, April 12th, 2012 | Posted by Jim Thacker Lightmap has released an interesting set of preview videos for HDR Light Studio 3.5, the forthcoming update to its real-time lighting software. Probably the coolest new feature is Light Paint, which enables users to create custom lighting setups by clicking directly on those points on the surface of a 3D model where they want highlights to appear. Other new features in HDR Light Studio 3.5 include the Light Cam, which enables to view a scene from the point of view of an individual light in the LiveLight progressive render preview; and a streamlined UI.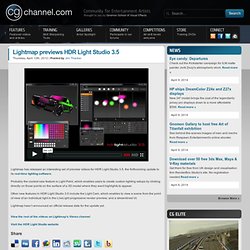 The Tool AK3D ScatterFX is a Map Controlled Scatter Tool for 3ds Max. It is designed for maximum creative control about the scatter process and it´s made for Free Art Projects, Marketing Projects, Architecture Projects and Map Controlled Crowd Population. The Idea The workflow is as easy as in this screenshot.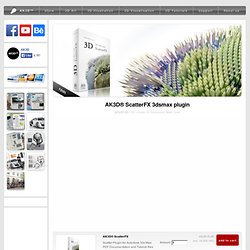 ScatterFX 3dsmax plugin | The art of 3D artist Andre Kutscherauer
|AR-media™ Plugin for Autodesk® 3ds Max®| .:: Inglobe Technologies ::.
Ce plugin créé et développé par Andrey Kozlov, est exclusivement dédié à 3dsmax (version 9 et 2009 en 86x et 64x). La finalité de ce plugin permet une animation temp-réel puis de récupérer les clés d'animations. De plus ce plugin est libre et surtout très simple d'utilisation. Vous trouverez tout en se qui concerne se plugin, mais aussi les docs sur le ftp de Andrey Kozlov Je met ce lien qui explique step by step le fonctionnement du plugin.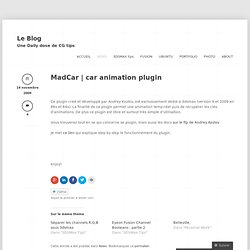 MadCar | car animation plugin « Miaz3
"With the release of version 1.8, Ornatrix has evolved into Blur's full-fledged studio hair solution...
Ornatrix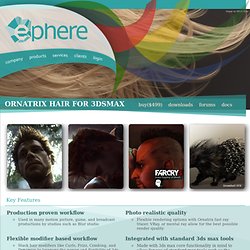 15 greatest plugins for 3DS Max
GENERATEUR DE CITY
Déjà de retour pour "city Engine"... Retour commercial + client (ayant acheté le soft): 850€ ou 6800€ HT pour une version basique ou complète. C'est un logiciel difficile à prendre en main...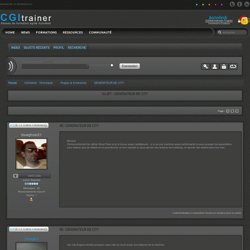 Heavenly Pictures - Polygon Creator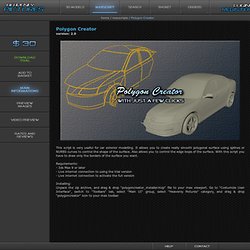 This script is very useful for car exterior modelling. It allows you to create really smooth polygonal surface using splines or NURBS curves to control the shape of the surface. Also allows you to control the edge loops of the surface. With this script you have to draw only the borders of the surface you want. Requirements:- 3ds Max 9 or later- Live internet connection to using the trial version- Live internet connection to activate the full version
iClone Mocap Plug-in and Kinect Motion Capture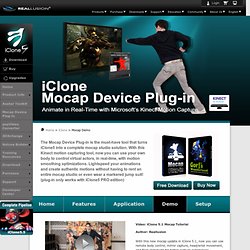 The Mocap Device Plug-in is the must-have tool that turns iClone5 into a complete mocap studio solution. With this Kinect motion capturing tool, now you can use your own body to control virtual actors, in real-time, with motion smoothing optimizations. Lightspeed your animations and create authentic motions without having to rent an entire mocap studio or even wear a markered jump suit! (plug-in only works with iClone5 PRO edition)
Tutoriels
Hristo Velev
Salut à tous, .......jusqu'au 02 Mars 2012 ? ils ont dit ? Alors ça tombe bien faut que je refasse ma cuisine, pas le temps de démonter, faut que je passe par l'option simulation, envoi de débris, multi-collision et pour les portes, options turbulences... Bien maintenant, pour le paiement paypal, j'ai un compte, un peu de liquidité ( je me mettrai en danseuse sur mon vélo cette semaine......). Ensuite,....je clic sur inscription, ajoute dans le panier, quantité 1, je passe en caisse et ensuite....et après ???
Module D - VFX Advanced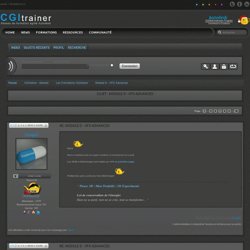 Maskarad: Automatic markerless facial performance capture software for Windows
This is a legally binding agreement between licensee ("you"), and TurboSquid regarding your rights to use Stock Media Products from the Site under this license.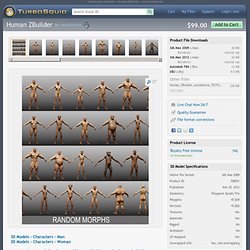 max human zbuilder
Normal Map Generator and Normal Painting Application: Create and Convert Textures to Shader Maps used in Computer Graphics.
Itoo Software - Download 3DS Max Free Plugins
Pull Down It! : Next Step in Dynamics for VFX
Quality of Life Enhancement Device for Computer Artists Roadkill If a good proportion of your life is spent texture mapping polygon meshes, then you should probably install Roadkill. The latest version is a standalone application that can be called from Maya, 3DS Max and now Softimage XSI (link is currently dead).
3D Ripper DX
3D Ripper DX Overview Download Links Quick start guide Maya import Pre- and Post-TnL cache efficiency measurementForum Overview With 3D Ripper DX you can: - capture all geometry, textures and shaders, rendered during single frame; - import captured geometry into 3D Studio Max or Maya; - see what exactly has been drawn by each individual draw call; - see renderstate, textures, vertex streams, index stream, vertex declaration, vertex and pixel shaders (including HLSL source code if available) of each individual draw call. 3D Ripper DX supports only DirectX 6.x, 8.x and 9.x applications.
Détecter & localiser des triangles dans un Poly
Version 1.5 de "Bitmap 2 Material" est annoncée
Labs Utilities AutoCAD Quick Send To 3ds Max
Traduction