Costamiliotis
Costa
Home. XING - The professional network. TinyURL.com - shorten that long URL into a tiny URL. Occupy Wall Street | NYC Protest for American Revolution. Grovo | Your Field Guide To The Internet. Khan Academy. HOW FREE TIPS. Social Media Quickstarter. QR Label | QR Business Cards | QR Facebook Twitter | QR CodesQR Label | Print Once – Advertise Forever.
CreateSpace: Self Publishing and Free Distribution for Books, CD, DVD. ReverbNation. Home | Sri Sri Ravi Shankar - Official Website. THE BUSINESS ALLIANCE FOR LOCAL LIVING ECONOMIES | BALLE - Business Alliance for Local Living Economies. PostRank™ Analytics.
Kurrently - A real-time search engine for Facebook and Twitter. The Standard for Influence. Real Time Search - Social Mention. Socialbakers ❶ Social media (Facebook, Twitter…) marketing, statistics & monitoring. Audioboo. NSR - National Supplier Registration.
Auctions
Quora. Formspring. Be yourself.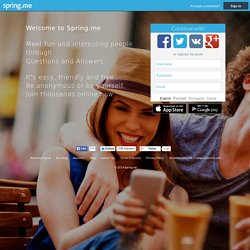 Be anonymous. Be anyone. Ask and answer - anything and anybody! You're invited to join Dropbox! Tlbox - the best tools on the web. Raising Capital. Giving Back. Photo Sharing.
Video. Video Production. Interesting. More Goodies. Even More Goodies. Collaborating. Blogging.
Weebly - Create a free website and a free blog. Free Website Builder - Creator - Maker. Create a Social Networking Site with Ning, the Best Social Site Platform. Blog Engage Blog Forum - Blogging Community and Social Network. Juniper Research | Telecoms Research Services | Free Wireless Research | Mobile Market Forecasting. Amazon Services - Make Money with Amazon.com. Vendor Central. Welcome to Amazon.com's Vendor Central.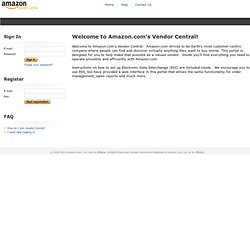 Amazon.com strives to be Earth's most customer-centric company where people can find and discover virtually anything they want to buy online. This portal is designed for you to help make that possible as a valued vendor. Inside you'll find everything you need to operate smoothly and efficiently with Amazon.com. Instructions on how to set up Electronic Data Interchange (EDI) are included inside. We encourage you to use EDI, but have provided a web interface in this portal that allows the same functionality for order management, sales reports and much more.
Become a social business | zbizinc. Fotolog - Share photos. Make friends. It's easy! 9 Tips for Raising Startup Funds on AngelList. Joshua Baer is the co-founder and CEO of Otherinbox, a prolific angel investor and the director of Capital Factory, Austin's seed-stage incubator.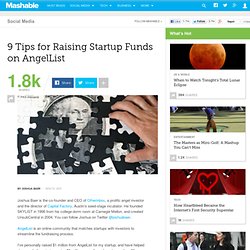 He founded SKYLIST in 1996 from his college dorm room at Carnegie Mellon, and created UnsubCentral in 2004. You can follow Joshua on Twitter @joshuabaer. AngelList is an online community that matches startups with investors to streamline the fundraising process. Welcome.
Social Profiles. Grouply - Better Online Groups - A free Ning alternative. Brain Games & Brain Training. Online Reputation Management Leader. Wikis for Everyone - Wikispaces. Amazon.com Associates: The web's most popular and successful Affiliate Program. Clouds and Servers and Usenets. Article Submission. Scribd.
Buysocialfollowers.com - Established Website for Sale on Flippa: BuySocialFollowers.com - 6K Monthly Profit. 100% Custom order admin system, order automatically entered via IPNOrder types: Twitter, Facebook, YouTube, Google +1, MySpace, Vimeo, LinkedIn, backlinks, Bookmarks, & Web Traffic100% Custom API driven reporting dashboard system100% Seamless PayPal IPN / Instant Payment Notifications100% API Driven instant order fulfillment with our wholesaler100% Scalable to payment gateways like authorize.net or PayPalPro Domain Name Ownership Site Public Front-endSite Order Admin PlatformCustom API Driven Reporting Admin SiteClient Order Archives (Inside Order Admin System)Taking Over our Wholesaler account (Exclusive / Lowest global price)Complete Integration into Buyers ServerComplete Integration into Buyers Payment Processing VendorYou will need to use your own PayPal account!!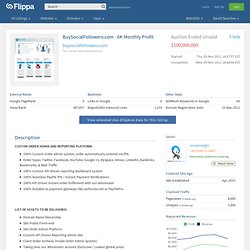 Link Building Services for More Relevant & More Valuable Links | Ontolo. Bitly | shorten, share and track your links. Free Web Toolbar. The Ultimate Domain Destination - Domain Parking - SmartName.com. Home - Plott. Organize your resources in an online binder - LiveBinders. Database.com. Volunia - A different web experience.
Olark | Real-time chat and monitoring of your website visitors through Google Talk and Jabber. Free Website and Social Media | Online Advertising Solutions | ad Space | affiliate program - Sokule. Twitpic - Share photos and videos on Twitter. Document Sharing. Communities. Contest Burner Facebook | Contest Burner. You Can Easily Connect Your Facebook Fan Page & Fan Contest Directly To Your Website & Flood Your Site With Massive Viral Traffic!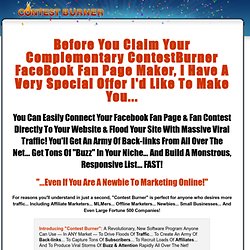 You'll Get An Army Of Back-links From All Over The Net... Get Tons Of "Buzz" In Your Niche... And Build A Monstrous, Responsive List... Do something, Learn something, Share something, Change something - Meetup. ContestSimple. Fullseat - Make a Homepage to Share Events. The Standard for Influence. Untitled.
TwitterLike
Keyword Research. Acts of Kindness. Helping Others Help Others. Thanks for visiting us.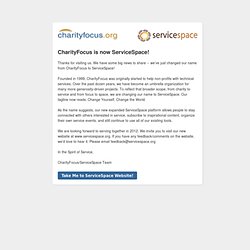 We have some big news to share -- we've just changed our name from CharityFocus to ServiceSpace! Founded in 1999, CharityFocus was originally started to help non-profits with technical services. Emailing. Online Survey Software - Create Online Surveys | Zoomerang. Website Builder - Build a Website, Create a Blog. Intelligence. Insights. Impact. | StrategyFacts. Social Bookmarking.
New unorganized stuff
Landing Pages: Create, Publish & A/B Test Without I.T. Kajabi | Membership Sites and Landing Pages.
---