Privacy and Cloud computing
Perspective for 2014
US (ITA) has issued a guidance document on businesses data. Legal considerations for companies migrating to the clouds. EU urged to scrap use of personal data measures for cloud comput. Regulators pull their head out of the cloud. September 28, 2012 Malware hits the Mac but is it worth worrying about?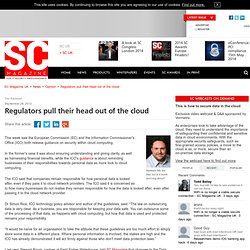 This week saw the European Commission (EC) and the Information Commissioner's Office (ICO) both release guidance on security within cloud computing. The Problem of 'Personal Data' in Cloud Computing - What Information is Regulated? The Cloud of Unknowing, Part 1 by W. Kuan Hon, Christopher Millard, Ian Walden. W.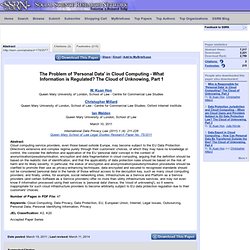 Kuan Hon Queen Mary University of London, School of Law - Centre for Commercial Law Studies Christopher Millard Queen Mary University of London, School of Law - Centre for Commercial Law Studies; Oxford Internet Institute Ian Walden.
Creative Industries / Pressure mounts on EU cloud deal as deadline looms. BRUSSELS - The European Commission is under pressure to keep to its self-imposed September deadline to publish an EU cloud computing strategy, as new evidence revealed widespread public confusion about it.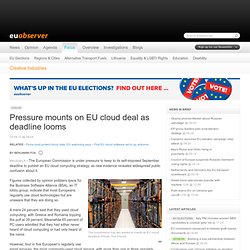 The commission has two weeks to meets its EU cloud deadline (Photo: The Planet) Figures collected by opinion pollsters Ipsos for the Business Software Alliance (BSA), an IT lobby group, indicate that most Europeans regularly use cloud technologies but are unaware that they are doing so. A mere 24 percent said that they used cloud computing, with Greece and Romania topping the poll at 39 percent. Meanwhile 65 percent of PC users admitted that they had either never heard of cloud computing or had only heard of the name. When You Move To The Cloud, Plan For The Storms.
Spanish DP authority consultation
Cloud computing audit. Cloud provider and yr data. Infographie Cloud use of SME. Privacy and Data Protection in the Cloud [For CloudCon 2011] This Wednesday I'll speak in CloudCon 2011, instead of a regulatory lecture, I decided to focus about a technological solution to a legal problem, which I believe might be elegant.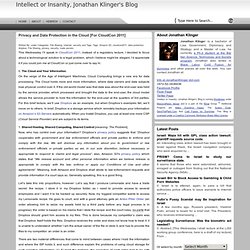 I'd appreciate it if you could join me at CloudCon or just come over to say hi. 0. The Cloud and Your Information. On the verge of the Age of Intelligent Machines, Cloud Computing brings a new era for data processing. The Cloud holds more and more information, where data owners and data subjects lose physical control over it.
SMB cloud computing
Cloud Computing in 2011: 3 Trends Changing Business Adoption CIO. CIO — The business benefits of a cloud computing model have been well stated.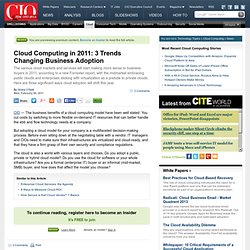 You cut costs by switching to more flexible on-demand IT resources that can better handle the ebb and flow technology needs at a company. But adopting a cloud model for your company is a multifaceted decision-making process. Before even sitting down at the negotiating table with a vendor, IT managers and CIOs need to make sure their infrastructures are virtualized and cloud-ready, and that they have a firm grasp of their own security and compliance regulations. The cloud is also a world with various layers and choices. Do you adopt a public, private or hybrid cloud model? Cloud computing: An opportunity and a legal maze. Who is accountable?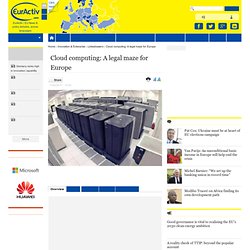 Cloud computing comes mainly in three guises: Infrastructure (data centres); Online platforms (operating systems), and; Applications (web-based email, online office applications, file-sharing). Recette de Madeleines et chocolat. The Digital Forecast Is Cloudy. Honda Data Breach Highlights Need to Set Strong Cloud Security Policies - Security. Vice-President Viviane Reding - European Commission - Viviane Reding. The Justice portfolio is new – it was only created with the start of this European Commission, under the leadership of President José Manuel Barroso, in 2010.
I am thus the first EU Justice Commissioner who is also responsible for citizenship and fundamental rights. My department, the Directorate General for Justice, deals with a wide range of areas such as civil and commercial law, consumer protection legislation, data protection, criminal law, free movement of citizens and equality legislation. Read more Human dignity, freedom, democracy, equality, the rule of law and respect for human rights must be more than concepts.
---