Carto / maps / plans
Cartomanie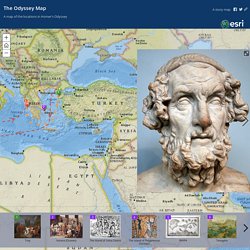 Aeolia Odysseus stopped at Aiolia, home of Aeolus, the god of the winds. Aeolus gave them hospitality for a month and provided for a west wind to carry them home. Aeolus gave Odysseus a leather bag containing all the winds, except the west wind, a gift that should have ensured a safe return home. However, the sailors foolishly opened the bag while Odysseus slept, thinking that it contained gold.
Natural Earth is a public domain map dataset available at 1:10m, 1:50m, and 1:110 million scales. Featuring tightly integrated vector and raster data, with Natural Earth you can make a variety of visually pleasing, well-crafted maps with cartography or GIS software. Convenience Natural Earth solves a problem: finding suitable data for making small-scale maps. In a time when the web is awash in geospatial data, cartographers are forced to waste time sifting through confusing tangles of poorly attributed data to make clean, legible maps. Because your time is valuable, Natural Earth data comes ready-to-use.
cartes bizzares et amazing
cartes diverses / à classer
Philippe Rekacewicz : la cartographie entre art, politique et manipulation
Dessiner avec des cartes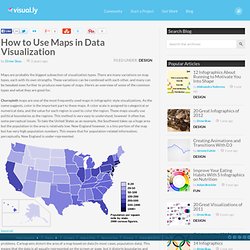 How to Use Maps in Data Visualization
Maps are probably the biggest subsection of visualization types. There are many variations on map types, each with its own strengths. These variations can be combined with each other, and many can be tweaked even further to produce new types of maps.
Les fonds marins, comme la Grande Barrière de corail au large de l'Australie, pourront être observés grâce à Google. © Morozova Tatyana (Manamana) Google se lance dans la cartographie sous-marine - 2 Photos Google a lancé un partenariat avec la compagnie d'assurance Catlin Group Limited et l'organisation à but non lucratif Underwater Earth pour explorer les fonds marins depuis un ordinateur. L'initiative permettra d'utiliser Google Earth pour explorer l'océan et le plancher océanique. En plus d'offrir de fascinantes images, ce projet se propose de cartographier les récifs sous-marins.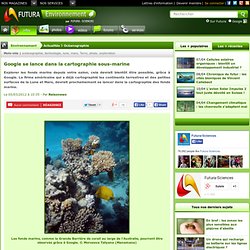 Google se lance dans la cartographie sous-marine
Map Porn, for interesting maps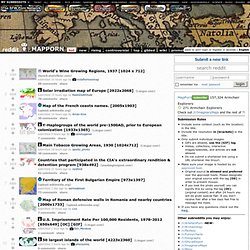 jump to content my subreddits AdviceAnimalsannouncementsAskRedditaskscienceawwbestofblogbooksEarthPornexplainlikeimfivefunnygaminggifsIAmAmoviesMusicnewspicssciencesportstechnologytelevisiontodayilearnedvideosworldnewsedit subscriptions more » MapPorn use the following search parameters to narrow your results:
logiciels et applis carto