Brownies
Craving: Red Velvet Brownies - freutcake | freutcake - StumbleUpon. This weekend I temporarily lost my baking mojo.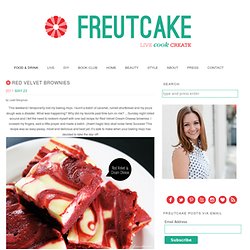 I burnt a batch of caramel, ruined shortbread and my pizza dough was a disaster. What was happening? Grasshopper Brownie Bars. For the brownie base: 3/4 cups flour 1/2 teaspoon salt 1 tablespoon dark unsweetened cocoa powder (like Valrhona) 5 ounces good quality dark chocolate (60 to 72%), coarsely chopped 1/2 cup (1 stick) butter, cut into 1 inch cubes 3/4 cups sugar 1/4 cup firmly packed light brown sugar 3 large eggs, at room temperature 1 teaspoons vanilla extract For the buttercream: 3/4 cups sugar 2 tablespoons flour 3/4 cup milk 2 tablespoons heavy cream 1 1/2 sticks (3/4 cup) butter, softened but still cool, cut into small cubes 3 tablespoons creme de menthe 1 teaspoon peppermint extract For the chocolate glaze: 6 ounces good-quality dark chocolate (60 to 72%), coarsely chopped 1 teaspoon light corn syrup 1/2 cup (1 stick) unsalted butter, softened, cut into cubes To make the brownie base: Preheat the oven to 325 degrees F.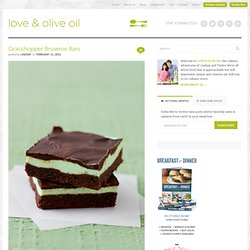 Butter the sides and bottom of a glass or light-colored metal 9-by-13-inch pan. Line the bottom with a sheet of parchment paper, and butter the parchment. Nutella Brownies. Love Vermont Chocolate Fudge Brownies & I'll Have What She's... I've mentioned before that up until a few years ago my parents rented a cottage off Lake Memphremagog every summer.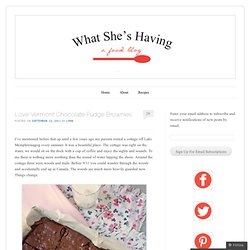 It was a beautiful place. The cottage was right on the water, we would sit on the dock with a cup of coffee and enjoy the sights and sounds. To me there is nothing more soothing than the sound of water lapping the shore. Nutella Brownies Recipe - ThatsSoYummy.com. What is it about Nutella that just puts everybody in a craze???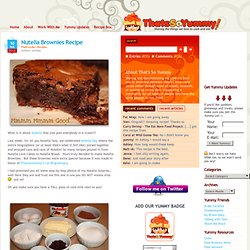 Last week, for all you Nutella fans, we celebrated Nutella Day where the entire blogosphere (or at least that's what it felt like) joined together and enjoyed cans and cans of Nutella! So many recipes poured in from Nutella Lava Cakes to Nutella Bread. Yours truly decided to make Nutella Brownies. But these brownies were extra special because it was made in honor of ThatsSoYummy's 1yr Blogiversary. I had promised you all some step-by-step photos of my Nutella Surprise… well here they are and trust me this one is one you DO NOT wanna miss out on!
---