Print
50 Logo Collection 2011/2012 on Behance
Ryan Todd +44 (0)7966 846471
Stone and Spear : home
I am Ciara | Illustration
George Mellor / Sister Arrow
Cette année, Louis Gagnon de Paprika travaille avec moi et prend en charge un de mes trois groupes de design d'emballage. Il y a donc pour moi le plaisir et la surprise de découvrir certains projets que je n'ai pas vus évolués et qui m'éblouissent par leur concept ou leur beauté. C'est le cas du projet de notre étudiante Milagros Maria Bouroncle Rodriguez qui nous présentait ce magnifique emballage de dégustation pour le thé témoignant d'une attention et d'une virtuosité hors du commun.
T | Milagros Maria Bouroncle Rodriguez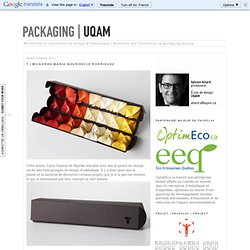 alicelucas
Works. Logos
Portfolio
About Me - Bastardgraphics.com / Portfolio of Julien Rivoire
Trust in Elements™ / the online portfolio of Xavier Bourdil
The Wa
Studio Myerscough
Il y a près de quatre ans, sur l'invitation généreuse de Renaud Huberlant, j'entamais, avec la co-animation de ce blog, un exercice de balisage du flux informationnel de la toile et une tentative modeste de décryptage des enjeux et des élans du graphisme contemporain. Aujourd'hui, après avoir chaleureusement remercié Renaud pour son invitation et Simon Lagneaux pour son travail de développement et de suivi de cet interface, je vais poursuivre cette aventure critique et pédagogique au sein de l'espace plus collectif proposé par la revue en ligne Tombolo . Cet article est donc le dernier que je produirai, non sans quelque émotion, sur 2 ou 3 choses que je sais d'elle… la typographie . Un tombolo c'est ce genre de talus qui protège ou constitue le lien littoral entre deux étendues terrestres.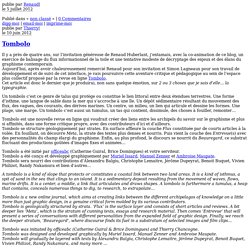 Raúl Iglesias Design
i'm glad you are here
Françoise Nielly - artiste :: Biographie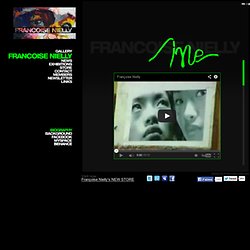 Growing up in the South of France where she lived between Cannes and Saint-Tropez, is never far from the light, the color sense and the atmosphere that permeates the South of France. This is coupled with her studies with her studies at the Beaux arts and Decorative Arts, and her sense of humor and of celebration. Françoise Nielly's painting is expressive, exhibiting a brute force, a fascinating vital energy. Oil and knife combine tsculpt her images from a material that is , at the same time, biting and incisive, charnel and sensual. Whether she paints the human body or portraits, the artist takes a risk : her painting is sexual, her colors free, exuberant, surprising, even explosive, the cut of her knife incisive, her color pallet dazzling.
BLOW
New Tshirts for UNIQLO Nippon Omiyage collection 2013 see more... GASSBOOK shop, Japan. see more... Go to HELLO GASSHOP to buy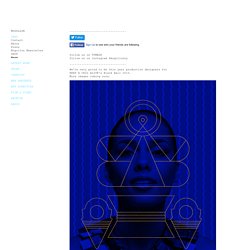 Main : MOGOLLON
Designers United
--HOME-- : Karim Charlebois-Zariffa
Your business card is a self-promotional tool that can be used for both good and bad. When a business card is boring, it often gets filed in the round file--also known as the trashcan. When a business card is brilliant, however, it represents you and your business in a positive and memorable light.
40 Brilliant Business Cards - Peculiar Self-Promotion That Ensures You're Remembered (CLUSTER)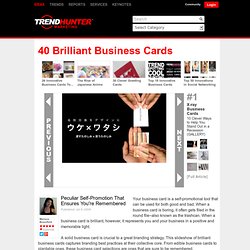 Xavier Encinas - Graphic Design Studio - Paris
△ Blokk – Identity Blokk provides full architecture and interior design services. We created their identity and wanted to reflect their philosophy on embracing openness, a straightforward attitude and clear communication with their clients.
Heydays – New Work Special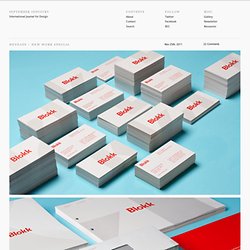 Grafica- mente