Technical
Thought-Control Headset Reads Your Mind | Gadget Lab
NASA Officially Confirms Cold Fusion Works 2012
Female Android Robot fembot Aiko Demo 2
Rockefeller banning Internet - Bills 773 & 778
If a clean energy project in the Arizona desert goes forward, the second tallest structure on Earth will be a 2,600-foot solar updraft tower, which could last 80 years and generate 200 MW of electricity each day — using only hot air.
World's second tallest structure will power 100,000 homes a day with hot air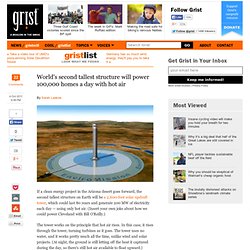 Bloom Box Free Energy Device
Brave New Nano: Flexible phones & graphene gadgets in RT's Technology Update
Tom's Hardware US
The memory of the future? Faster than this guy IBM today announced that, for the first time, scientists at its research arm have demonstrated that a relatively new memory technology, known as phase-change memory (PCM), can reliably store multiple data bits per cell over extended periods of time. The benefits of such a memory technology would allow computers and servers to boot instantaneously – much faster than what even the fastest SSD today can do. IBM believes that PCM can write and retrieve data 100 times faster than flash while also not losing data when the power is turned off. Unlike flash, PCM is also very durable and can endure at least 10 million write cycles, compared to current enterprise-class flash at 30,000 cycles or consumer-class flash at 3,000 cycles.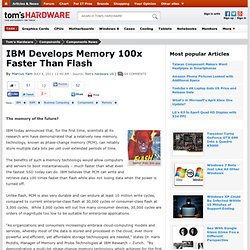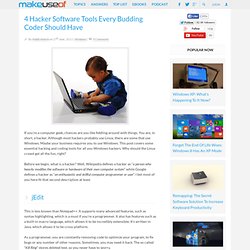 4 Hacker Software Tools Every Budding Coder Should Have
Before we begin, what is a hacker?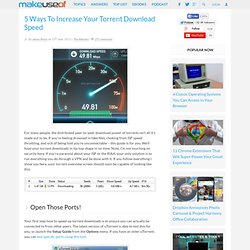 5 Ways To Increase Your Torrent Download Speed
Open Those Ports!
Solar energy potential underestimated, says Greg Barker | Environment
Britain has underestimated the potential of solar energy and the government needs to reappraise the technology because of rapidly falling costs, according to energy and climate minister Greg Barker. "Historically, the Department of Energy and Climate Change (Decc) has underestimated the contribution that solar can make," he said. "But solar is now going through an extraordinary stage of development … it's capable of scaling up and competing with the big boys. It's not just for enthusiasts.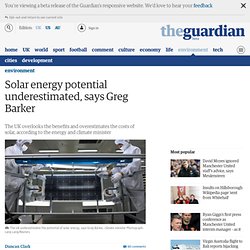 For GNOME users, there's a nice little application that should do the job called Gnome On-Screen Keyboard, or GOK for short.
Replace Gnome On-Screen Keyboard With Florence Virtual Keyboard [Linux]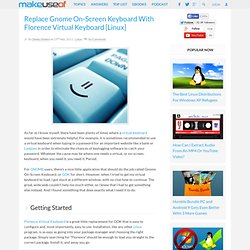 Cool Websites and Tools [May 10th] | MakeUseOf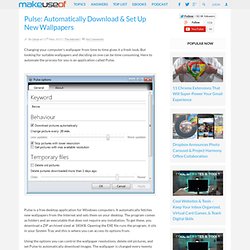 Pulse: Automatically Download & Set Up New Wallpapers
Changing your computer's wallpaper from time to time gives it a fresh look. But looking for suitable wallpapers and deciding on one can be time consuming. Here to automate the process for you is an application called Pulse.
By Eric W.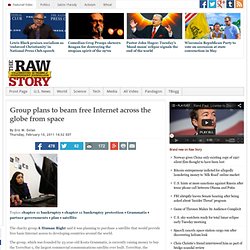 Group plans to beam free Internet across the globe from space | Raw Story
Bypassing the Obama Kill Switch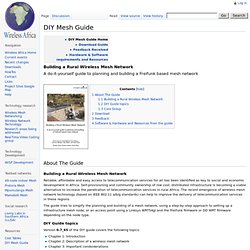 DIY Mesh Guide - WirelessAfrica
Building a Rural Wireless Mesh Network A do-it-yourself guide to planning and building a Freifunk based mesh network About The Guide
These days, no popular movement goes without an Internet presence of some kind, whether it's organizing on Facebook or spreading the word through Twitter. And as we've seen in Egypt, that means that your Internet connection can be the first to go. Whether you're trying to check in with your family, contact your friends, or simply spread the word, here are a few ways to build some basic network connectivity when you can't rely on your cellular or landline Internet connections. Do-It-Yourself Internet With Ad-Hoc Wi-Fi Even if you've managed to find an Internet connection for yourself, it won't be that helpful in reaching out to your fellow locals if they can't get online to find you.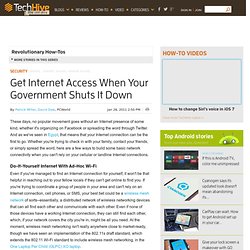 In Canada, powerful actors want to make the Net more expensive, less open. Locking in ISP profits at expense of creativity.
Don't Take Digital Innovation for Granted
Why fighting for copyright is futile
Protects Your Privacy!
The only search engine that does not record your IP address.
OpenMedia.ca | Engage, Educate, Empower
Christoph Janz on Web 2.0
Shipping Container Homes
Independant Green Energy/Housing
You can turn a "useless" piece of land into a useful one and create something beautiful by building a trail in your backyard. It doesn't even matter whether you have a lot of land or just a small scrap of nature. In my case, my useless patch was a mere half acre choked with blackberry brambles and other largely impenetrable weed species.
Build a trail by Claire Wolfe 91