Independant Green Energy/Housing
Out of Their Minds | Episode 5 - Thane Heins. Thane Heins, college dropout, former chef at the Canadian Museum of Civilization, basement tinkerer has invented what he describes as a new kind of generator.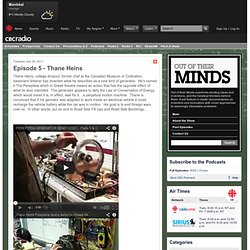 He's named it The Perepiteia which in Greek theatre means an action that has the opposite effect of what its doer intended. The generator appears to defy the Law of Conservation of Energy, which would mean it is, in effect, wait for it....a perpetual motion machine. Thane is convinced that if his genrator was adapted to work inside an electrical vehicle it could recharge the vehicle battery while the car was in motion.
Wind Energy Without Turbines – Is this the Model T of Wind? Is it possible to make wind energy without a wind turbine?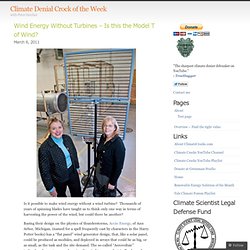 Thousands of years of spinning blades have taught us to think only one way in terms of harvesting the power of the wind, but could there be another? Basing their design on the physics of thunderstorms, Accio Energy, of Ann Arbor, Michigan, (named for a spell frequently cast by characters in the Harry Potter books) has a "flat panel" wind generator design, that, like a solar panel, could be produced as modules, and deployed in arrays that could be as big, or as small, as the task and the site demand. The so-called "Aerovoltaic" technology harvests energy by using the wind to move electrically charged particles against a voltage gradient. The panels would be designed to create double the amount of power a solar module of the same size would create.Inventor David Carmein based the technology on a flash of insight, that he has since learned was not completely new.
Renewable energy can power the world, says landmark IPCC study | Environment. A solar power plant in the Mojave desert.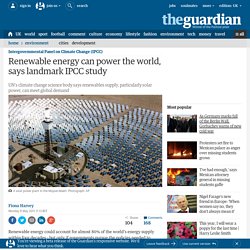 Photograph: AP Renewable energy could account for almost 80% of the world's energy supply within four decades - but only if governments pursue the policies needed to promote green power, according to a landmark report published on Monday. The Intergovernmental Panel on Climate Change, the body of the world's leading climate scientists convened by the United Nations, said that if the full range of renewable technologies were deployed, the world could keep greenhouse gas concentrations to less than 450 parts per million, the level scientists have predicted will be the limit of safety beyond which climate change becomes catastrophic and irreversible.
Investing in renewables to the extent needed would cost only about 1% of global GDP annually, said Rajendra Pachauri, chairman of the IPCC. Vision: Across the Country, People Are Rising Up to Fight for Change. "Small acts, when multiplied by millions of people, can quietly become a power no government can suppress, a power than can transform the world."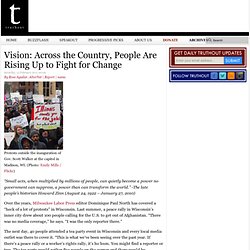 -The late people's historian Howard Zinn (August 24, 1922 – January 27, 2010) Over the years, Milwaukee Labor Press editor Dominique Paul North has covered a "heck of a lot of protests" in Wisconsin. Nikola Tesla unlimited free energy forever THEY dont want you to know about. In Snowy Whistler, a House with No Furnace. Canada's first Passivhaus points to the future of green building with wood.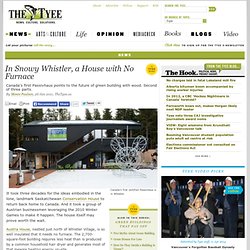 Second of three parts. Canada's first certified Passivhaus is in Whistler. One cob cottage at cobville, with a rocket mass heater. Lindsey Williams - The Elite Speak - DVD 1 Part 5 - Jan/Feb 2010 (To Seduce a Nation) Hydra - Solar Hydrogen Powered Water Purification. Chava Energy. Man invents machine to convert plastic into oil. HHO Energy.
Off-grid-living. LIBERTY HOMES --- Earth formed. Earth sheltered. Structure.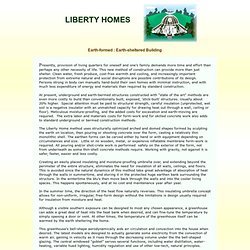 Then the shelter and surrounding earth bank is covered with an umbrella comprised of several alternating layers of insulation and polyethylene sheeting, extending beyond the perimeter of the structure 20'. The insulating, water-shedding, 'umbrella' itself is then covered with more earth sufficient to adequately support growth of vegetation for ground-cover. If heavy equipment is not available or affordable, it is feasible that the entire form can be hand-sculpted with only a shovel and other hand tools. It is surprising how much dirt can be moved by one healthy person in a short period of time. .. or even by an aging, out-of-shape codger such as myself. The reverse mold for my 20' diameter model was created in only twelve hours of hand-digging with a spade. DOE's SunShot Initiative Revitalizes 10 Million Solar Roof Plan. The Ten Million Solar Roof Initiative proposed by Senator Bernie Sanders of Vermont in 2010 could get a much-needed push from Secretary of Energy, Steven Chu's recent SunShot initiative.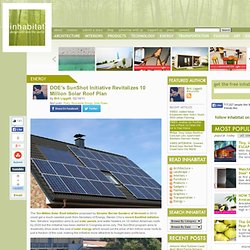 Sen. Sanders' legislation aims to put solar panels and water heaters on 10 million American roofs by 2020 but the initiative has been stalled in Congress since July. TRANSITION TOWNS: An Interview with Rob Hopkins | Locals Supporting Locals. Bag End - Hobbit Houses. By now, all of you have seen, or heard of "Lord of the Rings".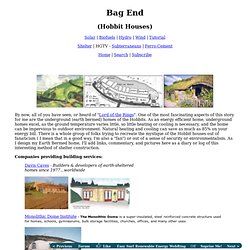 One of the most fascinating aspects of this story for me are the underground (earth bermed) homes of the Hobbits. As an energy efficient home, underground homes excel, as the ground temperature varies little, so little heating or cooling is necessary, and the home can be impervious to outdoor environment. Natural heating and cooling can save as much as 85% on your energy bill.
There is a whole group of folks trying to recreate the mystique of the Hobbit houses out of fanaticism ( I mean that in a good way, I'm also a "fan") or out of a sense of security or environmentalism. As I design my Earth Bermed home, I'll add links, commentary, and pictures here as a diary or log of this interesting method of shelter construction. Renewable Energy International. A Low Impact Woodland Home. How to have a home with no house payments and no utility bills! Welcome to The Hopewell Project. FREE ENERGY # 32-1 TOTALLY 100% OFF GRID HOUSE BY THE RENEWABLE ENERGY Part 1. How to send Letters without Using an Envelope.
---