Computers
Physicists Create a Working Transistor From a Single Atom
The group of physicists, based at the University of New South Wales and Purdue University , said they had laid the groundwork for a futuristic quantum computer that might one day function in a nanoscale world and would be orders of magnitude smaller and quicker than today's silicon-based machines. In contrast to conventional computers that are based on transistors with distinct "on" and "off" or "1" and "0" states, quantum computers are built from devices called qubits that exploit the quirky properties of quantum mechanics. Unlike a transistor, a qubit can represent a multiplicity of values simultaneously. That might make it possible to factor large numbers more quickly than with conventional machines, thereby undermining modern data-scrambling systems that are the basis of electronic commerce and data privacy. Quantum computers might also make it possible to simulate molecular structures with great speed, an advance that holds promise for designing new drugs and other materials.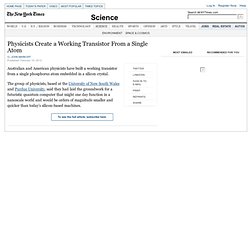 Tom's Hardware US
Today on our desktop computers, we have CPUs with core counts that we can count through with our fingers. Intel, however, has just presented at SC'11 its the first silicon of the "Knights Corner" co-processor that is capable of delivering more than 1 TFLOPs of double precision floating point performance. Such power of Intel's MIC (many integrated core) architecture won't be used to play Crysis, but rather it'll be put towards highly parallel applications, such as weather modelling, tomography, proteins folding and advanced materials simulation. "Intel first demonstrated a Teraflop supercomputer utilizing 9,680 Intel Pentium Pro Processors in 1997 as part of Sandia Lab's 'ASCI RED' system," said Rajeeb Hazra, general manager of Technical Computing, Intel Datacenter and Connected Systems Group.
BrainGate Neural Interface
Buy a Linux Computer - linuxpreloaded.com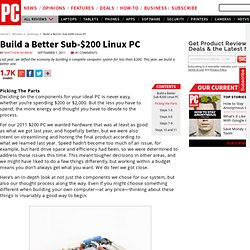 Last year, we defied the economy by building a complete computer system for less than $200. This year, we build a better one. Picking The Parts Deciding on the components for your ideal PC is never easy, whether you're spending $200 or $2,000. But the less you have to spend, the more energy and thought you have to devote to the process.
Build a Better Sub-$200 Linux PC - Picking the Parts
How Is It Possible that 90% of People Don't Know About Command + F?
OSHO: Jealousy- Society's Device to Divide and Rule‬‏
Support
High Performance Custom Gaming PCs and Notebooks