humor
Get flash to fully experience Pearltrees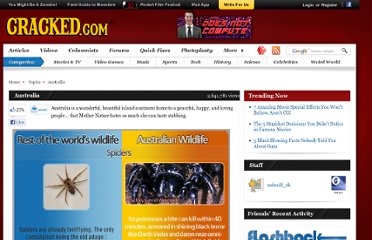 Australia is a wonderful, beautiful island continent home to a peaceful, happy, and loving people... that Mother Nature hates so much she can taste stabbing. Just The Facts Australia is the largest island nation in the world, straddling the border of the Pacific and Indian Ocean.
*Buy a new .COM, get one new .INFO for FREE for 1st year only. Not valid on renewals or transfers. Plus ICANN fee of 18¢ per domain per year. † Good for one 1-year registration of any available .COM, .US, .BIZ, .INFO, .NET or .ORG **New .COs, first year only. Offer ends 8/31/2012. ‡ Annual discounts available on NEW purchases only. GoDaddy.com is the world's No. 1 ICANN-accredited domain name registrar for .COM, .NET, .ORG, .INFO, .BIZ and .US domain extensions. Source: RegistrarSTATS.com
The Rebels got lucky. Han, Luke, Leia, that Nib-Nub guy who flew with Lando, all of them should have been death-starred hard in the face by the Empire -- and not just because of the Empire's superior numbers and technology. Darth Vader and his underlings planned every last subtle detail, right down to the color of the spaceships and Vader's own robot voice, according to what science says works. The Color Black Is Scientifically Proven to Intimidate People At the beginning of Episode IV , stormtroopers blast the crap out of some rebel scum.
Marc Johns' drawings have been exhibited in New York, San Francisco, Los Angeles, Vancouver, Athens, and elsewhere. He has just published a new book of drawings: I MADE THESE DRAWINGS FOR YOU . His first book, Serious Drawings , was published by teNeues. His drawings have appeared in many other books, as well as publications such as National Geographic, Wired, Newsweek, and the New York Times Sunday Magazine. His work is blogged about by someone, somewhere, every day, and many of his fans have tattoos of his drawings.
Pickles Will Kill You AP Stats listserve archives dated: Sun, 26 Aug 2001 Subject: Re: Pickles Will Kill You Every pickle you eat brings you closer to death. Amazingly, the "thinking man" has failed to grasp the terrifying significance of the term, "in a pickle." Pickles are associated with all the major diseases of the body.