Fabric
T-shirt latch hook rug tutorial - StumbleUpon. I really love flokati rugs.
I have two that are safely tucked away in my parents basement awaiting our reunion. When I learned that I would be having a child and building a nursery for him, I wanted a flokati. A gray one. Being a flokati snob though, I knew that I couldn't afford the price tag ( ), and I knew that I would be too precious about the rug ( ). So I chose the only sensible alternative: I would make a rug. Little Blue Fairy Penguins. Living among the fairy penguins In the late 70's and early 80's my parents owned a house in Summerlands on Phillip Island which sits at the top of the cliff above the Phillip Island Penguin Parade.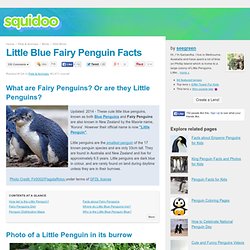 During part of the summer and regularly throughout the year this was our home when our family wanted to get away from the city and enjoy the beach. During this time I came to know the fairy penguins well. While they may not be called fairy penguins any more, I can't think of them as Little Penguins, the name just doesn't suit, even though it is the correct name. In the evenings we would watch the tour buses drive around the coast bringing tourists from around the world to see Australia's second largest natural tourist attraction. Anthropologie.
DIY Wrap Bracelet - Honestly WTF. You should all know by now that we are all about stacking bracelets on our wrists.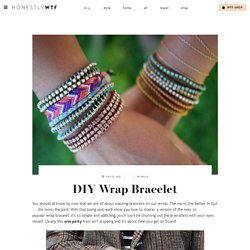 The more, the better. In fact . . . the most, the best! With that being said, we'll show you how to master a version of the ever so popular wrap bracelet. V and Co how to: jersey knit bracelet. I don't know what it is about this time of year that makes me just want to have my bare feet in the sand, be watching the sun setting into the ocean, and breathing in the warm salty air of the beach...as i get older, more and more i find myself missing that place i used to go to almost every.single.day. as a teen.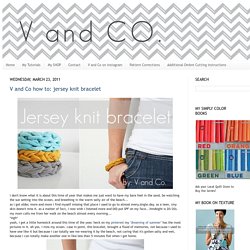 (my skin doesn't miss it. as a matter of fact, i now wish i listened more and DID put SPF on my face...hindsight is 20/20). my mom calls me from her walk on the beach almost every morning... *sigh*yeah, i get a little homesick around this time of the year. heck on my pinterest my "dreaming of summer" has the most pictures in it. ah yes. i miss my ocean. case in point. this bracelet, brought a flood of memories, not because i used to have one like it but because i can totally see me wearing it by the beach, not caring that it's gotten salty and wet, because i can totally make another one in like less than 5 minutes flat when i get home.
T-Shirt Bracelets | Family Chic. Upcycled Sweater Boots. Watermark Tee by Sweet Verbana - StumbleUpon. Hello U-Create readers!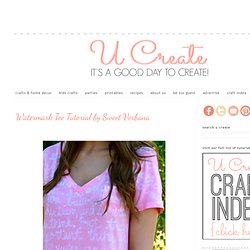 I am so excited to be guest posting here today. It just so happens to be my first guest post and I'm still a little shocked that it's here at Ucreate, one of my favorite blogs! A little bit about me.. I'm from a little town called Keller, Texas. How to make a fall wreath idea | Craftaholics Anonymous. Happy friday, crafters!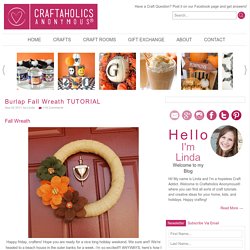 Hope you are ready for a nice long holiday weekend. We sure are!! We're headed to a beach house in the outer banks for a week. i'm so excited!!! ANYWAYS, here's how I made this gorgeous fall wreath using burlap and a few other supplies! This wreath is easy to make and the flowers can easily be changed out for different embellishments for future holidays.
10 Beautiful Fabric Flower Tutorials. It is spring!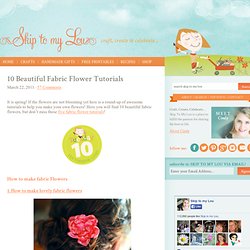 If the flowers are not blooming yet here is a round-up of awesome tutorials to help you make your own flowers! Here you will find 10 beautiful fabric flowers, but don't miss these five fabric flower tutorials! 1. How to make lovely fabric flowers 2.
---