Project management
Gestion de Projet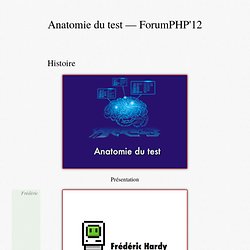 Anatomie du test — ForumPHP'12
Présentation Bonjour à tous ! Je m'appelle Frédéric Hardy.
A Risk Management Implementation
June 13, 2012 | Author: PM Hut | Filed under: Risk Identification, Risk Management, Risk Quantification & Analysis, Risk Response & Control A Risk Management Implementation By Gary Hamilton, Gareth Byatt, and Jeff Hodgkinson As program or project managers, we have our hands full with the day-to-day management of our initiatives, and it is difficult enough to keep a lid on all the tactical actions that are taking place, let alone plan for the future.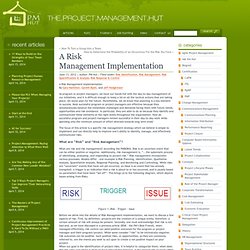 Some companies estimate an increase in production by as much as 30 percent after implementing a project management system. This means you could potentially accept 30 percent more projects and pull in more revenue using the same resources you have now. If your collection of spreadsheets and limited collaboration tools are becoming burdensome and inefficient, it is time to consider an online project management solution. Most top project management software works alongside your current business solutions, including Outlook, SAP, ERM, CRM, accounting software and Salesforce, either via direct integrations or advanced programming interfaces (APIs).
TeamLab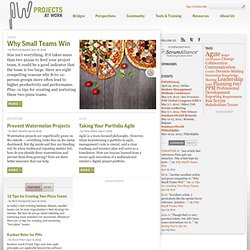 Click here for the interview David J. Anderson is the leading voice in IT when it comes to taking the practices introduced in Lean Manufacturing's kanban system and adjusting it to serve ... Posted in: The Reluctant Agilist McDonalds - purveyors of millions and millions and millions of hamburgers, has been making some sustainabiilty moos (er... news) lately. It drew our attention and we thought we'd sha... Posted in: People, Planet, Profits & Projects
Project Management Templates and Resources - ProjectConnections.com
ESI International's top 10 trends in project management highlight the need for leadership within projects, whether Agile or Waterfall. They also discuss the challenges associated with finding qualified project managers, and finding the right balance of project management approaches in this evolving industry. These top 10 trends in project management were identified by a global panel of ESI senior executives and subject matter experts.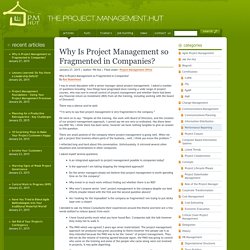 Project Management - Stack Exchange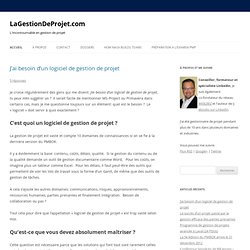 LaGestionDeProjet.com - L'incontournable en gestion de projet
Je croise régulièrement des gens qui me disent: j'ai besoin d'un logiciel de gestion de projet, tu peux m'en suggérer un ? Il serait facile de mentionner MS-Project ou Primavera dans certains cas, mais je me questionne toujours sur un élément: quel est le besoin ? Le « logiciel » doit servir à quoi exactement ?
Tour | Microproject / Mikroprojekt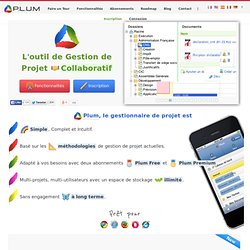 Vos témoignagesJ'utilisais auparavant l'équivalent de Microsoft, et Plum est 10x mieux ... Plum est Beau et agréable.Vincent OLIVERSimple mais efficace, une gestion des tâches et des documents approfondies..Jonathan DAVIDPlum est idéal pour gérer un cahier des charges !Zakatchi XAMARUHUn outil détaillé qui répond à une gestion précise des projets. Personnellement je trouve l'outil bien pensé et la gestion du temps est une très bonne application.Mathieu DARTIGUES Facile de prise en main, représentation et gestion des processus en lien avec les autres fonctionnalités sont très appréciées par notre équipe. Stéphane CAILLAUD
La gestion de projet > Piloter le projet > Le plan qualité du projet La qualité Le Plan Qualité Projet a pour but de présenter les dispositions prises par la MOA et la MOE pour : organiser et planifier le projet, en assurer la qualité.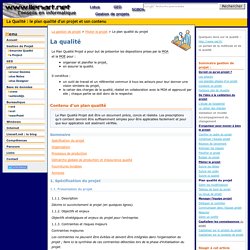 La Qualité : le plan qualité et son contenu
PROJECT MANAGEMENT TRAINING, MS PROJECT TUTORIALS, COURSES, PRESENTATIONS, MATERIALS
gp.pdf (Objet application/pdf)
TaskJuggler 3.5.0 has been released Reported on 2013-06-30 This release took a little longer to bake due to a change of jobs on my end. The long wait comes with some long wanted features like hammock tasks. Many error messages were made clearer and are hopefully now more informative.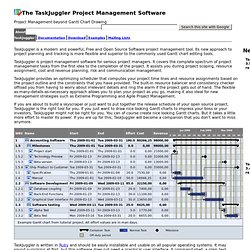 The Open Source Project Management Software - Home