Project management
Gestion de Projet. Anatomie du test — ForumPHP'12. Présentation Bonjour à tous !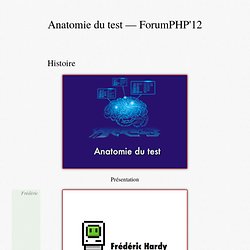 Je m'appelle Frédéric Hardy. A Risk Management Implementation. June 13, 2012 | Author: PM Hut | Filed under: Risk Identification, Risk Management, Risk Quantification & Analysis, Risk Response & Control A Risk Management Implementation By Gary Hamilton, Gareth Byatt, and Jeff Hodgkinson As program or project managers, we have our hands full with the day-to-day management of our initiatives, and it is difficult enough to keep a lid on all the tactical actions that are taking place, let alone plan for the future.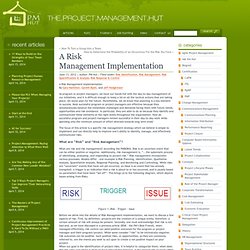 Online Project Management Review 2012 | Best Project Management Tools | Project Planning & Tracking - TopTenREVIEWS. Сreate web office in the cloud. TeamLab. Le blog de la Péniche » Quel outil de gestion de projets pour coopérer ? Dans un collectif autogéré, s'assurer que les relevés de décision sont pris en charge est essentiel tout comme une bonne diffusion de l'information.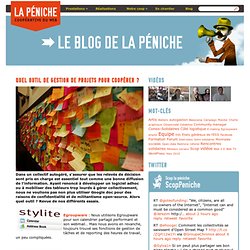 Ayant renoncé à développer un logiciel adhoc ou à mobiliser des tableurs trop lourds à gérer collectivement, nous ne voulions pas non plus utiliser Google doc pour des raisons de confidentialité et de militantisme open-source. Alors quel outil ? Revue de nos différents essais. Egroupware : Nous utilisons Egroupware pour son calendrier partagé performant et son webmail… Mais nous avons en revanche, toujours trouvé ses fonctions de gestion de tâches et de reporting des heures de travail, un peu compliquées. Basecamp : Basecamp nous a séduits par son ergonomie et son design simple qui permettent de créer intuitivement des projets et des listes de tâches, de les affecter simplement avec un trackflow facile à gérer. ProjectsAtWork - Project management resources and agile approaches for portfolios, programs and teams.
Project Management Templates and Resources - ProjectConnections.com. Project Management Articles. Project Management - Stack Exchange. LaGestionDeProjet.com - L'incontournable en gestion de projet. Tour | Microproject / Mikroprojekt. La Gestion de Projet en Ligne. Comparison of project management software. La Qualité : le plan qualité et son contenu. La gestion de projet > Piloter le projet > Le plan qualité du projet La qualité Le Plan Qualité Projet a pour but de présenter les dispositions prises par la MOA et la MOE pour : organiser et planifier le projet, en assurer la qualité.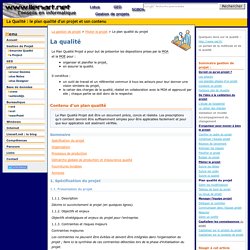 PROJECT MANAGEMENT TRAINING, MS PROJECT TUTORIALS, COURSES, PRESENTATIONS, MATERIALS.
Gp.pdf (Objet application/pdf) The Open Source Project Management Software - Home.
---