"The Interview Project" launched by David Lynch
David Lynch - Artiste (sous-titres français) Présentation - Mathématiques, un dépaysement soudain - Expositions - Fondation Cartier. Mathematics: A Beautiful Elsewhere is a unique exhibition created by the Fondation Cartier pour l'art contemporain with the aim of offering visitors, to use the mathematician Alexandre Grothendieck's expression, "a sudden change of scenery."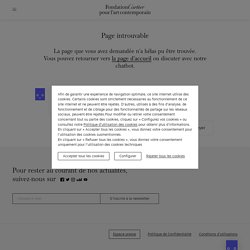 The Fondation Cartier has opened its doors to the community of mathematicians and invited a number of artists to accompany them. They are the artisans and thinkers, the explorers and builders of this exhibition. A large number of mathematicians and scientists contributed to the creation of this exhibition, and eight of them acted as its overseers: SIR MICHAEL ATIYAH, JEAN-PIERRE BOURGUIGNON, ALAIN CONNES, NICOLE EL KAROUI, MISHA GROMOV, GIANCARLO LUCCHINI, CÉDRIC VILLANI and DON ZAGIER. Michel Cassé, astrophysicien et écrivain - commissaire de l'exposition. Jean-Pierre Bourguignon - Mathématicien et chercheur, commissaire de l'exposition. Cédric Villani - Mathématicien. Don Zagier - Mathématicien. Mathématiques, un dépaysement soudain - Making-of de l'exposition.
Pierre-Louis GOIRAND - Google+ - MATHÉMATIQUES, UN DÉPAYSEMENT SOUDAIN Créée à… INTERVIEW PROJECT - NEW EPISODE EVERY THREE DAYS. INTERVIEW PROJECT - NEW EPISODE EVERY THREE DAYS. INTERVIEW PROJECT - NEW EPISODE EVERY THREE DAYS. David Lynch launches "The Interview Project" Une histoire vraie. David Lynch (DAVID_LYNCH) David Lynch. David Keith Lynch (born January 20, 1946) is an American film director, television director, visual artist, musician and occasional actor.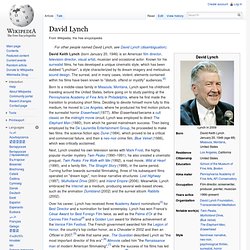 Known for his surrealist films, he has developed a unique cinematic style, which has been dubbed "Lynchian", a style characterized by its dream imagery and meticulous sound design. The surreal, and in many cases, violent, elements contained within his films have been known to "disturb, offend or mystify" audiences.[2] Over his career, Lynch has received three Academy Award nominations[3] for Best Director and a nomination for best screenplay. La note David Lynch - Le fil cinéma. 29 minutes en tête-à-tête avec David Lynch - Le fil cinéma. Entretien « extraordinaire » avec David Lynch. David Lynch. Genre : Cinéma (réalisation) date de naissance :20 Janvier 1946 L'inconnu, c'est toujours excitant...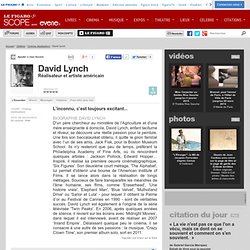 Biographie David Lynch D'un père chercheur au ministère de l'Agriculture et d'une mère enseignante à domicile, David Lynch, enfant taciturne et rêveur, se découvre une réelle passion pour la peinture. Une fois son baccalauréat obtenu, il quitte le giron familial avec l'un de ses amis, Jack Fisk, pour la Boston Museum School. David Lynch.
David Lynch (I) - Biography. DAVIDLYNCH.COM. France Inter > Eclectik. David Lynch, cinéaste.
---