WOW
Easter eggs[edit] Search Engine[edit]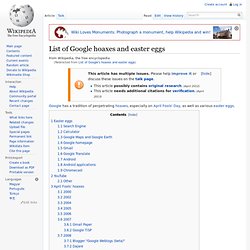 List of Google's hoaxes and easter eggs
Susan Dominus has penned a remarkable piece for the New York Times about Krista and Tatiana Hogan, the 4-year old conjoined twin girls from British Columbia who are attached at the head. Scans show that the two girls have brains that are interconnected by a never-seen-before "thalamic bridge," an indication that they might share conscious thoughts. And if their early behavior is any indication, this may very likely be the case. Twins joined at the head, what's referred to as craniopagus in the medical literature, are extremely rare occurrences, affecting only one in 2.5 million births.
Do these conjoined twins share consciousness?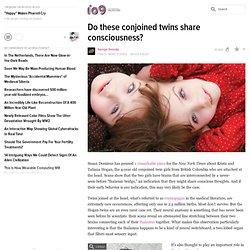 original
In J.W. Buel's 1889 book Sea and Land, the author laid out delightfully quaint illustrations of the Earth's flora and fauna. Many of these pictures detailed the myriad hilarious ways the animal kingdom eats humans, with creatures like the Japanese spider crab receiving a homicidal bad rap. Here's a selection of doom and gloom from the Victorian era. After all, you never know when you might be torn asunder by the man-eating tree.
This gruesome 1889 biology book outlined the many ways animals will kill us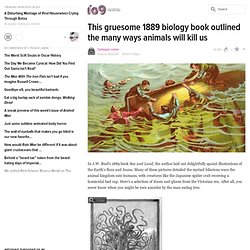 Gabriel Rufete Soldadura mig 28/11/2011 | WORK VIEW DETAILS "Seismilcuatrocientostrececéntimos" 27/11/2011 | WORK VIEW DETAILS "1979-2007″ 27/11/2011 | WORK VIEW DETAILS "Busto de centimos" 27/11/2011 | WORK VIEW DETAILS "insert C-oing" 27/11/2011 | WORK VIEW DETAILS 25/11/2011 | WORK VIEW DETAILS "1975-2007″ 25/11/2011 | WORK VIEW DETAILS "1981-2004″ 25/11/2011 | WORK VIEW DETAILS "Mujer en el espejo" 25/11/2011 | WORK VIEW DETAILS "S/t" 26/10/2011 | WORK VIEW DETAILS « NEXT Gabriel Rufete © 2012 - Briefingandbreakfast*
Gabriel Rufete , WORK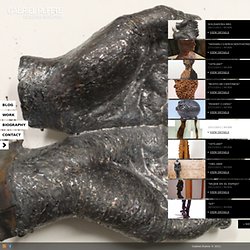 Online Portfolios on the Behance Network
Colossal | An art and design blog.
The living dead blog
madmuseum.org
Oddity Central - Weird Places, Odd Events, Bizarre News, Strange People and A Lot More
DarkCopy - Simple, full screen text editing
robertokusterle
Wallet Kingdom - Bad Ass Mens Wallets
Post Secret
PostSecret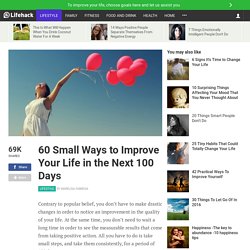 60 Small Ways to Improve Your Life in the Next 100 Days
Contrary to popular belief, you don't have to make drastic changes in order to notice an improvement in the quality of your life. At the same time, you don't need to wait a long time in order to see the measurable results that come from taking positive action. All you have to do is take small steps, and take them consistently, for a period of 100 days. Below you'll find 60 small ways to improve all areas of your life in the next 100 days. Home 1.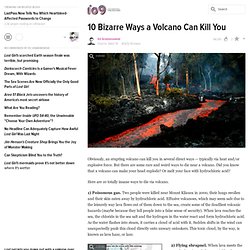 10 Bizarre Ways a Volcano Can Kill You
Sooo after taking a break from visiting our family whilst in Hawai'i we decided, hey, volcano. As we trekked the obsidian, I was the unfortunate one to slip on the highly slippery surface and fall, bracing myself on nearby rocks. I ended up with a few minor scrapes due to the sharpness of the tiny pieces of rock. So, yeah, shrapnel can get you but if you slip and slide on that junk you can probably slice something open if you hit a rock the wrong way. 4/12/12 2:38pm
For a long time, I have really wanted one of those drying racks from Ballard Designs. You've seen them. They're so perfect in the laundry room for drying your delicate clothing. I really wanted to save the money and build one myself. I knew I could do it with the right supplies.
DIY: Laundry Room Drying Rack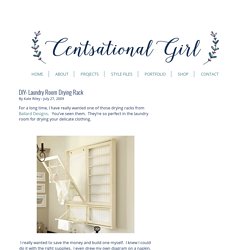 Do As One invites you to use color therapy coupled with breathing to stimulate the entire spectrum of energy within your body temple. Choose whether you want to breathe in one, two or three breaths per color and then sit back and calmly receive a mind, body and spirit full-spectrum boost. You can also choose to breath one breathe per color continuously. The map on this page shows you where everyone you are breathing with is located around the world in real time.
- StumbleUpon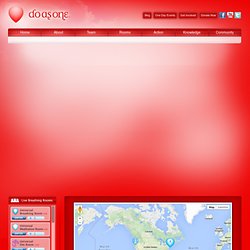 The Universal Packing List
T-Bucket's Wacky Tips to Survive Being Broke in a Recession - T-Bucket
1. Put an egg in your Ramen 2. Have sex ,alot. It's free and it feels really good if you do it right.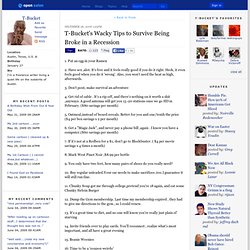 50 Creative, Cheap Ways to Have Fun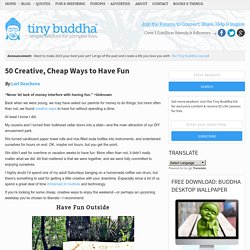 "Never let lack of money interfere with having fun." ~Unknown Back when we were young, we may have asked our parents for money to do things, but more often than not, we found creative ways to have fun without spending a dime. At least I know I did. My cousins and I turned their bulkhead cellar doors into a slide—and the main attraction of our DIY amusement park.
Get Anyone to Like You – Instantly – Guaranteed
Get anyone to like you - Instantly - Guaranteed If you want people to like you, make them feel good about themselves. This golden rule of friendship works every time - guaranteed!
Browse Google Maps in 8-Bit : technology
A harmonica in Carnegie Hall
PoemHunter.Com - Thousands of poems and poets. Poetry Search Engine
Prelinger Archives : Free Movies : Download & Streaming : Internet Archive
Collection of Awesome Things (63 pics) | Redrif - StumbleUpon
West Omo River - Surma and Nuer Tribe - a set on Flickr
Mario Gerth - Fotografie
most gawked all-time
Wise Bread Picks For the last five years, I've been traveling the world full-time, and for less money than I've ever spent (and I'd wager less money than most people would spend) to live in one place. My worldly possessions fit into one bag (just larger than carry-on size) and a backpack containing my laptop and computer gear. This small entourage (weighing less than 45 pounds in total) comes with me as I wander around the world, sometimes quickly, but mostly slowly.
How to Travel For a Living
The Art of Jim Denevan
2013"Dinner Parties: Art and Agriculture," Sesnon Gallery, UC Santa Cruz, CA2012"Swept away: Dust, Ashes, and Dirt in Contemporary Art and design," Museum of Arts and Design, New York, NY2012"Out of Line: A Show of Extended Drawing Practices," Richard L. Nelson Gallery & Fine Arts Collection, UC Davis, CA2012"Ripple Effect: The Art of H20," Peabody Essex Museum, Salem, MA2010"The Artwork of: Jim Denevan," Windsor Art Gallery, Vero Beach, FL2010Vancouver Sculpture Biennale 2009-2011 Vancouver, Canada2010"Cielo/Sky Santa Cruz of Tenerife," Canary Islands, Spain2008"Sand: Memories, Meaning, and Metaphor," Parish Art Museum, Southampton, NY2008"Art Dinner," Instituto D'Arte di Porta Romano, Florence, Italy2007"National and International Projects: Jim Denevan/Ari Marcopolis," MoMA PS1, New York, NY2005"Catching the Waves," Headlands Center for the Arts, Sausalito, CA2005"Big Deal & Blow Up," Yerba Buena Center for the Arts, San Francisco, CA
Car Daddy - Used Cars For Sale in Maui, HI
Ads of the World™ | Creative Advertising Archive & Community
Money Pieces
Back to the Future While most people simply admire old photos, Irina Werning is more interested in how people would look and feel if they were to reenact them today. Several years ago, she started to ask people to […] Yowayowa II After singing her praises back in March, I still can't get over Natsumi Hayashi's self-portraits and continue to be in awe of her most recent levitations. Without any aid of a rigging system or photoshop, she […]
Stratocam
What You'll Wish You'd Known
NICK VEASEY | X-RAY PHOTOGRAPHER | X-RAY PHOTOS / PHOTOGRAPHY / FILM / ABSTRACT / ART
What are the most useful websites on the web? : AskReddit
maui classifieds for jobs, apartments, personals, for sale, services, community, and events
Accidental Penis
HauteLook