International org.
Africa South of the Sahara: Selected Internet Resources - Stanford University. Evaluating web resources Google Free Translation Babel Fish Free Translation What to do if you can't access a site Background to the Africa directory Design Credits Thanks Prepared by Karen Fung for the Information and Communication Technology Group (ICTG), African Studies Association, USA.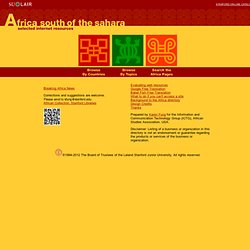 Disclaimer: Listing of a business or organization in this directory is not an endorsement or guarantee regarding the products or services of the business or organization. CoP-MfDR-Africa Francophone. Front page | Satellite Sentinel Project.
Org & causes zines
Other. New Pearls & trees... Open Society Foundations. Institutions/organisations internationales. History. Centre for Policy Studies. Un article de Wikipédia, l'encyclopédie libre.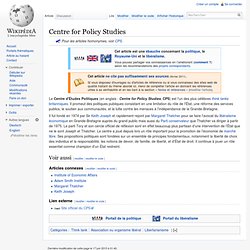 Pour les articles homonymes, voir CPS. Le Centre d'Études Politiques (en anglais : Centre for Policy Studies, CPS) est l'un des plus célèbres think tanks britanniques. Il promeut des politiques publiques consistant en une limitation du rôle de l'État, une réforme des services publics, le soutien aux communautés, et la lutte contre les menaces à l'indépendance de la Grande-Bretagne. Articles connexes[modifier | modifier le code] Center for Global Development (CGD) Le CAPE de Jerusalem. Africa Center for Strategic Studies. The Centre for European Policy Studies | Thinking ahead for Europe. International Institute for Strategic Studies Welcome. Action Contre La Faim.
Homepage. The Puppet Masters. Congo Mines | Centre de documentation sur le secteur minier industriel en République Démocratique du Congo développé par The Carter Center. Smithsonian Natural History Web: African Voices. International Food Policy Research Institute (IFPRI) Global Debates. ONG. English - Home. Partenariat Afrique Canada - Mission. CCA. WORLD FEDERALIST MOVEMENT-CANADA. Pour changer les politiques et les pratiques miniers pour assurer la santé des individus, des communautés et des écosystèmes.
Community Development - Cooper Institute. Bienvenue - CUSO-VSO. Bienvenue à CODE - CODE. CHF (formerly Canadian Hunger Foundation), Ottawa, Ontario, Canada. Inter Pares. Mozilla Firefox. Aga Khan Foundation Canada. Conseil Canadien pour la Coopération Internationale. SciDev.Net. Actualités: Le financement de la recherche par la redevance pétrolière bat de l'aile Plusieurs pays se sont engagés à utiliser les revenus issus des ressources naturelles pour financer le secteur … FinancementsEnergieInnovationEducationGouvernance Le GIEC appelle à agir contre le réchauffement Selon les experts du Groupe d'experts intergouvernemental sur l'évolution du climat (GIEC), il est encore possible …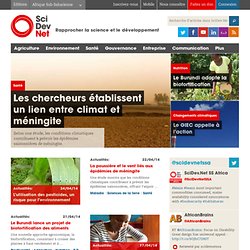 SciDev.Net's Blog. CAIDC-RCCDI. Résultats Canada Canada. What's New | Action Canada for Population and Development. William J. Clinton Foundation. Global Witness | Invisible Children - Home. International | Fighting against extreme poverty and preventable disease. International | Working to Protect Human Rights. The Universal Declaration of Human Rights. Whereas recognition of the inherent dignity and of the equal and inalienable rights of all members of the human family is the foundation of freedom, justice and peace in the world, Whereas disregard and contempt for human rights have resulted in barbarous acts which have outraged the conscience of mankind, and the advent of a world in which human beings shall enjoy freedom of speech and belief and freedom from fear and want has been proclaimed as the highest aspiration of the common people, Whereas it is essential, if man is not to be compelled to have recourse, as a last resort, to rebellion against tyranny and oppression, that human rights should be protected by the rule of law, Whereas it is essential to promote the development of friendly relations between nations,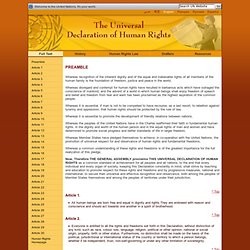 FIDH : Les Droits de l'Homme pour Tous. Freedom House.org. Accueil. Internationale Canada francophone. Reporters sans frontières. Africa Progress Panel - Accueil. Homepage. Sri Lanka's army soldiers stand guard in the back of a truck during the opening of a Bartleet Finance Limited investment branch in Jaffna, April 30, 2010.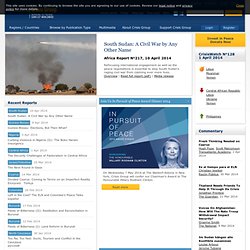 REUTERS/Dinuka Liyanawatte 25 March 2014: The heavy militarisation of Sri Lanka's northern province after the civil war's bloody end in 2009 has been the subject of growing domestic and international concern. The large numbers of military personnel in the north, and the deep involvement of the military in the province's governance, endanger the re-establishment of democratic institutions that is necessary to lasting peace (see our Nov 2013 report Sri Lanka's Potemkin Peace: Democracy Under Fire).
Fonds Monétaire International -- Accueil. M.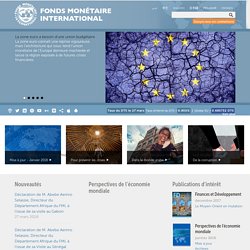 Shanmugaratnam (CMFI) et Mme Lagarde (FMI) : le CMFI appelle les pays à se préoccuper du moyen terme et à mettre l'accent sur les réformes structurelles (photo: IMF) Pour une économie mondiale équilibrée et riche en emplois Du fait de l'affermissement de l'économie mondiale, le Comité monétaire et financier international (CMFI) a souligné que les pays devraient déplacer leurs priorités du court terme au moyen terme, en mettant l'accent sur les réformes structurelles qui permettront de réaliser une croissance durable, équilibrée et riche en emplois. World Bank Group. Organisation for Economic Co-operation and Development.
Transparency International. Banque africaine de développement - Bâtir aujourd'hui, une meilleure Afrique demain. Bienvenue aux Nations Unies. Bienvenue sur le site de l'OMC. La Cour pénale internationale : accueil. La Présidente de l'Assemblée des États Parties (« l'Assemblée »), Madame l'Ambassadeur Tiina Intelmann, s'est rendue à Addis Abeba du 8 au 11 mai 2012.
La Présidente Intelmann a rencontré le Président de la Commission de l'Union africaine, S.E. M. Jean Ping, et le conseiller juridique de l'Union africaine, M. Ben Kioko, avec qui elle a rappelé les réalisations de la Cour pénale internationale (« la Cour ») au cours de ses dix premières années d'existence et souligné l'importance du renforcement des relations et du dialogue entre l'Union africaine et la Cour, en prenant en considération leur objectif commun qu'est la lutte contre l'impunité des auteurs de crimes odieux.
Informations.
---