Wmskp12
Krista Pip
Scientists Discover Previously Unknown Cleansing System in Brain - News Room. Newer Imaging Technique Brings 'Glymphatic System' to Light August 15, 2012 A previously unrecognized system that drains waste from the brain at a rapid clip has been discovered by neuroscientists at the University of Rochester Medical Center.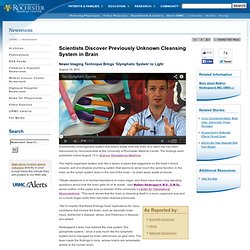 Art. Media. Referance. TED: Ideas worth spreading. Brian Goldman: Doctors make mistakes. Can we talk about that? Scott Summit: Beautiful artificial limbs. Eric Dishman: Take health care off the mainframe. Daniel Kraft: Medicine's future? There's an app for that. Donald Sadoway: The missing link to renewable energy. Bjarke Ingels: Hedonistic sustainability.
Kirk Sorensen: Thorium, an alternative nuclear fuel. Lisa Harouni: A primer on 3D printing. Michael Hansmeyer: Building unimaginable shapes. John Graham-Cumming: The greatest machine that never was. Lee Cronin: Making matter come alive. The secret life of plankton. Frans de Waal: Moral behavior in animals. Ed Boyden: A light switch for neurons. Drew Berry: Animations of unseeable biology.
David Bolinsky animates a cell. Theo Jansen creates new creatures. Martin Hanczyc: The line between life and not-life. Aaron Huey: America's native prisoners of war. Michael McDaniel: Cheap, effective shelter for disaster relief. Marc Goodman: A vision of crimes in the future.
Frank Warren: Half a million secrets. Frank Warren: Half a million secrets. Charlie Todd: The shared experience of absurdity. Steve Jobs: How to live before you die. Golan Levin makes art that looks back at you. Vik Muniz makes art with wire, sugar. Reggie Watts disorients you in the most entertaining way. Avi Rubin: All your devices can be hacked.
Mark Forsyth: What's a snollygoster? A short lesson in political speak. Marco Tempest: The magic of truth and lies (and iPods) Shilo Shiv Suleman: Using tech to enable dreaming. Defend our freedom to share (or why SOPA is a bad idea) Dave Eggers' wish: Once Upon a School. Ken Robinson says schools kill creativity. Salman Khan: Let's use video to reinvent education. Patricia Ryan: Ei ehdotonta englantia!
School. College. Lap Swim. Our lap swimming is a time for lap fitness.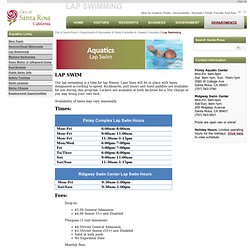 Lane lines will be in place with lanes designated according to speed. Kickboards, pull buoys and hand paddles are available for use during this program. Santa Rosa Central - Sonoma County Library, California. Much Ado About Nothing - Digital Theatre. Some cupid kills with arrows, some with traps.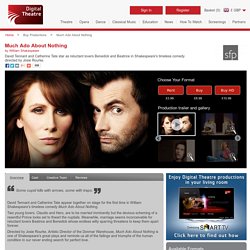 David Tennant and Catherine Tate appear together on stage for the first time in William Shakespeare's timeless comedy Much Ado About Nothing. Two young lovers, Claudio and Hero, are to be married imminently but the devious scheming of a resentful Prince looks set to thwart the nuptials. Minecraft. Rush Hour. What name do you wat to represent you here?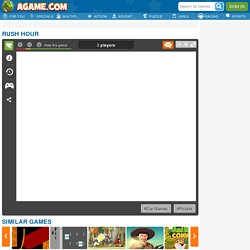 To protect your privacy, do not include your real name in your username. Your username must be at least 3 characters. Nonograms Online - Nonogram Puzzle. Welcome to Gaia. Welcome to Webkinz™ - a Ganz website. Sporcle | Mentally Stimulating Diversions.
---