Food delicious
Olive Garden Alfredo Sauce. An easy, no-fuss dish you can make right at home with ingredients that you already have on hand.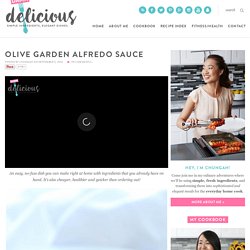 It's also cheaper, healthier and quicker than ordering out! I woke up one morning with a huge craving for alfredo sauce. Cranberry Sauce Videos. Candied Ginger Recipe : Alton Brown. Super Nachos Recipe : Rachael Ray. White Chocolate Bread Pudding Recipe : : Recipes. Coconut Bread Pudding Recipe. Bread Pudding II Recipe. No-Bake Peanut Butter and Jelly Cheesecake-in-a-Jar. Are you ready for this?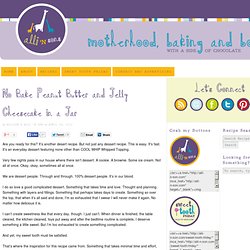 It's another desert recipe. But not just any dessert recipe. Sweet Tooth Friday: Spicy Chocolate Chip Cookies. One of my most favorite things, ever, is spicy chocolate.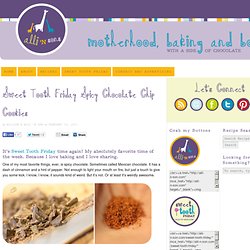 Sometimes called Mexican chocolate. It has a dash of cinnamon and a hint of pepper. Not enough to light your mouth on fire, but just a touch to give you some kick. Alli 'n Sons — Motherhood, baking and boys with a side of chocolate. Spinach and Green Apple Salad Recipe : Ellie Krieger. AJ's Cooking Secrets: Puto (Filipino Steamed Rice Cake) Hey guys!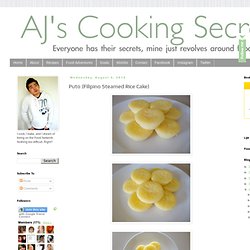 First of all, did you notice my new blog layout? Nice, huh? Rice Cake - Rice Cake. I'm particularly proud of this cake, since it has literally taken me years to get it right!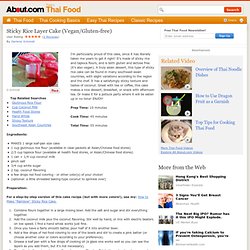 It's made of sticky rice and tapioca flours, and is both gluten and lactose free (it's also vegan). A truly asian dessert, this type of sticky rice cake can be found in many southeast-asian countries, with slight variations according to the region and the chef. It has a satisfyingly sticky texture and tastes of coconut. Putong Puti | Indonesia Eats. To introduce more about Filipino foods, I have my dear friend Elizabeth Besa Quirino of Asian in America, a Filipina who lives in the US with her Putong Puti recipe.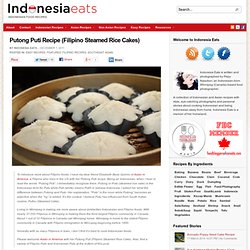 Being an Indonesian, when I hear or read the words "Putong Puti", I immediately recognize them. Putong or Puto (steamed rice cake) is the Indonesian term for Putu while Puti (white) means Putih in bahasa Indonesia. Yorkshire Pudding Recipe : Tyler Florence. Trenette with Eggplant and Basil Pesto Recipe : Giada De Laurentiis. Directions For the pesto: In a blender or food processor, pulse the basil, pine nuts, garlic, 1/2 teaspoon salt, and 1/4 teaspoon pepper until finely chopped.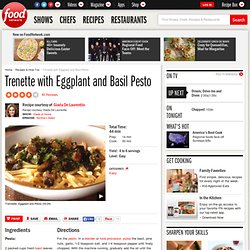 With the machine running, gradually add the oil until the mixture is smooth and thick. Add the cheese and pulse until just incorporated. Food & Style Recipe Index – From the kitchen of Viviane Bauquet Farre. Food & style seasonal, modern, exuberant recipes.
Apple Crisp. Apple Crisp. Banana Split Ice-cream Cake | Fruity Desserts. Recipes by Category. This is the archive for all recipes, including Chinese, Japanese, Vietnamese, and many other cuisines.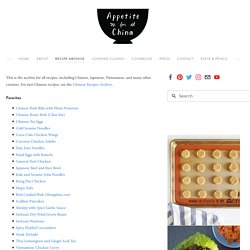 For just Chinese recipes, see the Chinese Recipes Archive. Favorites Chinese Recipes Chinese Recipes — Cantonese Chinese Recipes — Hunan. Stuffed Zucchini. I like the simple things in life.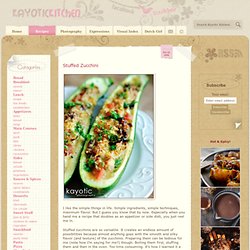 Simple ingredients, simple techniques, maximum flavor. But I guess you know that by now. A Two Bite Breakfast: Bacon & Eggs in Toast Cups. * Updated post from archive: Originally posted March 29, 2009 If you where to ask me what is my favorite meal of the day without a thought my response would be breakfast! I love breakfast! Quinoa Salad – Tracy Carolyn. How about something that doesn't have squash, sweet potato or pumpkin in it? Something hearty, with beans and quinoa. Something you can eat with your lunch, or in that odd 3pm snack time when lunch wasn't enough.
Quinoa salad it is. This is an adapted version of a Vegetarian Times recipe called picnic caviar. Layered Pumpkin Pie in a Jar. It didn't take more than a couple dips of their spoons into these layered jars of delicious fun, for my husband and oldest daughter to declare that I could most definitely make these again. And I do agree. This recipe for is a keeper! Spanish Recipes - Paella, Tapas and More Food From Spain. Food Recipes for Breakfast, Brunch, Lunch, & Dinner - Martha Stewart.
Soba Soup with Spinach. Tracie's Couscous Salad Recipe : Paula Deen. Israeli Couscous with Apples, Cranberries and Herbs Recipe : Giada De Laurentiis. Thai Chicken and Noodle Salad. Chicken Parmigiana. Cayenne-Rubbed Chicken with Avocado Salsa. Cranberry-Oat Cereal Bars. Almond-Coconut Macaroons. Chocolate-Coconut Macaroon Cups. Save to your Collections Sorry for the inconvenience! Saving is temporarily unavailable as we work through a few kinks in our new recipe design (we hope you like it!).
Coconut Pyramids. Vegetarian Meatloaf with Vegetables Recipe. Pumpkin Turnover. Mexico in my Kitchen: Pumpkin Turnover Recipe/Receta de Empanadas de Calabaza|Authentic Mexican Cooking Blog. Apple Turnovers Recipe : Ina Garten. French Coconut Pie Recipe : Paula Deen. Chicken Parmigiana. Stovetop Beef Chili. Baked Goods Recipes. Feed your eyes - page 38. Greek Style Rice Pudding (Rizogalo) | Thursday for Dinner - Cooking Videos of Family Recipes. COOKING IN COMMON / Puddings of perfection / Rice is the star in comforting concoctions from around the world.
Kids Cookbook by Mallory Rat. Thai Food and Travel - Deep Knowledge. 可以两吃的糯米饭的做法 - 冯慕梅的厨房 - 心食谱. 泰式甜糯米芒果的做法 - 汤若灵的厨房 - 心食谱. 鸡蛋糯米酥(鸡蛋糯米饼)的做法 - 仲孙寻文的厨房 - 心食谱. 绿豆糯米鸡的做法 - 史怜云的厨房 - 心食谱. 香炒糯米饭的做法 - 夏侯铁蛋的厨房 - 心食谱. Red, White & Blue Cheesecake Recipe | Blueberry Recipes. Crostini Topped with Garlic & Herb Cheese, Roasted Tomato Bruschetta & a Drizzle of Balsamic Glaze. Bento Recipes: Index. Sushi Recipes. Indian-Style Spicy Yogurt Marinade. A formula for marinating. Food Network - Easy Recipes, Healthy Eating Ideas and Chef Recipe Videos. Mama's Pound Cake Recipe : Paula Deen. NutsOnline | Premium Bulk & Wholesale Nuts, Dried Fruits & Gift Baskets. Mama's Blackberry Cobbler Recipe. Southern Potato Salad Recipe. BLT Potato Salad. * Ordinary Recipes Made Gourmet *: Garlic Thyme Potato Salad Stuffed Tomatoes. One-Pot Salmon With Snap Peas and Rice. Hong Kong Style Egg Tarts Recipe. How to Make Pesto like an Italian Grandmother Recipe. Pesto Recipe » Best Pesto Recipes and Cooking Tips.
Pesto Sauce Recipe. Fresh Basil Pesto Recipe.
---