Vanima_centa
Danae
What is DAZ Studio. Unleash the Artist Within Everything you need to start creating your own stunning artwork is waiting for you right here $249.00Free Design amazing digital art with this popular 3D figure customization, posing, and animation tool.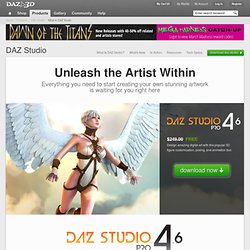 What is DAZ Studio? ZBrush :: Download Center. Nevercenter. Best Dubstep mix 2012 (New Free Download Songs, 2 Hours, Complete playlist, High audio quality) Raspberry-Mango Sangria. Mingmakescupcakes.yolasite. RHS Plant Selector. Simon Tong Photography. That´s a wrap(-per) - Candy Wrapper DIY ideas & inspiration. Posted by ScrapHacker.com on torsdag, december 8, 2011 · Leave a Comment The old saying "You can´t eat your cake and have it too" seems challenged by the boom of great cookie & candy wrapper designs – giving eating sweets an even sweeter aftertaste!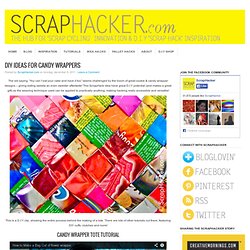 This ScrapHack idea have great D.I.Y potential (and makes a great gift) as the weaving technique used can be applied to practically anything, making hacking really accessible and versatile! How to Make A Pretty Flower Pendant Light From Paper Pulp Egg Cartons. Brilliant Scrap Hack Lamp Shade - ScrapHacker. Posted by ScrapHacker.com on fredag, december 9, 2011 · 2 Comments This is a great doable DIY project I spotted at DesignSponge.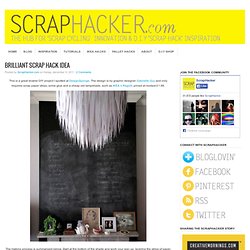 The design is by graphic designer Gabrielle Guy and only requires scrap paper strips, some glue and a cheap old lampshade, such as IKEA´s Regolit, priced at modest £1.99. The making process is summarized below. Start at the bottom of the shade and work your way up, layering the strips of paper. Top-10 D.I.Y ideas for Pallet Coffee Tables. Posted by ScrapHacker.com on onsdag, november 2, 2011 · 5 Comments Here´s a selection of some pretty neat pallet coffee table hacks I found on the web…To make your own one – follow my 7-step tutorial in the site!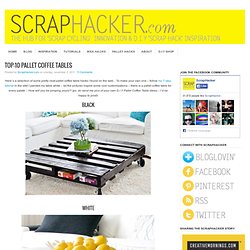 I painted my table white – let the pictures inspire some cool customizations – there is a pallet coffee table for every palate – How will you be pimping yours?! Top15 Pallet D.I.Y Ideas for the Bedroom. Posted by ScrapHacker.com on torsdag, november 24, 2011 · 5 Comments In the ScrapHacker blog i´ve previously featured tons of D.I.Y pallet furniture ideas, including Top 10 pallet Coffee Table Ideas, Pallet Coffee Table D.I.Y instructions, Top 15 Pallet Sofa Ideas, D.I.Y instructions for a Pallet Sofa Bed, D.I.Y Pallet Dining Tables…In order to make the palette of pallet home ideas complete, I figured I should write a feature on Pallet Bed Ideas.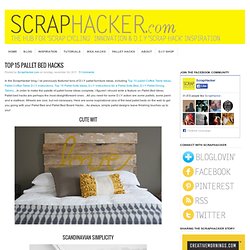 Pallet bed hacks are perhaps the most straightforward ones…All you need for some D.I.Y action are some pallets, some paint and a mattress. Wheels are cool, but not necessary. Here are some inspirational pics of the best pallet beds on the web to get you going with your Pallet Bed and Pallet Bed Board Hacks…As always, simple pallet designs leave finishing touches up to you! Copper Tube DIY Inspiration. Posted by ScrapHacker.com on onsdag, april 11, 2012 · Leave a Comment Copper has been hot for a while now!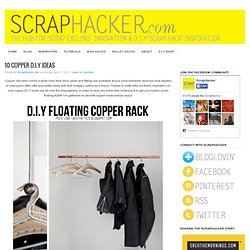 New shiny pipes and fittings are available at your local hardwear store but local dealers of used pipes often offer way better deals with that vintage'y patina as a bonus. Thanks to crafty folks out there, inspiration on cool copper D.I.Y hacks are all over the blogosphere. In order to save you some time browsing & to get your hacker juices flowing ASAP I've gathered my favorite copper hacks below, enjoy! Some wire & some copper pipe is all there is to this great floating clothing rack. The 36th AVENUE | Making the ordinary EXTRAORDINARY! High Waisted Shorts at ShopStyle. Vintage Home. Random things I love today. Never Lose Those Keys Again! That is right… I said it.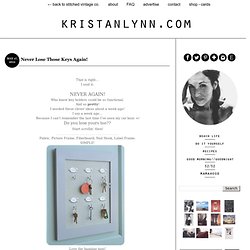 Who knew key holders could be so functional. And so pretty! I needed these clever ideas about a week ago! I say a week ago… Because I can't remember the last time I've seen my car keys =/ Do you lose yours too?? Serendipity (otherwise known as a diy laundry bag) What the Hex? I'm not a crafty person... but occasionally I pretend to be.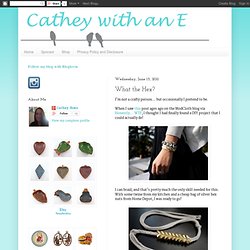 When I saw this post ages ago on the ModCloth blog via Honestly... WTF, I thought I had finally found a DIY project that I could actually do! I can braid, and that's pretty much the only skill needed for this. With some twine from my kitchen and a cheap bag of silver hex nuts from Home Depot, I was ready to go! How to Make a Simple Bow.
These little bows are so simple and fun-- I make them all the time.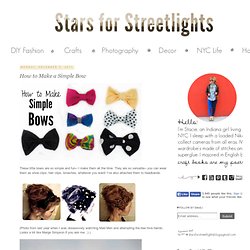 They are so versatile-- you can wear them as shoe clips, hair clips, broaches, whatever you want! I've also attached them to headbands. (Photo from last year when I was obsessively watching Mad Men and attempting the bee hive hairdo. Candy is Dandy: Cooking Peanut Butter Cups. With Halloween rapidly approaching, candies and chocolates have infiltrated the entire supermarket.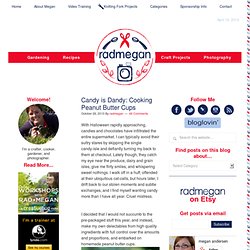 I can typically avoid their sultry stares by skipping the single candy-isle and defiantly turning my back to them at checkout. Lately though, they catch my eye near the produce, dairy and grain isles, give me flirty smiles, and whispering sweet nothings. My So Called Green Life...: How to Sew a Credit Card Wallet, Business, or Gift Card holder. Update: I've finally created a Flickr group where you can upload photos of the credit card wallets you've made. I've seen some really fun versions out there, so please share them with us here~ I'm a huge purse-lover, but I always find myself grabbing my driver's license and credit card when running into the grocery store, post office, out to drop the kids off at school, etc., so I love having these little wallets in a multitude of colors and patterns.
They're light enough to grab and go and compact enough to slide in my back pocket. Circle Zip Earbud Pouch Tutorial - Dog Under My Desk. UPDATE: I have completely re-written this tutorial with all new photos and better instructions and it is available as a licensed pattern in my pattern shop.
The free tutorial for personal use is still available below! I use a little zippered pouch to carry around my earbuds since they are the fancy microphone ones and I don't want them to break or get tangled. Holder for Charging Cell Phone (made from lotion bottle) DIY - Tutorial - How to make a leather bow cuff bracelet. Inspiration: Teacup Crafts! | Redecorating by Repurposing. Gathered clutch tutorial. Guest blogger - Sasha from The Guilded Bee:
Art From Everyday Objects: Paperclips + String | The 30 Minute $6 Dress Tutorial. Mason Jar Craft Storage! DIY Wrap Bracelet. Most favorited all-time. Pleated Zippered Pouch Tutorial. Solid perfume pocket watch locket. A Wordy Egg - Beyond Beyond | Beyond Beyond. Stash Book - great idea to store your jewelry. Lee Jeffries Photography. Homeless-black-and-white-portraits-lee-jeffries-43. 100 Most beautiful words in the English language*
Michael Muller. Kenneth Parker Photography. Swick » 12 Of The Most Iconic Photographs Ever Taken. Incredible Wildlife Photography | Peachy Green. Mysticsm. 7.014 Introductory Biology | CosmoLearning Biology. Freestyle Snowboarding :: Snowboard Club UK (SCUK) :: Join for exclusive discounts, promo codes, vouchers and other special benefits. YouTube - Broadcast Yourself.
King Crimson-Cirkus(including Entry Of The Chameleons) Fever Ray 'When I Grow Up' Fever Ray 'Seven' Fever Ray 'If I Had A Heart' Phaeleh - Fallen Light Full CD. Sarah Mclachlan - Dirty Little Secret (Thievery Corporation) Tumblr.
---