Accessibility
Accessibility Checker. Like the spelling checker tells you about possible spelling errors, Accessibility Checker in Word, Excel, and PowerPoint tells you about possible accessibility issues in your Office file so you can fix these issues so someone with a disability can read and get to your content.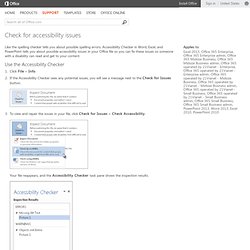 Use the Accessibility Checker Click File > Info. Web-based Intranet and Internet Information and Applications (1194.22) Web Accessibility - Section 508. Webucator now offers Web Accessibility training based on this tutorial.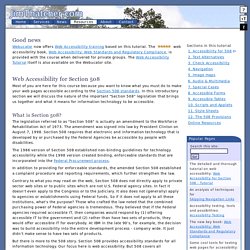 The web accessibility book, Web Accessibility: Web Standards and Regulatory Compliance, is provided with the course when delivered for private groups. The Web Accessibility Tutorial itself is also available on the Webucator site. Most of you are here for this course because you want to know what you must do to make your web pages accessible according to the Section 508 standards. Web Accessibility Training. Email: Password: Skip navigation David is a great instructor!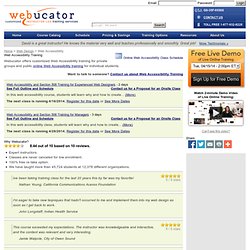 He knows the material very well and teaches professionally and smoothly. Great job! More Testimonials » Scripts and Applets - Accessbility. Scripts, applets and plug-ins add dynamic content to the web.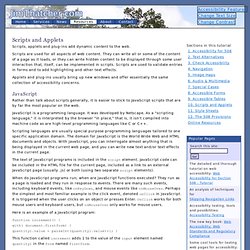 Scripts are used for all aspects of web content. They can write all or some of the content of a page as it loads, or they can write hidden content to be displayed through some user interaction that, itself, can be implemented in scripts. Scripts are used to validate entries in forms and to add highlighting and other text effects. HiSoftware. Compliance Sheriff. Your Unmanaged Content is Putting Your Organization at Risk Content Management Systems are great collaboration tools because they let every stakeholder in an organization post and share their content.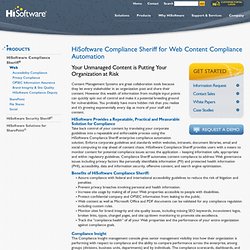 However this wealth of information from multiple input points can quickly spin out of control and make it a potential breeding ground for vulnerabilities. Cynthia Says. W3C WCAG 1.0. W3C Recommendation 5-May-1999 This version: (plain text, PostScript, PDF, gzip tar file of HTML, zip archive of HTML) Latest version: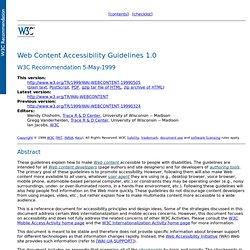 W3C WCAG 2.0. This publication has been funded in part with Federal funds from the U.S.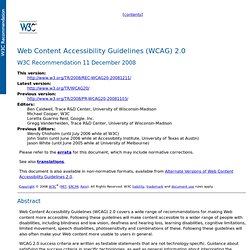 Department of Education, National Institute on Disability and Rehabilitation Research (NIDRR) under contract number ED05CO0039. The content of this publication does not necessarily reflect the views or policies of the U.S. Department of Education, nor does mention of trade names, commercial products, or organizations imply endorsement by the U.S. Usability.com - WCAG 2.0. "Accessible Forms using WCAG 2.0″ is the first of a series of documents to help web professionals use the Web Content Accessibility Guidelines Version 2.0 to develop accessible websites.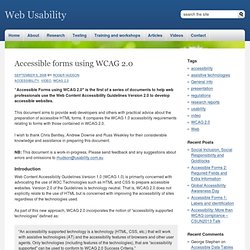 This document aims to provide web developers and others with practical advice about the preparation of accessible HTML forms. It compares the WCAG 1.0 accessibility requirements relating to forms with those contained in WCAG 2.0. I wish to thank Chris Bentley, Andrew Downie and Russ Weakley for their considerable knowledge and assistance in preparing this document.
---