Tabs and chords
Tabs that show the theory behind songs - TheoryTab. Music Theory for the Short Attention Span from FolkBlues.Com. OK, here are 2 separate forms, which each form a 2 chord vamp.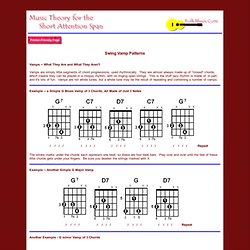 They can also be played one after the other repeatedly, with a very pleasing effect. First, play each one alone, over and over, until you get the feel. As you can see, there are two notes played on the D string in each pattern. XGuitar.com - guitar tabs. Levy Sheet Music Collection. The Lester S.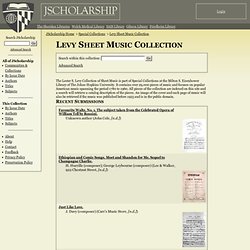 Levy Collection of Sheet Music is part of Special Collections at the Milton S. Eisenhower Library of The Johns Hopkins University. It contains over 29,000 pieces of music and focuses on popular American music spanning the period 1780 to 1960. Guitar-chord-chart.jpg (JPEG Image, 470 × 778 pixels) Guitar Tabs. Guitar Tabs With Rhythm. Guitar/Guitar Chords Song Library.
The following is a list of notable easy to learn guitar songs from the 1950s to the present.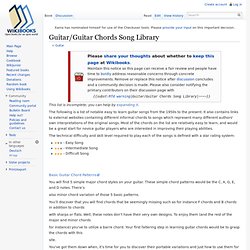 It also contains links to external websites containing different informal chords to songs which represent many different authors' own interpretations of the original songs. Most of the chords on the list are relatively easy to learn, and would be a great start for novice guitar players who are interested in improving their playing abilities. The technical difficulty and skill level required to play each of the songs is defined with a star rating system: ULTIMATE GUITAR TABS ARCHIVE | 300,000+ Guitar Tabs, Bass Tabs, Chords and Guitar Pro Tabs!
Powertabs.net - your friendly guitar, bass, and other instrument tablature and music community. The fabulous songbook. What's new?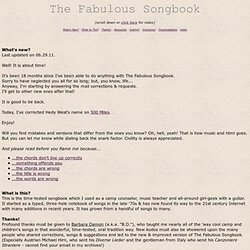 Last updated on 06.29.11. Well! It is about time! It's been 18 months since I've been able to do anything with The Fabulous Songbook. Sorry to have neglected you all for so long; but, you know, life...