Pronunciation dics
Rachel's English | Free online American English pronunciation videos. The Septic's Companion | British Slang Dictionary. Learn How To Pronounce Names Correctly. Inogolo : Name Pronunciation Guide -- Pronounce the Names of People, Places, and Stuff in English. BBC Learning English | Pronunciation Tips. Pronunciator-jR2.0. Forvo: the pronunciation guide. All the words in the world pronounced by native speakers. IPA Typewriter. If the title above does not display correctly, you should click on "About" to find out how to get a unicode font.
Introduction You can use this tool to type phonemic symbols to be inserted in a word processor. Sephonics - Learn The IPA Alphabet. Freeware. Sephonics 1.0 is a Windows program that will teach you the English phonetic alphabet, which is a subset of the International Phonetic Alphabet (IPA, in short).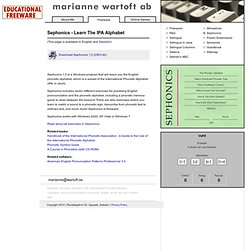 Sephonics includes seven different exercises for practising English pronounciation and the phonetic alphabet, including a phonetic memory game to relax between the lessons! There are also exercises where you learn to match a sound to a phonetic sign, transcribe from phonetic text to ordinary text, and much more! Free online Dictionary of English Pronunciation - How to Pronounce English words.
---