Unhealthy foods
Unhealthy Eating Habits. There are several key reasons why people develop unhealthy eating habits, most of it can be attributed to lack of planning and awareness.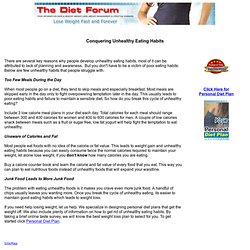 But you don't have to be a victim of poor eating habits. Below are few unhealthy habits that people struggle with. Too Few Meals During the Day. How Eating Healthy & Unhealthy Foods Affects Your Body. Your body runs on fuel in the form of food, and if the fuel you put in your body is not high-grade, you should not expect your body to give you peak performance.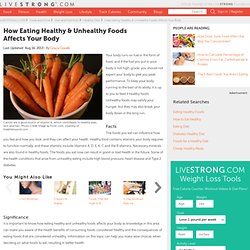 To keep your body running to the best of its ability, it is up to you to feed it healthy foods. Unhealthy foods may satisfy your hunger, but they may also break your body down in the long run. The foods you eat can influence how you feel and how you look, and they can affect your health. Healthy food contains vitamins your body requires to function normally, and these vitamins include Vitamins A, D, E, K, C and the B vitamins. Visuwords™ online graphical dictionary and thesaurus. Tag Galaxy. WeightWatchers.co.uk - Official Site - Lose Weight the Healthy Way with Weight Watchers.
---