Tips and Advice
Read These Seven Books, and You'll be a Better Writer. Donald Miller I used to play golf but I wasn't very good.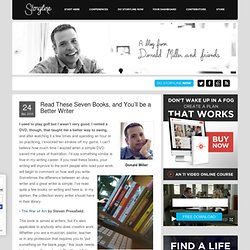 I rented a DVD, though, that taught me a better way to swing, and after watching it a few times and spending an hour or so practicing, I knocked ten strokes off my game. Creative Writing For Dummies Cheat Sheet. Cheat Sheet Do you want to be the next J.K.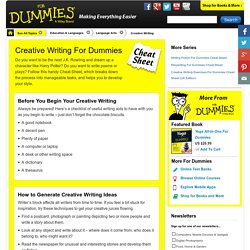 Rowling and dream up a character like Harry Potter? Do you want to write poems or plays? Follow this handy Cheat Sheet, which breaks down the process into manageable tasks, and helps you to develop your style. Before You Begin Your Creative Writing. 25 Insights on Becoming a Better Writer. When George Plimpton asked Ernest Hemingway what the best training for an aspiring writer would be in a 1954 interview, Hem replied, "Let's say that he should go out and hang himself because he finds that writing well is impossibly difficult.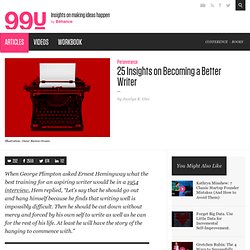 Then he should be cut down without mercy and forced by his own self to write as well as he can for the rest of his life. At least he will have the story of the hanging to commence with." Today, writing well is more important than ever. Far from being the province of a select few as it was in Hemingway's day, writing is a daily occupation for all of us — in email, on blogs, and through social media.
Thirty Question Character Survey. 50 MORE Journal Writing Prompts | TomSlatin.com. Tension. Hook Your Readers With Tension By Laura Backes, Write4Kids.com Tension.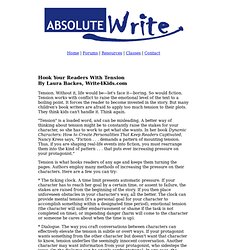 Without it, life would be—let's face it—boring. So would fiction. General Fiction. The Age of the Essay. September 2004 Remember the essays you had to write in high school?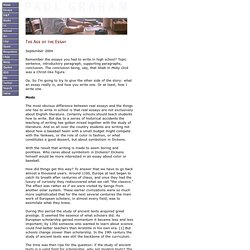 Topic sentence, introductory paragraph, supporting paragraphs, conclusion. Fifty (50!) Tools which can help you in Writing. Don't Miss Any Tips!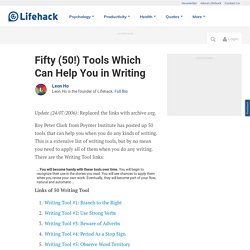 Like us on Facebook Close Open. "How To Bullshit Your Way Through Any Essay" by K W Schroeder. If there is one thing college kids neglect the most, besides basic diet and hygiene, it's the homework assignment essay.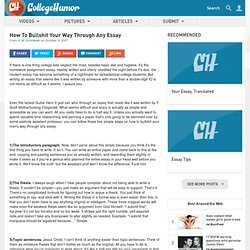 Hastily written and utterly unedited the night before it's due, the modern essay has become something of a nightmare for lackadaisical college students. But writing an essay that seems like it was written by someone with more than a double-digit IQ is not nearly as difficult as it seems, I assure you. Even the laziest Guitar Hero II god can whiz through an essay that reads like it was written by F. Scott Motherfucking Fitzgerald. What seems difficult and scary is actually as simple and accessible as you can want. Character Creation Made Easy, Pick a Personality-Method 6-MBTI Profiles | Learn to Write Fiction. Ten Common Fallacies Everyone Should Know. When a statement is considered true because it's made by someone who is considered an "authority" on the topic.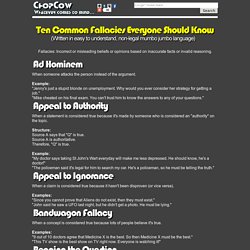 Structure: Source A says that "Q" is true. Source A is authoritative. Therefore, "Q" is true. Example: "My doctor says taking St John's Wart everyday will make me less depressed. He should know, he's a doctor! " How to Travel the World and Get Paid. Eight Secrets Which Writers Won't Tell You. Image from Flickr by Lazurite This is not particularly relevant to the post, but I'm getting an awful lot of comments telling me, often a little snarkily, "it's 'THAT' not 'WHICH'".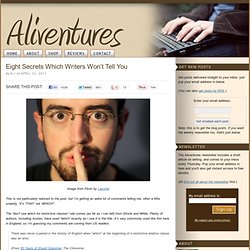 The "don't use which for restrictive clauses" rule comes (as far as I can tell) from Strunk and White. Plenty of authors, including Austen, have used "which" exactly as I use it in the title. Editing Wizard. Tip of My Tongue - Chirag Mehta : chir.ag. Writerisms and other Sins: A Writer's Shortcut to Stronger Writing. Cliche Finder. 54 Tips For Writers, From Writers. The entire writing process is fraught with perils.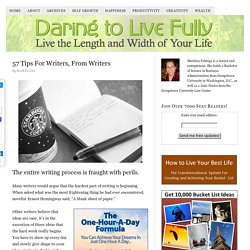 Many writers would argue that the hardest part of writing is beginning. When asked what was the most frightening thing he had ever encountered, novelist Ernest Hemingway said, "A blank sheet of paper." Other writers believe that ideas are easy, it's in the execution of those ideas that the hard work really begins. You have to show up every day and slowly give shape to your ideas, trying to find just the right words, searching for the right turn of phrase, until it all morphs into something real.
---