Cosmology
•Cosmology is the study of the origin, evolution and ultimately the fate of the Universe. (How did it all begin - Theoretical) May 2
Stephen Hawking at 70: still the brightest star in the scientific universe | Science | The Observer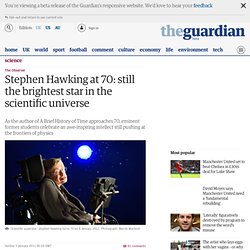 Professor of mathematics and astronomy, Queen Mary, University of London. Stephen Hawking's PhD student 1972-75 Stephen's discovery in 1974 that black holes emit thermal radiation due to quantum effects was one of the most important results in 20th-century physics. This is because it unified three previously disparate areas of physics – quantum theory, general relativity and thermodynamics. Like all such unifying ideas, it is so beautiful that it almost has to be true, even though it has still not been experimentally confirmed. The renowned physicist John Wheeler once told me that just talking about it was like "rolling candy on the tongue".
Stephen Hawking, everything you need to know – infographic | Culture
They come from somewhere in the distant universe–probably some 6 billion to 11 billion light years away. They don't last very long, only about one-thousandth of a second. They happen all the time, up to 10,000 times a day. They create intense bursts of radio emission but nothing else–no light, no x-rays, no other visible evidence. And nobody knows what they are.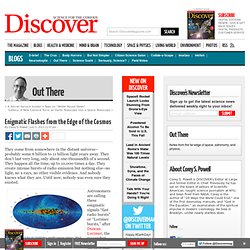 Enigmatic Flashes from the Edge of the Cosmos - Out There | Discovermagazine.com
Cosmic Mystery Box Contents Deduced - Space News
Image Caption: Cosmic rays are thought to originate in nests of massive stars called OB associations, like this one in the Tarantula Nebula in the Large Magellanic Cloud, a satellite galaxy of the Milky Way. But how did scientists figure that out? Credit: NASA, ESA, & F.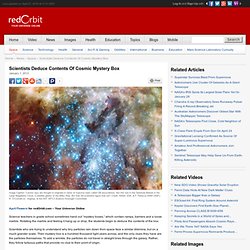 Really, REALLY fast... That's how quickly the universe is expanding, according to most accurate estimate yet made by science
The rate of expansion of the cosmos, known as Hubble's constant, is crucial for working out its age and size Nasa's Spitzer Space Telescope able to improve on previous estimates because its infrared vision sees through cosmic dust and debris By Damien Gayle Published: 09:38 GMT, 5 October 2012 | Updated: 12:21 GMT, 5 October 2012 Scientists have given the most accurate estimate yet of how fast the universe is expanding. A team of astronomers used Nasa's Spitzer Space Telescope to clock the expansion of the cosmos at a phenomenal 46 miles per second per megaparsec.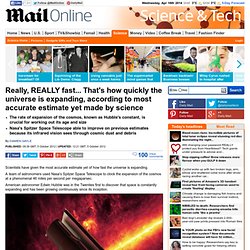 Are we the extra terrestrials? New study backs theory that life was brought to Earth by space microbes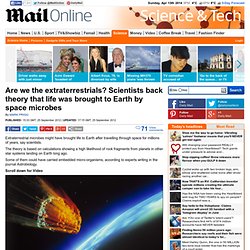 By Mark Prigg Published: 15:33 GMT, 25 September 2012 | Updated: 17:15 GMT, 25 September 2012 Extraterrestrial microbes might have brought life to Earth after travelling through space for millions of years, say scientists. The theory is based on calculations showing a high likelihood of rock fragments from planets in other star systems landing on Earth long ago. Some of them could have carried embedded micro-organisms, according to experts writing in the journal Astrobiology. Scroll down for Video
The Origin, History, Evolution & Future of the Universe
Dark Matter & Dark Energy
Is the secret of the 'previous' universe hidden in the microwaves? Scientist 'spots' ghost from before the Big Bang
By Eddie Wrenn Updated: 11:12 GMT, 11 June 2012 A renowned scientist says he has spotted evidence that a universe existed before the Big Bang. Professor Roger Penrose from Oxford University says concentric circles discovered in the background microwaves of the universe provides evidence of events that took place before the universe came into being. The cosmic microwave offers us a ghostly look at the the universe just 300,000 years after the Big Ban' - a microscopic amount of time compared to the universe's estimated age of 13.7billion years.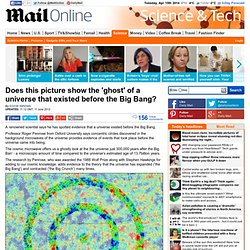 By Daily Mail Reporter Published: 05:56 GMT, 8 June 2012 | Updated: 07:32 GMT, 8 June 2012 A space telescope has captured a glimpse back into the deepest reaches of time - just after the Big Bangm, 13.7 billion years ago. Astronomers say that the images show the flaming lights from the Spitzer Space Telescope are among the first stars formed after the big bang that spawned the universe as we know it.
Amazing new pictures of the first moments following the Big Bang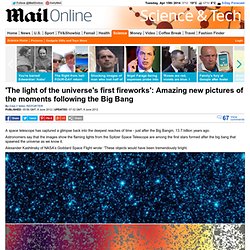 Dark energy was only discovered 14 years agoTheory predicts how fast galaxies are moving apartEinstein's brain now on display at the Wellcome Trust in London By Ted Thornhill Published: 09:00 GMT, 30 March 2012 | Updated: 10:28 GMT, 30 March 2012 Albert Einstein: He was right about the expansion of the universe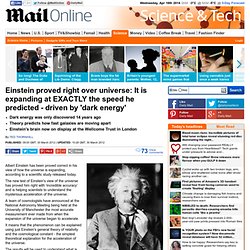 Einstein proved right over universe: General theory of relativity correctly measures the rapid expansion of space driven by mysterious 'dark energy'
With Cosmos, Carl Sagan and his wife and co-writer, Ann Druyan, brilliantly illustrated the underlying science of his same-titled book, placing the human species within a space-and-time context that brought the infinite into stunningly clear view. The series, which originally aired in 1980 on PBS, has been seen by more than 700 million people worldwide and remains a high-water mark in miniseries history. Sagan lucidly explains such topics as Einstein's theory of relativity, Darwin's theory of evolution, and the greenhouse effect, bringing the mysteries of the universe down to a layman's level of understanding. The footage in these remastered, seven-DVD or seven-VHS sets is as fresh and riveting as it was two decades ago and is certain to fire the imaginations of a whole new generation of viewers.
Lawrence Krauss: Opinions on the Cosmos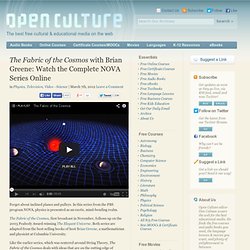 Forget about inclined planes and pulleys. In this series from the PBS program NOVA, physics is presented as an exotic, mind-bending realm. The Fabric of the Cosmos, first broadcast in November, follows up on the 2003 Peabody Award-winning The Elegant Universe.
Scientists create hottest temperature since Big Bang - 250,000 times warmer than centre of the sun
By Eddie Wrenn Updated: 16:06 GMT, 27 June 2012 This, but an awful lot warmer: The temperatures created by the lab are 250,000 times hotter than the sun Scientists have created the hottest temperature ever seen on earth - an astonishing four trillion degrees Celsius. And in case you doubt it - the searing heats have been verified by the Guinness Book of Records, who confirmed the record-breaking temperature, which is 250,000 times warmer than the centre of the sun and was last seen in the universe a split second after the Big Bang. The ultra hot explosions, which lasted for less than a billionth of a second, were created in a giant atom smasher at New York's Brookhaven National Laboratory.
Complex Organic Matter Discovered Created by Stars Throughout the Universe
Physicists Freeman Dyson has said that it appears as though the Universe was anticipating our existence. A recent discovery seems to support his observation: In 2011, astronomers discovered that organic compounds of unexpected complexity exist throughout the Universe, suggesting that complex organic compounds are not the sole domain of life but can be made naturally by stars. The discovery suggests that complex organic compounds can be synthesized in space even when no life forms are present. Most interestingly, this organic star dust is similar in structure to complex organic compounds found in meteorites. Since meteorites are remnants of the early Solar System, the findings raise the possibility that stars enriched the early Solar System with organic compounds. The early Earth was subjected to severe bombardments by comets and asteroids, which potentially could have carried organic star dust.
Cookies on the New Scientist website close Our website uses cookies, which are small text files that are widely used in order to make websites work more effectively. To continue using our website and consent to the use of cookies, click away from this box or click 'Close' Find out about our cookies and how to change them
Introduction to Cosmology
Quantum fluctuation. Inflation. Expansion. Strong nuclear interaction. Particle-antiparticle annihilation. Deuterium and helium production.
Cosmology: the first people ever to spot "dark galaxies"