High resolution textures
textures
Metal Texture Pack – 47 Free Images
This collection of metal textures includes 47 high quality images at 300 DPI. Some of the textures are dirty, cracked, and rusted. These images go great with any grunge style design. As with all of our resources, personal and commercial use is welcomed and encouraged!Please help us out by retweeting this post. Thank you!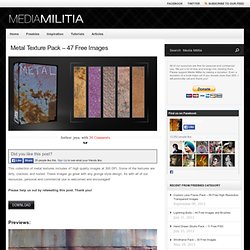 Download these 21 rust textures for free and use them in your next design. They are dirty, scratched up, smeared, and cracked. All the images are high quality around 3800 pixels wide.
Rust Textures Pack – 21 Free Images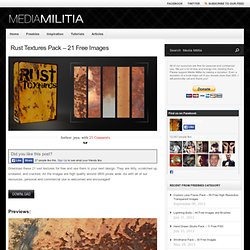 Textures | The Roxor | Design blog for resources and inspiration
Paper textures are always useful, whether you're designing a website, poster or wallpaper. Correct use of textures can give your design something extra. But some designers are having trouble finding a texture in the right color and size.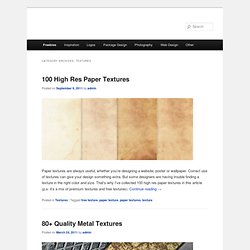 Tools | Photoshop,Illustrator,3d and graphic design tutorials at GraphicTutorials.net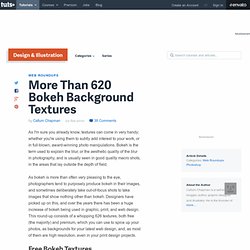 More Than 620 Bokeh Background Textures
If you have ever watched a sporting event on television, you have probably noticed some of the 3D... If you have ever watched a sporting event on television, you have probably noticed some of the 3D graphics that television networks use during the programming. In this tutorial, I will show you how to create your own "Sports Center" inspired graphics using Photoshop CS6's 3D capabilities combined with Filter Forge. In the process, we will show you how to use several tools including basic shapes, gradients, patterns, and textures.
Categories Colors Bookmark Featured free photos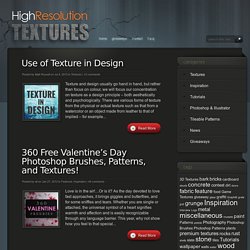 Use of Texture in Design Posted by Matt Russell on Jul 4, 2013 in Textures | 10 comments Texture and design usually go hand in hand, but rather than focus on colour, we will focus our concentration on texture as a design principle – both aesthetically and psychologically. There are various forms of texture from the physical or actual texture such as that from a watercolor or an object made from leather to that of implied – for example... Read More 360 Free Valentine's Day Photoshop Brushes, Patterns, and Textures!